Diveplanit's Deborah Dickson-Smith shares her experience at this littleknown divers' paradise at the southern tip of Fiji's Coral Coast.
Photographs by Waidroka Bay Resort.
Fiji's Coral Coast is a mecca for holiday makers from Australia and New Zealand – easy to get to, relatively inexpensive, beautiful palm-fringed coastline, and that famous Bula service with a smile. But it's not on the radar for most serious divers. Here's why you should add it to your dive bucket list.
An ocean lover's dream come true
The southern tip of the Coral Coast is home to one of Fiji's hidden gems – Waidroka Bay Resort, located in a secluded bay roughly two-and-a-half hours' drive from Nadi. It's off the beaten track, so to speak, at the end of a long country road that winds through a tropical landscape that eventually opens to an idyllic turquoise bay.
This region is famous for the surf break here – Frigates. Above the surface, surfers can enjoy perfectly formed glassy waves, and below, divers can explore magnificent coral reefs.
For owner and ocean lover Boris Kaz, it has always been a dream to create a resort where he could share his passion for the ocean with others of similar mind. That said, his resort caters for both divers and surfers – in fact, you'll find as many surfers as you do divers staying at Waidroka. "Surfing and diving are my passions and were always complementary activities for me," says Boris.
Did you know?
With Fiji's warm tropical waters, uncrowded surf breaks and waves to suit all skill levels, many find it hard say 'no' to a surf trip here. Fiji's famous waves have featured in international competitions and are a 'must do' for the travelling surfer.
Boris and his staff at Waidroka have managed to bring these two distinctly different groups together over the one very important shared passion — a love for the ocean.
Cakau Lekaleka
If conditions are right, divers may get the opportunity to explore Boris's favourite dive site – Cakau Lekaleka. About an hour and a half away by boat, this coral pinnacle breaks the surface of the water all by its lonesome 39km southwest of Waidroka.
"It's not a dive for everyone," says Boris. "Although it's fine for all experience levels, as there are protected areas and interesting things to see at all depths, not everyone is willing to take an hour and a half boat ride each way to get there."
Those who do make the journey are rewarded with a spectacular site. From sheer walls and abundant sharks to beautiful coral gardens in the shallows, Cakau Lekaleka is a special treat not everyone gets to experience.
Fiji's shark dive: The Bistro
The Bistro is widely known as Fiji's 'Original Shark Dive', created in 1999 with the intent to educate divers and contribute to shark conservation. It's the biodiversity here that divers come to see, with eight species of shark and over 300 species of fish.
The site features bull sharks, whitetip reef sharks, blacktip reef sharks, nurse sharks, sickle fin lemon sharks, grey reef sharks, silvertip sharks and the occasional tiger shark. The thick, powerful bodies of the bull sharks are unmistakable, and just occasionally you'll see them face on heading straight in your direction.
Just as you're about to duck they turn, and you can feel the flick of the tail that scatters the fusiliers. It's a lively whirling spectacle, and it's hard to know where to point the camera next. It's a bit like the finale of a fireworks show, but it just keeps going at full tilt.
Did you know?
With more than 390 coral species and around 1,200 fish species, it's an underwater naturalist's dream. Wall dives, swim-throughs, caverns, canyons and incredible blue water encounters make diving in Fiji an unforgettable experience.
Waidroka's top seven dive sites
The resort is located close to the northern tip of Beqa Lagoon, which provides easy access to the Beqa's best dive sites, including Fantasea, Seven Sisters, Tasu Wreck, and the world-famous 'Bistro' shark dive.
Frigates Walls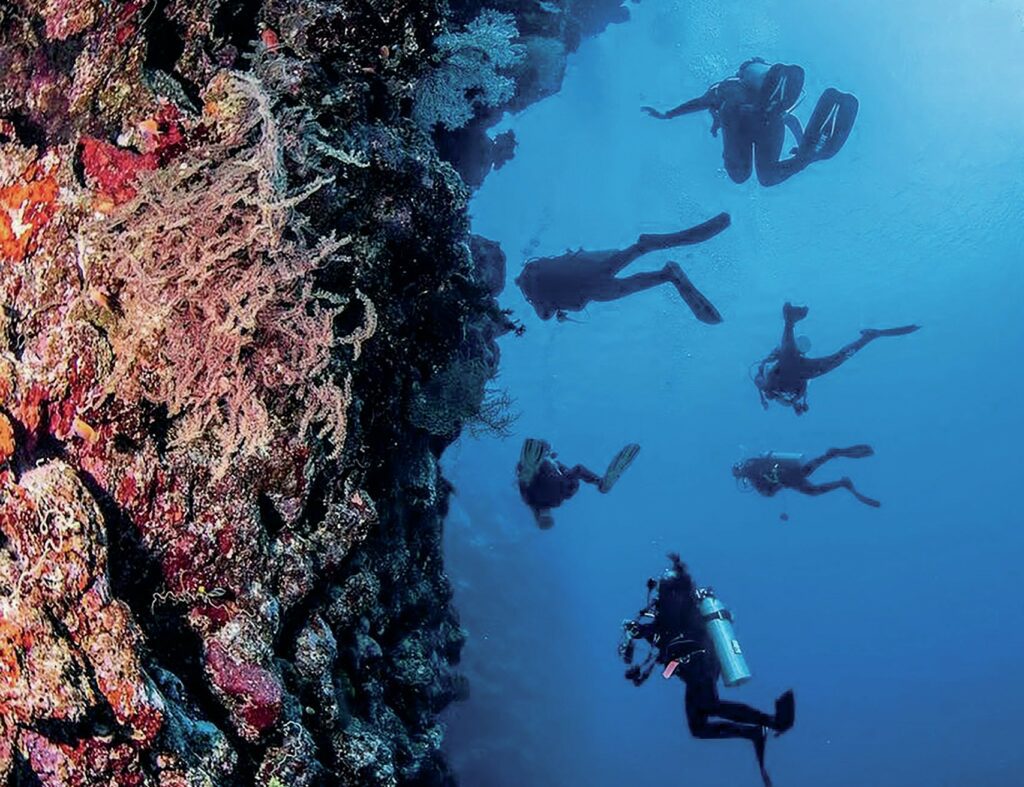 Frigates is on the outer barrier reef of Beqa Lagoon. With stunning vertical walls, enormous gorgonian fans and abundant hard corals, this enormous reef easily offers three to four unique dive sites. Eagle rays, mobula rays, leopard sharks, schooling barracuda, whitetip/grey reef sharks, green and hawksbill turtles are all found here. Being one of the few resorts that dives this area, expect to be the only dive boat out on this reef found in the middle of nowhere. Depth 3m-30m.
Cesar's Rock
This spectacular site comprises several pinnacles that are covered in soft corals of every colour, large gorgonian fans, and black coral. One pinnacle has a three-way swim through with walls shrouded in golden soft corals and fans. Look closely for blue ribbon eels, nudibranchs, lionfish, anthias, octopus, and in the blue, reef sharks. Depth 5m-27m.
Fantasea.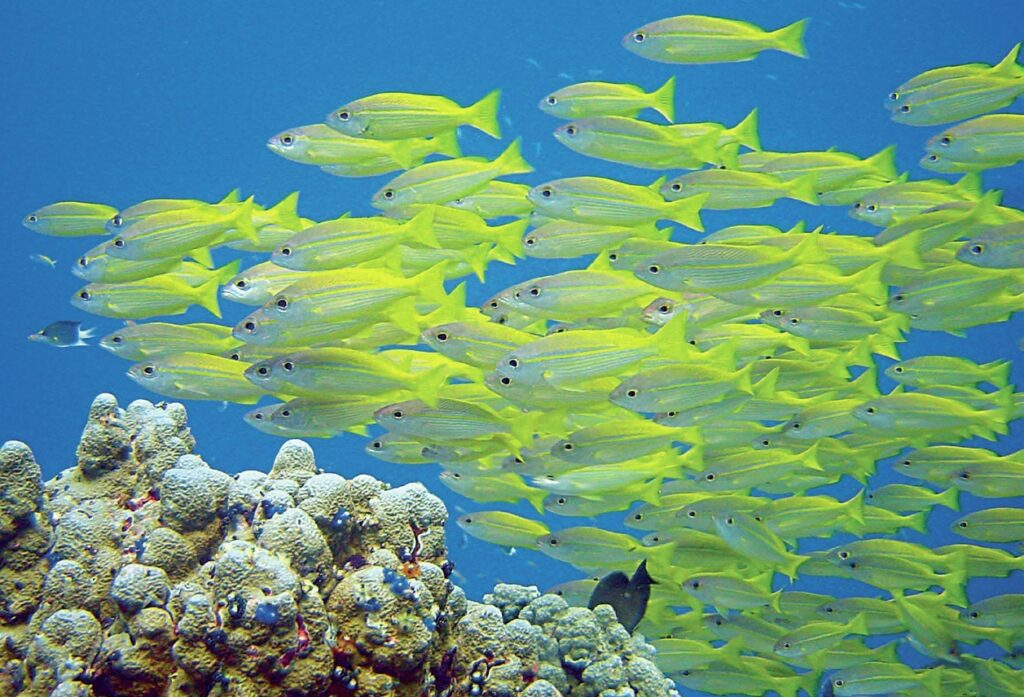 Aptly named, this beautiful site provides divers with a vibrant display of soft corals and anemones, which completely cover this lone pinnacle creating a rainbow of colour. An undercut ledge is home to an array of massive gorgonians while the pinnacle is home to schools of fusiliers, purple and orange anthias, nudibranchs, and mantis shrimps. Exploring this site, it's clear why Cousteau labelled Fiji as the 'soft coral capital of the world'. Depth 3m-30m.
Golden Arch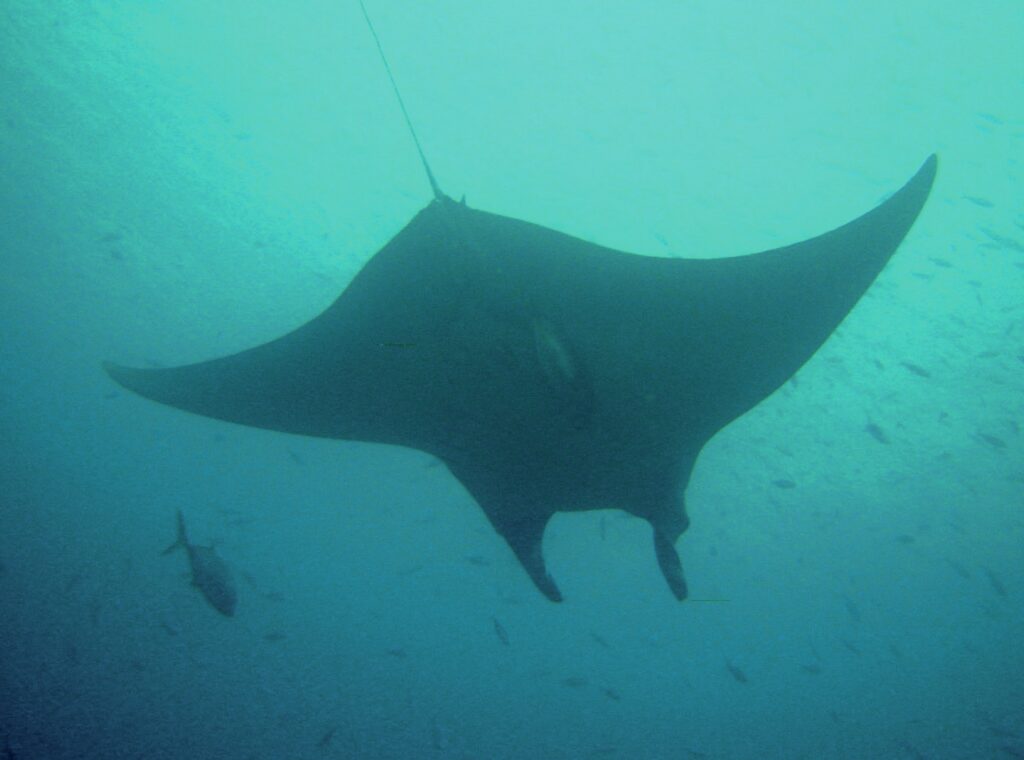 This dive gets its name from a large archway, a swim-through covered in orange and yellow soft coral. While the archway is the star, there are many other coral-covered swim-throughs and crevices just waiting to be explored. The rocky pinnacles are covered with fans and black corals as well as purple and pink soft corals. Reef sharks, schooling surgeonfish, tuna and barracuda can often be seen here. Depth 5m-20m.
TASU II Wreck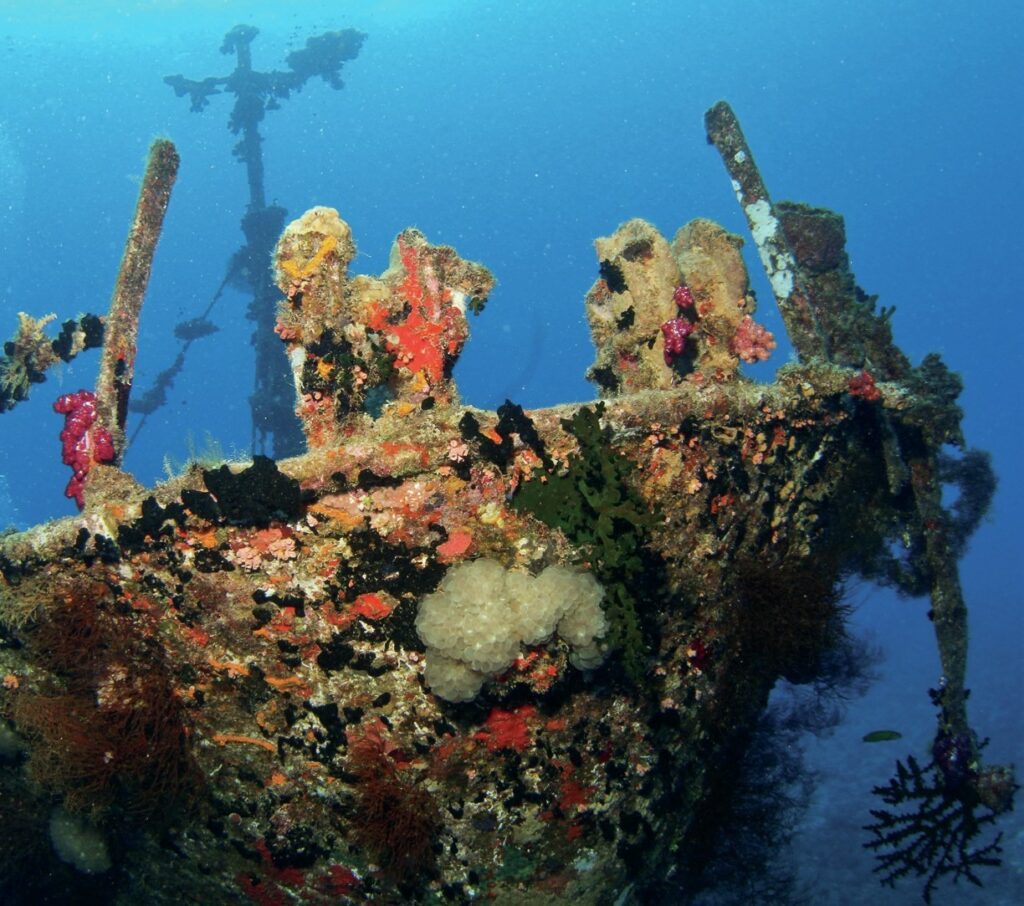 The TASU II was a 200-tonne Taiwanese fishing vessel, scuttled in 1994 to form an artificial reef. Sitting upright in a sheltered spot, the wreck is home to many types of reef fish and provides habitat for juveniles. There is a great variety of macro subjects such as nudibranchs, popcorn shrimp, bubble coral shrimp, orangutan crab, pipefish, and garden eels. Twenty-five years underwater has allowed many hard and soft corals, fans, black corals, and sponges to encrust the wreck's surfaces inside and out. Depth 18m-26m.
Ponti's Playground
This divers' playground is a maze of large, colourful, coral encrusted bommies found next to a sloping drop-off. The site has numerous swim-throughs and overhangs, with hard coral gardens covering the slope up to the shallows, soft corals and fans on the bommies. This site is home to a variety of nudibranchs, moray eels, crustaceans, and beautiful reef fish. Keep an eye out for eagle rays, white tip and grey reef sharks. Depth 3m-26m.
7 Pipes
Pipes is a vast rolling landscape of healthy hard coral reef comprising three separate dive sites. This gentle sloping reef leads out to approximately 18m where you are suddenly met with a vertical wall that drops down 30m. Along the wall, you can find schools of batfish and red-toothed triggerfish, fusiliers, eagle rays and reef sharks. Depth 3m-30m. n
For information on how to book a dive trip to Waidroka Bay, contact the team of experts at Diveplanit Travel.
Phone: 1800 607 913
Email: enquire@diveplanit.com
Website: Diveplanit
---
This article was originally published in Scuba Diver ANZ #54.
Subscribe digitally and read more great stories like this from anywhere in the world in a mobile-friendly format. Link to the article