The massive shipwreck Zenobia has been the jewel in the crown of Cyprus diving for many years, but now the country's underwater fleet is expanding rapidly with a number of artificial reefs. Stuart Philpott headed to the Med for a whistlestop tour.
Photographs by Stuart Philpott.
Zenobia's Appeal to Divers
For more than 40 years, the MS Zenobia has been Cyprus' top wreck-diving attraction. Lying on its port side at a max depth of 42m, the massive 172 metre long by 28 metre beam, 10,000- ton RO-RO ferry offers a wealth of history and intrigue, plenty of interesting features at varying depths (including 108 fully loaded trucks) and some serious penetration. Ideal for recreational and tech divers alike, the wreck is so big and so diverse it's possible to spend an entire week just exploring the Zen.
Venturing into New Wreck Diving Sites
But recently, I heard rumblings that this popular Mediterranean island has been ramping up the diving stakes by sinking more new wrecks and even getting underwater sculptor Jason deCaires Taylor in on the action. With some help from Chris Papachristodoulou at the Cyprus Tourist Board (CTO), I made plans for a whirlwind week visiting all of the best sites.
My Diving Journey Begins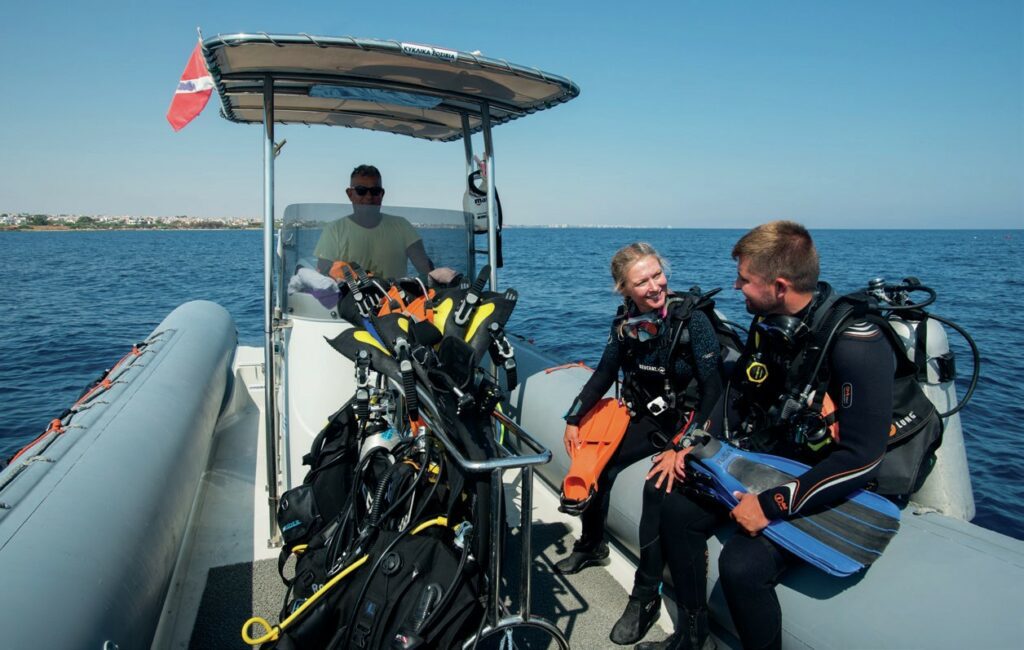 My busy East-West schedule began at Paphos, followed by Ayia Napa, Limassol, Larnaca (multiple times) before finally ending up more than 600km, 16 dives, three mezzes and several bottles of retsina later back at Paphos where I started.
First Port of Call – Ocean Lab Eco-Diving Centre
I flew into Paphos at 7.30pm, picked up a hire car and drove directly to Ayia Napa. Journey time by car is around two hours, and at least Cyprus drive on same side of the road as the UK, but in hindsight, Larnaca Airport would have probably been a better starting point as it's more central for all the dive sites. I was booked into the Pavlo Napa Hotel, located just a few minutes' walk from my first port of call – Ocean Lab Eco-Diving Centre.
Meeting Vasilis Andreou and Diving into the Kyrenia Wreck
Owner Vasilis Andreou qualified as a marine biologist at Plymouth University in 2012. He said about 60% of their work is with DSDs. For qualified divers, he runs special eco-diving trips where he talks about marine life, ecological aspects, environmental impact, etc. Vasilis paired me up with Andreas, who also worked for the Marine Police. Andreas was fully kitted out in black tech gear, including black-rimmed mirrored mask, which made my job as a photographer nice and easy – not! But trying to persuade a techie to use a clear silicon mask usually invokes a few four-letter expletives, so I just raised my eyebrows and got on with the job!
Our first wreck dive, called the Kyrenia, was sunk as an artificial reef project in March 2015. The ex-Navy patrol boat lies upright at a maximum depth of 23m. Vasilis showed me a few pictures back at the dive shop, so we made plans to visit the bow and then work our way towards the stern. The visibility was so good I could see the whole wreck from the surface. There are several round gun mounts forward and aft. During service they were fitted with an Oerlikon 20mm cannon and an anti-aircraft missile launcher, but these were removed before sinking. I went through the bridge and then down into the engine compartment. The engine has been removed but there are still a number of valves and some pipework to explore. This was a nice easy dive and a great introduction to the CDCA's (Cyprus Dive Centre Association) new wreck additions.
Exploring MUSAN and Taylor's Sculptures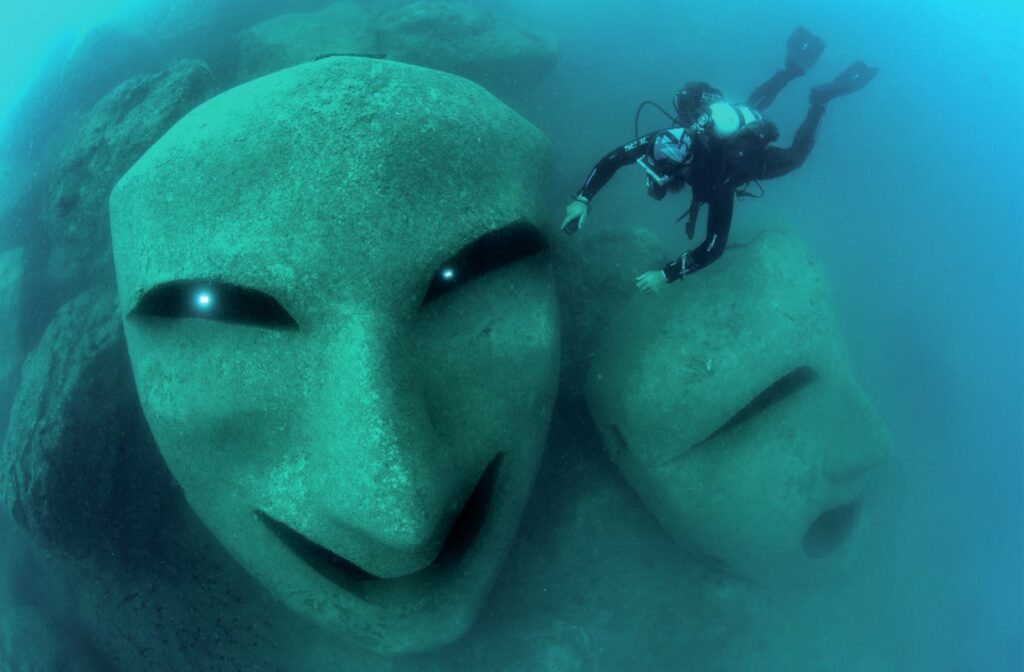 Our second dive at MUSAN (Museum of Underwater Sculpture Ayia Napa) was just a few minutes boat ride from the Kyrenia. Jason deCaires Taylor had been commissioned to create the sculptures back in 2021. Max depth is around 10m, which suits both snorkelling and diving. Andreas said a standard 45-minute dive consists of three tours of the exhibits. First at seafloor level, then mid-water and finally near the surface. Each level gives divers a different perspective. The overriding theme seems to be trees and video cameras. The figures with 'bush' heads had to be the most-controversial pieces.
The main idea is to create an artificial reef and attract marine life to an otherwise barren area, and while there was some talk that the installation hadn't been placed in the best location, already receiving some storm damage, I could already see this working, with small shoals of juvenile fish congregating around the exhibits.
Taba Dive Centre and the Liberty Wreck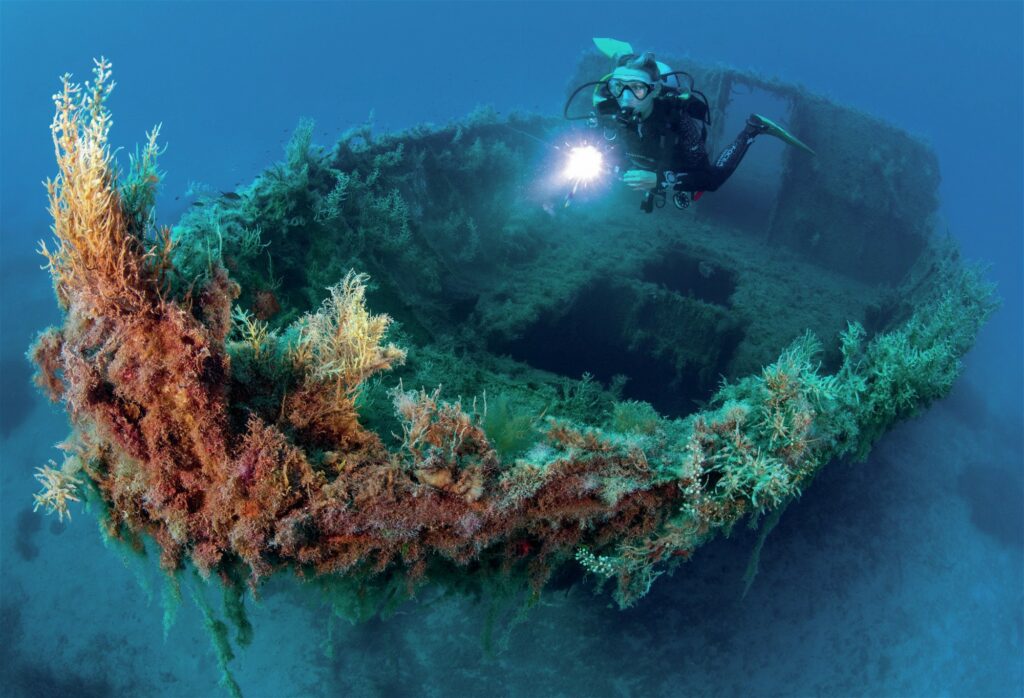 My next stop was ten minutes down the road at Taba Dive Centre, owned by Steve Fox-Kirk. This had to be one of biggest dive centres I have ever seen. Steve said: "I used to regularly come on holiday to Cyprus and eat at the restaurant across the road from the then-vacant building." He was considering opening up a dive centre so haggled with the owner and worked out a deal. Steve said that his bread and butter work came from PADI DSDs, with more than 2,500 completed this year alone.
Sister Cat and her boyfriend Jon also helped out at the busy centre. They both accompanied me on two boat dives, starting with the Liberty wreck sunk in 2009. The former Russian cargo ship sits upright at a maximum depth of 27m. I got some shots of Cat and Jon on the bow and inside the wheelhouse. I checked under the stern, but the prop had been removed, but I found a few lionfish and damselfish that called the wreck home.
Diving the Nemesis III Wreck
Our second dive was on the Nemesis III, which lies about 100 metres away from the Liberty. Steve said that they normally combine the Liberty and the Nemesis on a single dive. The 25-metre-long fishing trawler was sunk in December 2013 and lies upright and intact at a max depth of 25m. This wreck has a number of different levels to explore. The bridge has been cleared apart from the steering column. We went through the lower corridors and came out next to a giant winch surrounded by squirrelfish and lionfish. The engine room with natural light streaming in from an open hatchway above made a particularly nice composition. Cat's torch beam lit up several prawns scuttling over a set of the valves attached to the bulkhead.
Cyprus Diving Centre and Encounter with Turtles
Maggie May was being murdered at full volume when I turned up at Cyprus Diving Centre, owned by Daniel Kistler. My visit coincided with live band day at the Tipsy Turtle bar next door. The place was packed full of well-oiled punters, including the local motorcycle club called the Primates! After the Rod Stewart tribute finished his set, it was Lionel Richie's turn up on stage. As Dancing on the Ceiling was in full swing, I hastily departed with Divemaster Matthias for the shore diving site at Decosta Bay, where I would hopefully see some real turtles. In his mid-40s, Matthias had a sudden reality check, quit his job as a solar panel installation engineer in Germany and moved to Cyprus with his family to follow his dream of becoming a diving instructor.
Turtles at Decosta Bay
Green Bay is probably the most-popular spot for turtle sightings. The best time to visit is in the late afternoon, when most of the divers have gone home. The shore diving site is very shallow, so a good choice for diving or snorkelling. Another place the turtles frequent is Decosta Bay. But as we waded into the water, I saw a boat load of snorkellers arrive. Matthias said the turtles were being fed lettuce to entice them closer. When we reached the site, I could see three turtles on the surface swimming about eating the food. But this wasn't their natural behaviour and swimming on the surface made them vulnerable to passing speedboats. Just before my visit, a turtle had been hit.
The last I heard it had been patched up and was fortunately recovering well. During my dive I saw another turtle missing a flipper, which may well have been another boat injury. In all, we saw five green turtles in 45 minutes. Size wise they were all around one metre long, so roughly ten years old. Cyprus Diving Centre's resident marine biologist Chiara is currently studying the local turtle population. She regularly runs the PADI Mediterranean Sea Turtle Specialty and has identified at least 20 different individuals. Please note that feeding the turtles is strictly forbidden, and heavy fines are being handed out to boat owners caught in the act.
Diving at Caves in Cape Greco National Park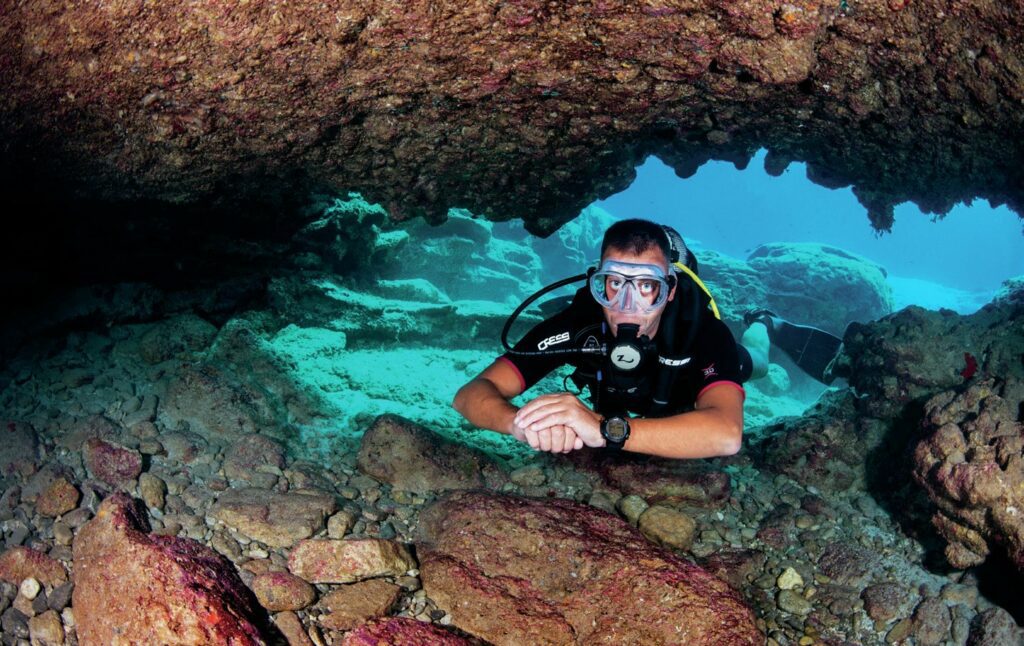 Our second shore dive called Caves was located in the Cape Greco National Park. Matthias showed me some of the scars on his legs where he had fallen over while clambering down the rocks to the entry point. He said that a stainless steel hand rail and steps had been installed this year to aid divers. Matthias told me a story about a local teenager who went freediving inside the cave during the early hours of the morning, got disorientated and tragically drowned. This certainly added an interesting dimension to the dive!
I followed Matthias around the site, which mainly consisted of a stark, rocky seascape and a few swimthroughs at a maximum depth of around 15m. I tried to get some pictures of the cave sweepers and a little black seahorse bobbing about on the seafloor. At the end of the dive we went into a cave and surfaced through a narrow hole in the roof, which was quite a novel exit.
Heading off to Limassol
At 6.30am the next morning, I checked out of the Pavlo Napa and made tracks for Limassol. Using Google Maps, I drove directly to Blue Thunder Dive Centre without making any wrong turns or detours. Roulla and Michalis Tsirponouris have been the owners for the past 30 years.
Blue Thunder Dive Centre: A Family Business
Roulla said the NAUI-associated dive school called Pro Dive was run by her sons Lefkios and Froso. I was impressed by the monster-sized truck coated in 'rust preventing' plastic parked outside. This pulled a very nice-looking French-built aluminium dive boat.
An Exciting Day of Diving
Blue Thunder had organised an action-packed day visiting the wrecks Constandis and Lady Thetis, as well as exploring the ancient port and the masks, which was another Jason deCaires Taylor contribution. My visit also coincided with Roulla's birthday and she had brought along a delicious box of pastries from the local bakery.
Constandis: A Haven of Marine Life
The Constandis was sunk in February 2014. The 23-metre-long ex-Russian trawler now sits upright and intact on the seabed at a maximum depth of 23m. At the bottom of the mooring line I was greeted by a reasonably sized grouper. I followed the grouper to the bow where there were another three or four grouper waiting. Both of the wrecks are inside the designated National Park area, which is a strict no-fishing zone. This really did make a difference to marine life. The wreck was quite silty, so I had to be careful with my fins. Roulla guided me around the wreck and then we went inside the bridge and the engine room. There were a few good-sized lionfish lurking in the darker recesses, so I was very careful where I put my hands.
Exploring the Ancient Port
Our second dive at the ancient port didn't break a depth of around 3m-5m – I was barely underwater. There were a few square blocks which formed part of the ancient harbour wall and plenty of long sea grass, and I saw a shoal of around 500 juvenile barracuda during our 45-minute dive.
The wind picked up and choppy conditions stirred up the seabed reducing underwater visibility. We found Jason deCaires Taylor's masks, but got lost on the way back and had to surface to check our direction. I had come up with an idea to put some lights behind the eyes of the approximately four-metre-high masks.
I thought the effect might look interesting, but poor visibility and an overcast sky meant there wasn't much ambient light to play with.
The Lady Thetis and Evening Rest
The 30-metre-long passenger vessel Lady Thetis was also sunk in February 2014 and sits upright at a maximum depth of 18m. I started my tour at the stern. Visibility was a milky ten metres or less. The wreck was even siltier than the Constandis! The prop was still attached but the conditions didn't warrant a picture. There is a central stairway leading up to the roof where a number of bolted-down circular tables are still attached.
The inside has been cleared of any obstacles. It was basically an open area with a hatchway in the middle leading down to the engine bay. Again, there was plenty of marine life to see including grouper, squirrelfish and sea bream. Just to finish off the dive we watched a number of jacks sweeping through a shoal of silversides.
I left Blue Thunder in the late afternoon and drove to the classy five-star St Raphael Hotel and resort located on the outskirts of town. Sadly, there was no time for partying. After a swift bite to eat at the in-house restaurant, I retired to the bedroom and was soon fast asleep.
Moving on to Larnaca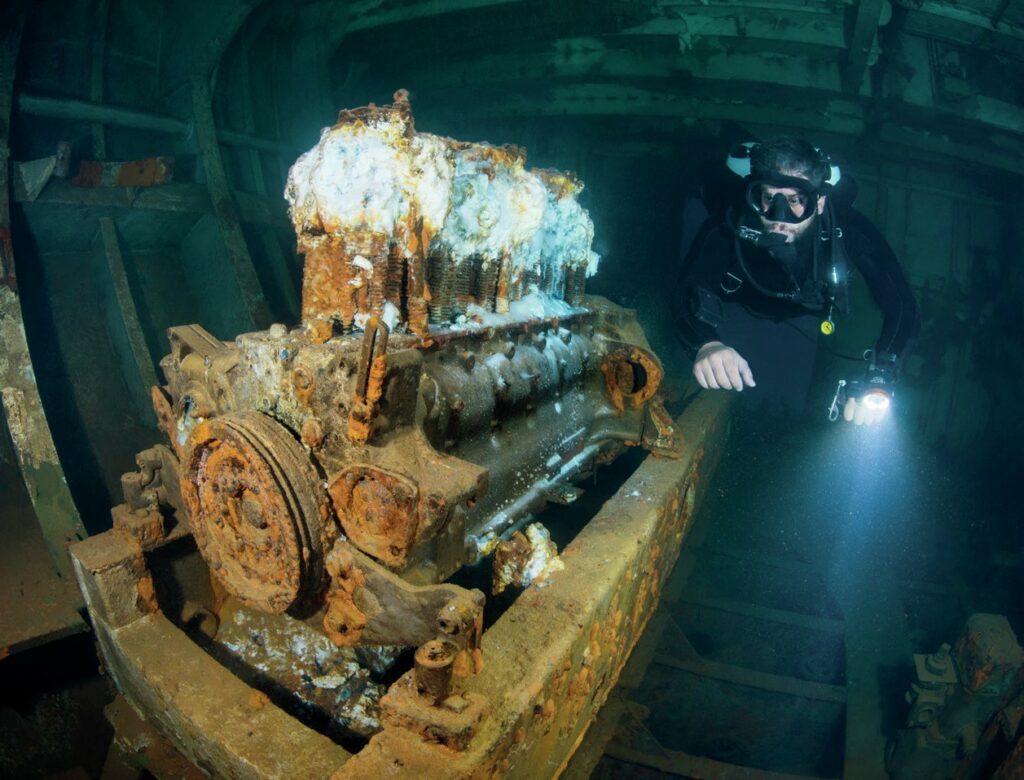 At 6am the next morning I would be travelling to Larnaca for the mighty Zenobia and another new wreck called the Elpida.
Dawn was breaking when I left the resort. Most of the roads aren't signposted, so I really would have been lost without Sat Nav. The app said it would take me 60 minutes to reach Larnaca fishing harbour and I arrived just in time to grab the last parking space. The CTO (Cyprus Tourist Organisation) had arranged for me to dive with Andreas Lardas from Scubaholics, based in the capital city, Nicosia. I had briefly met Andreas two days earlier when I was diving with Taba Dive Centre. Quite a few of the island's 80 or more dive centres don't own a boat, so it's not uncommon to share. Andreas was being hailed as one of the island's up-and-coming technical gurus.
Meeting Andreas and Diving Elpida
Andreas was also on the cards as a commercial diver, so used to swap hats as and when workloads required. Most of his training had been with local tech legend Chris Demetriou from Dive-in at Larnaca. I had also completed a fair proportion of my TDI tech training with Chris many years ago. It didn't feel right to hear he had almost retired from the diving industry after so many years. I wouldn't like to guess how many thousands of dives Chris has logged inside the MS Zenobia wreck.
Andreas had geared us up for two dives, starting with a new wreck called the Elpida and then after a short surface interval, a second dive on the mighty Zen. Andreas had brought along twin 12s and stages, but this was a slight overkill for my requirements. The CTO's action-packed schedule only allowed for one dive on each wreck, so I just wanted to get a few shots of the more-prominent features.
The Elpida was sunk as a diver attraction in December 2019, and the 63-metre-long cargo ship now sits upright at a max depth of 28m. Andreas explained that the new wreck didn't seem to be very popular due to the fact that most divers preferred to visit the Zen, and being located further away from the harbour meant more fuel and higher running costs for charter boats.
We were the only two divers at the wreck site, but as soon as I jumped into the water I knew there was going to be trouble. The visibility was a milky ten metres or less. I started finning towards the bridge. When I turned around Andreas had disappeared somewhere in the fog. I went back to the bow and found Andreas moving slowly around the deck winch. One of my pet hates with tech divers (apart from wearing black from hood to fin) is they move very slowly and methodically, whereas a photographer who only has one dive to get pictures flies about like a lunatic. At times, the two extremes can make a tricky combination.
I followed Andreas through the cargo hold and up into the bridge. The ship's wheel has been left attached and makes a great composition, but just as I was lining up for a shot a dense cloud of particles rained down from above. Our exhaled bubbles had dislodged a snowstorm. With my picture possibilities trashed, we went down the stairway and into the engine room. The top of the engines were coated in a fine white powder. Andreas got slightly too close and spoodoosh, a plume of sediment obscured his face. I had a strange feeling today wasn't going to be my day!
Being a new wreck there wasn't much marine life on show. I did find a few lionfish but nothing more substantial. Way too quickly, my computer went into deco. We slowly made our way back up the mast to the surface. I really enjoyed exploring the Elpida. Back at the fishing harbour we swapped boats and headed out to the MS Zenobia.
Diving in the MS Zenobia
The MS Zenobia is one of the top wreck dives in the world and Cyprus' most-popular dive site by far. Her demise was probably due to a software error, but there are also stories of insurance scams and sabotage. One thing is for certain, excess water pumped into her ballast tanks caused her to list and eventually capsize. The 172-metre-long by 28-metre-beam RO-RO ferry now lies on her port side at a max depth of 42m with a full cargo of 104 articulated trucks and other machinery. The starboard rail is the shallowest point at around 16m, making the wreck ideal for both recreational and tech divers – a full article just on the Zen will appear in a future issue.
Heading to Pathos and the Cydive Dive Centre
The next morning I checked out of the St Raphael Resort and made tracks for Pathos, my last port of call. Cydive Dive Centre managed by Pascal and Sophie had arranged two wreck dives on the Laboe and the Vera K. I was really impressed with Cydive's facilities. I don't think there could be a more perfect training centre complete with onsite pool, classrooms, changing rooms and shop.
Sophie explained that a Polish magazine called Perfect Diver would be joining us. I was nowhere near the perfect diver, but was looking forward to diving with some fellow professionals. The entourage was made up of two men equipped with video and stills cameras and two women who would obviously be modelling. Add a load of recreational divers to the mix and we definitely had a full boat load.
Exploring the Laboe
Our first wreck, the Laboe, was built in Germany during World War Two. She was originally brought to Cyprus in 2006 and used as a liveaboard. In 2014, the 21.5-metrelong by five-metre-beam boat was sunk as an artificial reef project and now lies upright at a maximum depth of 28m. Conditions were quite lumpy on the ten-minute boat journey out to the dive site. I even fell over putting on my BCD. I had been warned that the wreck was quite silty so arranged with Sophie to spend the first 15 minutes on our own before the Polish contingent rocked up.
This would hopefully give me enough time to get a few sediment-free pictures. We started off at the bow and then went into the engine room. When I reached the saloon area I could see the Polish foursome at the doorway eagerly waiting to get inside. Surface conditions had deteriorated by the time we reached the second dive site. One of the Polish women threw up over the side, which seemed to initiate a chain reaction. Sophie's plan was to get everybody into the water as quick as possible to avoid a mass puking session!
The Wreck of Vera K
The second wreck, Vera K, was a Lebanese freighter that ran aground in 1972. The ship was used as target practice for many years and then blown up in 1974 as it was creating a shipping hazard. The remains of the wreck are sitting inside a bowl-shaped crater caused by the massive explosion. Maximum depth inside the crater is about 12m and on the outside 6m. There are basically three main areas of interest. An archway, the engine and the bridge.
Conclusion: Cyprus as a Mediterranean Diving Destination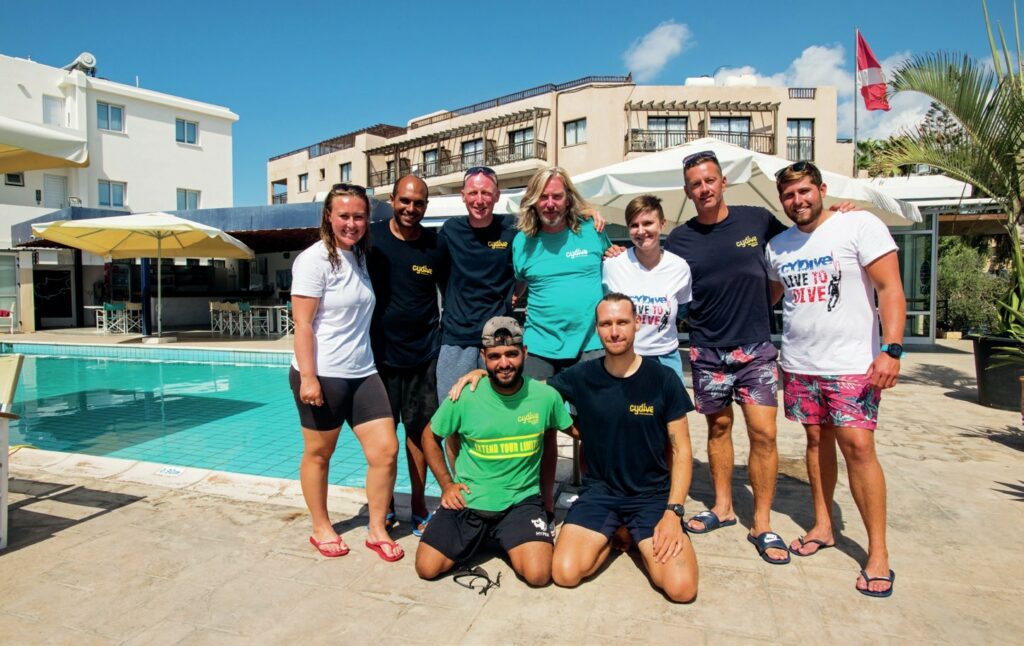 The additional wrecks and Jason deCaires Taylor's MUSAN has definitely given divers some exciting new attractions. Creating marine parks will hopefully allow fish stocks to recover and there are even guaranteed grouper and turtle encounters. All in all, this makes Cyprus a pretty good option for a Mediterranean diving destination. And the CTO hasn't finished yet. There may well be more new wrecks coming soon.
To check out all of the dive sites in one go, it would be wise to hire a car and use a Sat Nav or Google maps to avoid getting lost. On the tech side, I still didn't see anything that could rival the Zen. But I have been assured there are more sites available, so will hopefully be returning to do a special tech report sometime next year.
---
This article was originally published in Scuba Diver UK #67 & Scuba Diver UK #68
Subscribe digitally and read more great stories like this from anywhere in the world in a mobile-friendly format. Link to part one & Link to part two of the original articles.