The industry stalwart DEMA Show 2020
The Diving Equipment and Marketing Association's annual event due to be held in New Orleans this November was just one of many large-scale conventions to fall victim to the COVID-19 pandemic.
However, DEMA bounced back with a brand-new, virtual event that aims to provide the dive industry with the same opportunities to connect, learn and grow.
DEMA Show Online featured an extended virtual education series, which ran from 15 September and will continue until the end of November, but all this week, there will be a virtual trade show and networking event. This will have much we have come to expect at the DEMA Show proper, including opportunities to network with exhibitors, DEMA-sponsored education sessions, exhibitor-sponsored education sessions, New Product Showcase, the 2020 DEMA Member Meeting & Update, 2020 Diving Community Champion Presentation, Wave Maker Award Presentation, and much more.
Head to www.demashow.com to register and explore the virtual halls and seminar rooms.
New equipment
Zeagle has launched its Halo BCD, which is the world's first jacket-style BCD that utilizes Zeagle's patented Ripcord weights system, as well as the Personal Fit System in the shoulders for easy custom shoulder replacement.
It is made from 1,000 denier / urethane bladder material, while the pocket, shoulder, harness and cummerbund are a mix of 1,680D heavy-duty and 420 PU material.
The Ripcord system can hold 20lb of dumpable lead and 10lb of non-dumpable weight.
The seven stainless-steel D-rings are strategically placed, and there are two easy-access pockets.
Scubapro were showing a raft of new products, but many we have seen/reviewed already, including the D-Mask, D420 regulator and the Hydros X, but brand-new was the MK19 Evo BT/G260 Carbon BT regulator system.
This is the ultimate in lightweight regulator design, and features Scubapro's new environmentally sealed balanced diaphragm first stage, the MK19 EVO BT, finished in a special ultra-durable Black Tech coating, along with an upgraded version of Scubapro's most-popular tech-diving second stage, the G260, featuring a lightweight, ultra-tough carbon fibre front cover.
There were also a range of new S-Tek technical diving harnesses, donut wings, reels, spools, trim weight kit sets and more.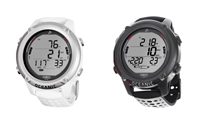 Oceanic had the Geo 4.0 dive computer. it features an updated display area with larger, crisper digits, Oceanic's patented dual algorithm, five optional colour straps, and Bluetooth connectivity to all smartphones through the DiverLog+ App.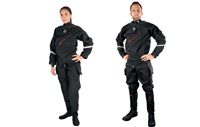 Hollis were unveiling the DX-300X drysuit, which was designed by technical divers, for technical divers, and has been developed over three years in demanding conditions.
The DX-300X is the benchmark expedition-grade drysuit, with superior strength and comfort. The outer later is heavy-duty Nylon Cordura, the middle Butyl Mass is constructed from 12 layers, and the inner liner is a silk-weave polyester offering the optimum in comfort and softness.
It includes SiTech silicone neck and wrist seals, and has two thigh pockets, 3M reflective safety strips for visibility, double-thick kneepads, 5mm neoprene socks, and internal braces.
Fourth Element were showcasing several new products, including the Arctic Hoodie, which has a two-layer construction, with the Arctic's water-repellent outer and high-density fleece inner, creating the perfect garment for colder temperatures.
It is machine washable, and has useful hand-warmer pockets – just the thing to slip into after a cold-water dive.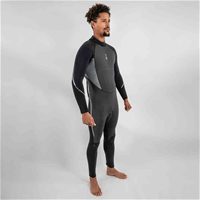 There was also the Xenos 7mm wetsuit, which features hard-wearing knee panels, Hydrolock wrist seals, internal ankle seals, Glideskin neck seal, Thermoflex lining with Thermocore chest panel, double-glued and blind-stitched seams to minimize water entry, and a double Smoothskin zip-flap which reduces water entry through the back zip.
Other new products included redesigned neoprene gloves, an Expedition DryPack, 3mm Surface hood, the RF1 vest, Stinger suit, and the Destination swimwear collection.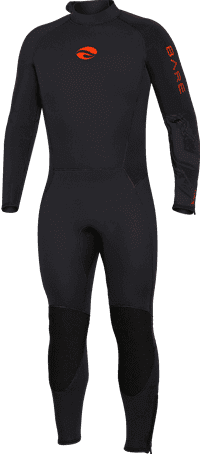 BARE Sports were displaying the Velocity Ultra wetsuit, which features the progressive full-stretch construction of the Velocity with the advancement of Ultrawarmth Omnired infrared technology.
It features Protekt kneepads, heavy-duty ankle zippers for easy donning and doffing, comfortable contoured Glideskin collar, rolled Glideskin wrist and ankle seals, and flotsam construction throughout for stretch and comfort.
Seamless underarms provide superior comfort when worn on its own, with an additional wet layer, or with a BCD.
BARE were also showing the Evoke wetsuit, designed by BARE's all-female design team, which embodies the latest design thinking by using Ultrawarmth Omnired technology to increase circulation, body warmth and performance, making what they think is the warmest women's suit on the market.
Travel and dive destinations
The islands of The Bahamas have long been a diver's paradise, with some of the world's best dive sites just 50 miles off the Florida coast. As the Bahamas begins to reopen its doors to foreign travellers, the Ministry of Tourism and Aviation is upping its promotion of the island's diving attractions by appointing several Diving Ambassadors, including award-winning underwater photographers Stephen Frink and Adam Hanlon.
The British Virgin Islands is another Caribbean dive hotspot that is getting itself back on track for 2021, and the British Virgin Islands Tourist Board has launched promotion for the BVI Wreck Week from 9-15 May 2021.
Wreck Week is a celebration of the BVIs and their rich maritime culture and history, and it features stops on Jost van Dyke, Tortola and Virgin Gorda, and looks at wrecks old and new, from the RMS Rhone, which dates from 1867, to the Willy T and Sharkplaneo, which were put down in 2019!
Visitors will enjoy local food and fun, with beach parties and formal dances. They will also learn some of the BVI's amazing history, including presentations from the BVI National Parks, and about the unique Tortola Sloops.
BVI Wreck Week features beach clean-ups, opportunities for citizen scientists to make a difference, and also points toward amazing career paths for the BVI youth, as they get to Meet & Greet industry experts.
The Cayman Islands is yet another Caribbean dream destination for divers that is revving up to welcome divers back in 2021. The Cayman Islands Department of Tourism has been sharing a message of positivity in these turbulent times, and is looking forward to seeing people back on Grand Cayman, Little Cayman and Cayman Brac soon.
If you visit their DEMA booth today, you can register for their T'anks a Lot virtual trivia night, which will be taking place from 7pm-8.15pm EST and will feature a mix of various trivia rounds in team breakout rooms, prizes, sponsorship content, destination updates, a virtual photo booth, and more.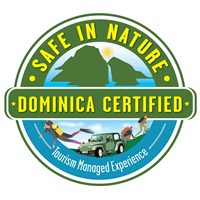 The Nature Island of Dominica, with its sublime blend of cliff walls, submarine canyons and unique features like pinnacles, swim-throughs and enchanting bubbling fumaroles (due to the island's volcanic nature), is ready to welcome back visitors, and has introduced a Safe in Nature programme. This is essentially a 'tourism bubble' within which specific activities can take place in accordance with action plans submitted by the properties and approved by the Ministry of Health, Wellness and New Health Investment. This 'tourism bubble' will be exclusive to cohorts of guests only, and they will be able to travel from property, conduct water-based and land-based activities, etc, albeit with more caution.
The Pacific paradise of Fiji, the so-called 'soft coral capital of the world', is another destination hoping to get back on track in 2021. With 333 islands making up the archipelago, there are myriad world-class dive spots to choose from.
While Fiji is missing its divers more than ever, the country is hard at work preparing for their long-awaited return. The Care Fiji Commitment is a programme developed to include enhanced standards of safety, health protocols and measures so that Fiji can safely welcome back international visitors. As part of the programme, Fiji has created the careFiji App, which assists with contact-tracing efforts to help mitigate any potential transmission of COVID-19.
Safety is also paramount, and Fiji has a brand new hyperbaric decompression chamber which is located at the Colonial War Memorial Hospital in Suva and managed by the Ministry of Health and Medical Services. Training and accreditation for the staff is currently underway, and the chamber will be available for use as soon as borders reopen in 2021.
Join us again tomorrow when we will be perusing the virtual halls of DEMA 2020 on the fourth-and-final day to bring you more up-to-the-minute news!