Dive in the centre of Marine Biodiversity
It is hard to imagine with Indonesia being a renowned diving paradise, but hidden off the southwest coast of West Papua, the province of Kaimana features marine biodiversity of abundance yet unknown to other parts of this prolific land and water. Located in the heart of the Coral Triangle together with neighbouring Raja Ampat and Cenderawasih Bay, this remote area has been classified as the richest in the congregation of endemic species yet discovered on the planet.
Diving and Sailing around Raja Ampat in a combination with West Papua's coastline offers an unparalleled and diverse ocean environment to explore above and below the surface.
Multiple marine creatures are attracted here by nutrient-rich waters created thanks to adjoining currents of the Indian and Pacific Oceans, and one-of-a-kind coral growth you are likely to encounter elsewhere. Anything from the tiniest pygmy seahorses to the huge graceful manta rays and playful dolphins could be found in Kaimana's Triton Bay, however, the undeniable draw of the area is its recently presented to the touristic world population of whale sharks that can be found in these wealthy waters all year round.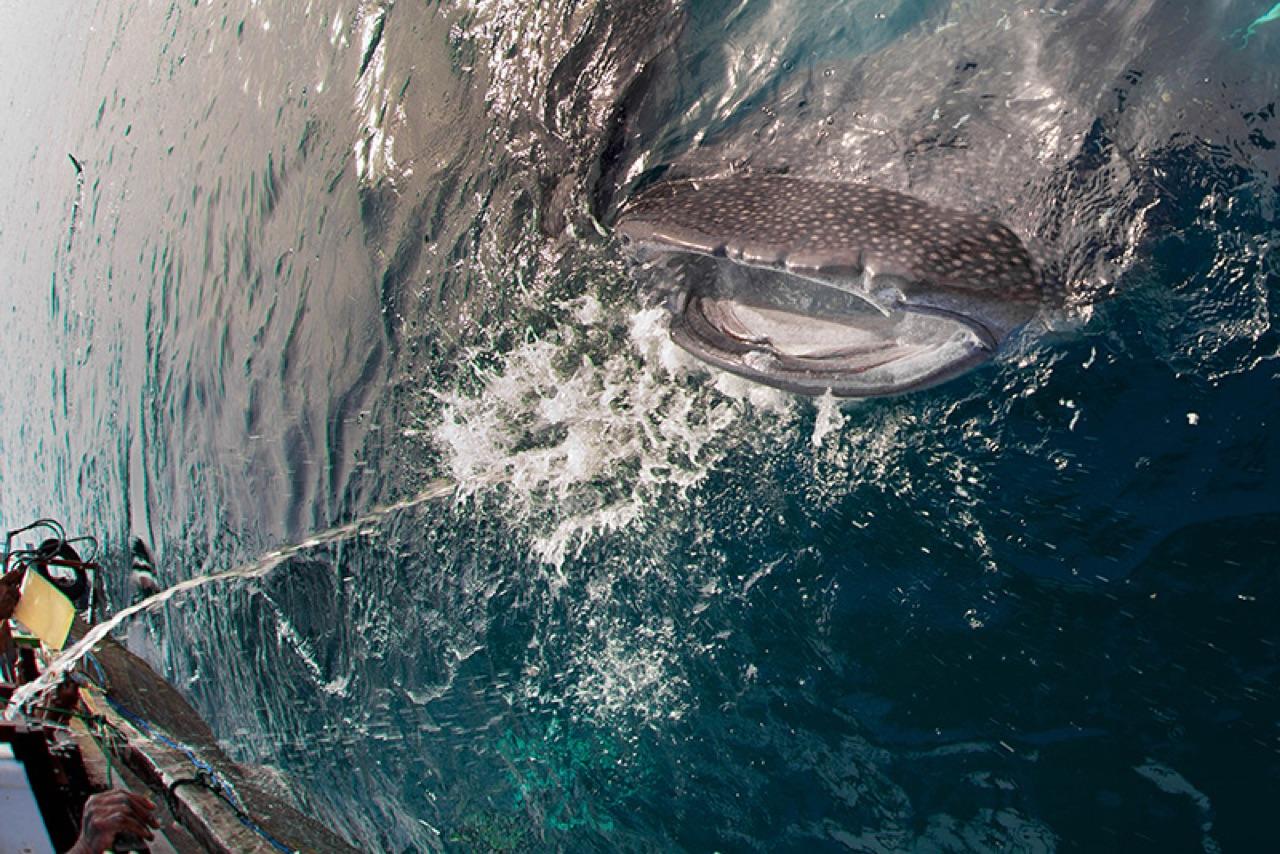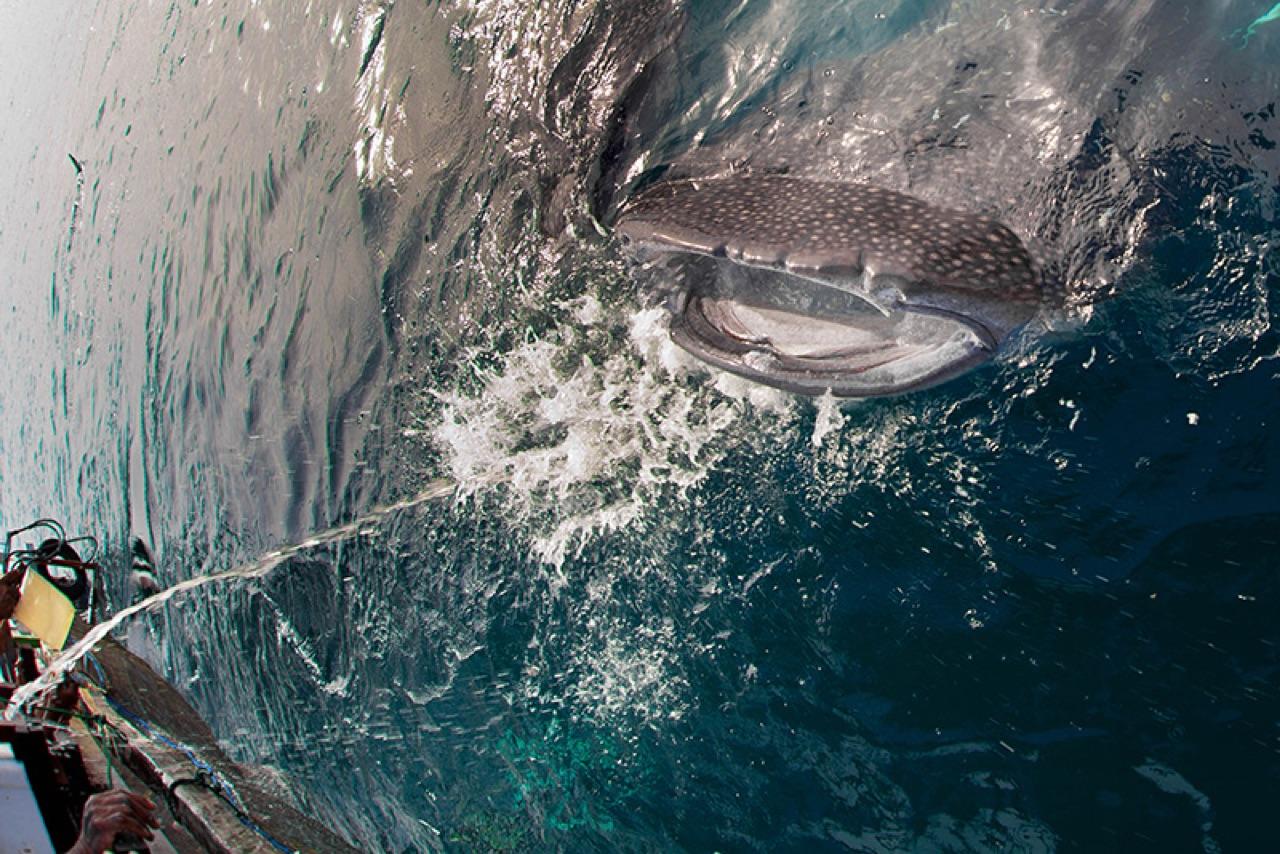 Cruise Triton Bay
To better describe the nature gifts treasured in Triton Bay and the literally planet-scale importance of the whole BHS area for the global ecosystem health, ecotourism development and support of the local population, here is a short summary of what is dubbed as an 'Underwater Amazon' highlights – 1,711 species of reef fish, 600+ species of corals, 17 species of whales and dolphins, some of the world's most extensive mangrove forest, turtle nesting beaches, rays, turtles, dugongs, endemic fishes and of course one of the main draws – the all-year-round population of whale sharks feeding around the only fisheries so-called bagans, permitted in these waters.
While all this already sounds too good to picture, Triton Bay has yet, even more, wonders to share above the waves. New Guinea's untouched jungles, endemic birds and rare plants, paradise white-sand deserted beaches, calm bays, surrounded by giant karst cliffs, and luscious green hillsides offering some unmatched sunsets are to name a few. Inquisitive souls shall likewise benefit from exploring prehistoric rock art decorating the limestone cliffs of this pristine destination.
No wonder that this unique venue draws a growing number of liveaboards in the region benefiting the local population with new employment opportunities and developing infrastructure. Compared to Raja Ampat and Cenderawasih Bay, Triton Bay is still an off-the-beaten-track location that is not yet widely acknowledged and thus can be missed out from common liveaboard itineraries. To avoid any disappointment with your travel plans, one should also bear in mind the schedule those liveaboards stick to – providing trips to the area specifically during the October to April season, when the weather conditions are the most appropriate to get the best experience.
Whalesharks of Kaimana, Triton Bay
This natural phenomenon is worth mentioning as a separate point. With whale shark encounters being mostly a rare bonanza of a lucky diver and even if so, a rapid one, the waters around Triton Bay are proud to be an actual home of a whale shark population, with these creatures demonstrating here an uncommon behaviour that in turn ensures prolonged close-up encounters with the mysterious animals not only for divers but also for those preferring snorkelling gear. Almost every morning, whale sharks will gather around bagans – large floating platforms that local fishermen work and live on – to feed on the small baitfish that fishermen catch during the night. West Papua fishermen believe whale sharks to be an omen bringing good fortune and they actually encourage the giants to arrive at bagans by feeding them directly, or allowing the beasts to suck on the holes in the attached to bagans vast nets.
Although often visitors, Triton Bay whale sharks could be a hit and miss since they show up depending on the fishermen's catch, which in turn depends on the time of the year, but with the wisely scheduled visit, a diver may steadily count on a 60-70 percent success rate of witnessing these amazing creatures. Furthermore, as numerously mentioned, wealthy Kaimana waters have a lot of wonders to offer.
Dive Sites of Triton Bay
The hidden gem of Indonesia, Triton Bay is a diving paradise. With its waters being what one can confidently call an amazing marine nutrient soup attracting all the possible life here, the number of dive sites already totals 30 (including Black Forest, Little Komodo, Aquarium, Larry's Heaven, Batu Jeruk, Batu Jatuh, Bo's Rainbow, Disneyland, etc) and it will go far beyond that with new sites being uncovered each coming season. Huge varieties of schooling fish and colourful reefs blanketed with soft coral gardens and enormous black coral bushes form picturesque undersea islands, pinnacles, caves and caverns – this area highlights one of the most diverse marine eco-systems in the world. Another perk, though not widely recognized, is that the bay is also great for macro and muck diving, with flasher wrasse, pygmy seahorses and numerous other critters found here, including those that can be seen nowhere else, such as walking sharks.
Whalesharks and Conservation of Triton Bay
Triton Bay is a unique area uncorrupted by the rapid tourism development of other parts of Indonesia and, most importantly, saved from the excessive fishery and poaching that almost brought local waters to an endangered state. For a decade, Conservation International has been working to revive this unique bioregion that boasts the highest coral reef and marine biodiversity concentration found anywhere in the world, establishing in 2004 The Bird's Head Seascape, an initiative that covers the area of Cenderawasih Bay in the east, the Raja Ampat archipelago in the west, and the Kaimana Regency and Triton Bay in the south. This became one of the world's most-ambitious community-based conservation programmes, with among other achievements, the status of Marine Protected Area in 2008 for the waters of Kaimana and Triton Bay.
Cruise Raja Ampat and Triton Bay
A smart choice might be to cruise most of the Bird's Head Seascape in a row. Bearing this in mind, a solid itinerary would connect a Cruise through Raja Ampat Islands with a further voyage to the dive sites of the Papuan Coast, giving explorers opportunity to see Triton Bay's whale sharks. Most liveaboard cruises commonly depart from Sorong/Waisai and terminate in Kaimana or vice versa.
The suggested route is rarely cruised and is characterised by visiting literally one of the most-remote regions of the world – an adventure perfectly designed for a private charter accommodating a group of freedivers or scuba photographers aboard.
Liveaboard Itinerary Raja Ampat to Triton Bay (12 Nights)
1st day
Departure from Waisai
Waisai is a capital of Raja Ampat regency. It is based on the island of Waigeo and is a common departure point for Raja Ampat Cruise.
Check dive in Mioskon
Mioskon is a small island on the northern side of the Dampier Straight. There are several dive sites in the area, all of them being perfect for a check dive, giving a good impression of what to expect from Raja Ampat, but at the same time known for easy conditions. Schools of yellow snapper, Napoleon wrasse, big grouper, wobbegong sharks, pygmy seahorses, different species of nudibranch and numerous bommies found here make Mioskon a spectacular dive.
2nd day Penemu
Penemu is an island group in northern Raja Ampat featuring a fascinating picture of small islands covered in limestone yellow-greenness. It is also famous for the marine bio-diversity and a number of top-class diving sites sheltering colourful coral gardens and variety of critters. Perhaps the most appraised of all is Melissa's Garden, recognised for its hard corals, schools of smaller fish, barracuda and wobbegong sharks. Another attraction is an astonishing viewpoint at Fam Penemu overlooking small green islands sinking in azure waters.
When the sun goes down, we will set sail to Misool.
3rd day Misool – Balbulol Lagoon  / Fiabacet
One of the main attractions of the area – the Misool islands feature famous picturesque scenery of dozens of mushroom-like tiny islands piercing the skies. Balbulol lagoon holds a surrealistic view over the small bumpy islands covered in spectacular karst cliffs.
The submarine decoration is no less spectacular, carrying some of the most-abundant species in the world. The site is teeming with marine life – schools of fusiliers and glassfish, graceful mobile rays, pygmy seahorses, nudibranchs, grouper, wrasse, parrotfish – this list could go forever.
4th day Misool – Fiabacet / Warakaraket
Diving Misool will take three full days with this area being a true sea gem. On day four, we will uncover a Magic Mountain site located near Warakaket Island. Vibrant soft corals, more than one manta ray cleaning station, schooling snapper and trevally, turtles, grey reef sharks, famous walking sharks, wobbegong and much more living in these wealthy waters.
Renowned Boo Windows features beautiful underwater arches formed by two huge rocks, spectacular soft corals, sea fans and schools of fish.
We will finish the day exploring mysterious Timolol, where a sacred cave accessible by water presents prehistoric paintings shadowed in massive stalactites.
5th day Misool – Daram
An exceptional dive. Simply one of the most-luscious reefs in all of the 4 Kings boasting healthy corals and fish species. You will most probably be lucky enough to spot hawksbill and green turtles that are thought to be breeding on Daram Island beach.
When night comes, we will cross to Pisang.
6th day
Pulau Pisang
At remote Palau Pisang you will find healthy coral reefs with one of the biggest forests of black corals found in Indonesia, schools of barracuda, mantas, turtles and some unusual species of sharks. You will finish this fun-filled day resting on the beach indulging in the spectacular scenery as the crimson sun sets into the deep blue waters.
At night we pull anchor in the direction of Mommon.
7th day Mommon
We will start the day with a trek to the land to bask in the early morning radiant scenery as well as enjoying a spectacular waterfall view that you undoubtedly would want to photograph.
The dive site is characterised by an amazing amount of soft coral, entertaining topography and the chance to witness mantas, barracuda and schools of jacks.
Early morning next day we start heading to Triton Bay.
8th day Triton Bay: South Aiduma
Situated at the southeast of Aiduma island small patches of prosperous reef featuring now -renowned dive sites – Last Frontier, Batu Jeruk, Christmas Rock – await. Soft corals and schools of fish are concentrated within the dense area of the surrounding reef. Recently discovered Last Frontier offers the clearest waters found in Triton Bay and larger marine life.
The beach is no less spectacular, offering amazing idyllic lagoons to kayak and pelicans to spot on the land.
9th day
Triton Bay: Suruenus island: Little Komodo, Bo's Rainbow
Colourful soft-coral-covered boulders are home to schools of fish around Saruenus Island. One of the most-famous dive sites is Little Komodo. It boasts prolific marine life and is a good one for macro photography lovers. No less dramatic is Bo's Rainbow, whichoffers a relatively shallow dive good for both wide angle or macro shooting.
10th day
North Selat Iris
Selat Iris is one of the most-distinctive dive areas. We spend day 10 exploring the yet unlisted offerings of this rich marine protected area.
11th day
Next to Kaimana Bay – Whale Shark (early morning)
Here is the well-deserved climax of the voyage – a trip to encounter the Kaimana Bay whale sharks. We get to the local bagans as soon as the sun rises to catch gentle sea giants feeding on the caught-at-night baitfish. A truly mind-blowing spectacle.
If you still seek more experiences, we will organise a visit to the local village where you can get accustomed to ancient traditions and fascinating local culture.
12th day
You check out in Kaimana, taking a lifetime of memories to travel with you back to your destination.
Please note that this is a sample itinerary. The exact sites and timing especially when cruising to remote regions will always be determined onboard in consideration with weather and ocean conditions. While there is a fair chance for whale shark and other large pelagic sightings, they can never be guaranteed.
Getting To Triton Bay
For cruise departures from Kaimana, you shall first fly to Ambon from Jakarta, catching then your final flight to Utarum Airport in Kaimana. From Kaimana, followed by a short journey on a tender, you will embark the yacht.
For cruises embarking in Raja Ampat – Sorong or Waisai – take a flight from Jakarta to Sorong. from Jakarta it is easy to connect to all major hubs in the area, like Singapore, Kuala Lumpur, Hong Kong or connect to flights from the US or Europe.
Book a Cruise
Enquire now with Barefoot Yachts Indonesia for a customised dive cruise around Raja Ampat, Misool, Triton Bay and beyond.