Coral Nurture Program for the Great Barrier Reef
The Great Barrier Reef is an ecosystem like none-other. In addition to being an Australian icon, it is a World Heritage Area and is also one of the most important marine ecosystems on Earth.
Tourism on the reef also accounts for a large percentage of the economy for cities in Far North Queensland like Cairns, Port Douglas and Townsville, for the state of Queensland, and for Australia as a nation. As the world continues to adjust to the unique situation presented by the COVID-19 pandemic, tourism on the Great Barrier Reef has come to a virtual standstill.
But this doesn't mean that tourism operators are sitting idly by, simply waiting for restrictions to be lifted so that day-to-day operations can resume. One tourism operator in Cairns, Passions of Paradise, has used this industry shut down to focus on several of its scientific partnerships. In addition to providing survey data for the Great Barrier Reef Marine Park Authority's Eye on the Reef program, Passions of Paradise has also become a vital partner in the University of Technology Sydney's Coral Nurture program and has spent the shutdown planting coral at two of its reef sites.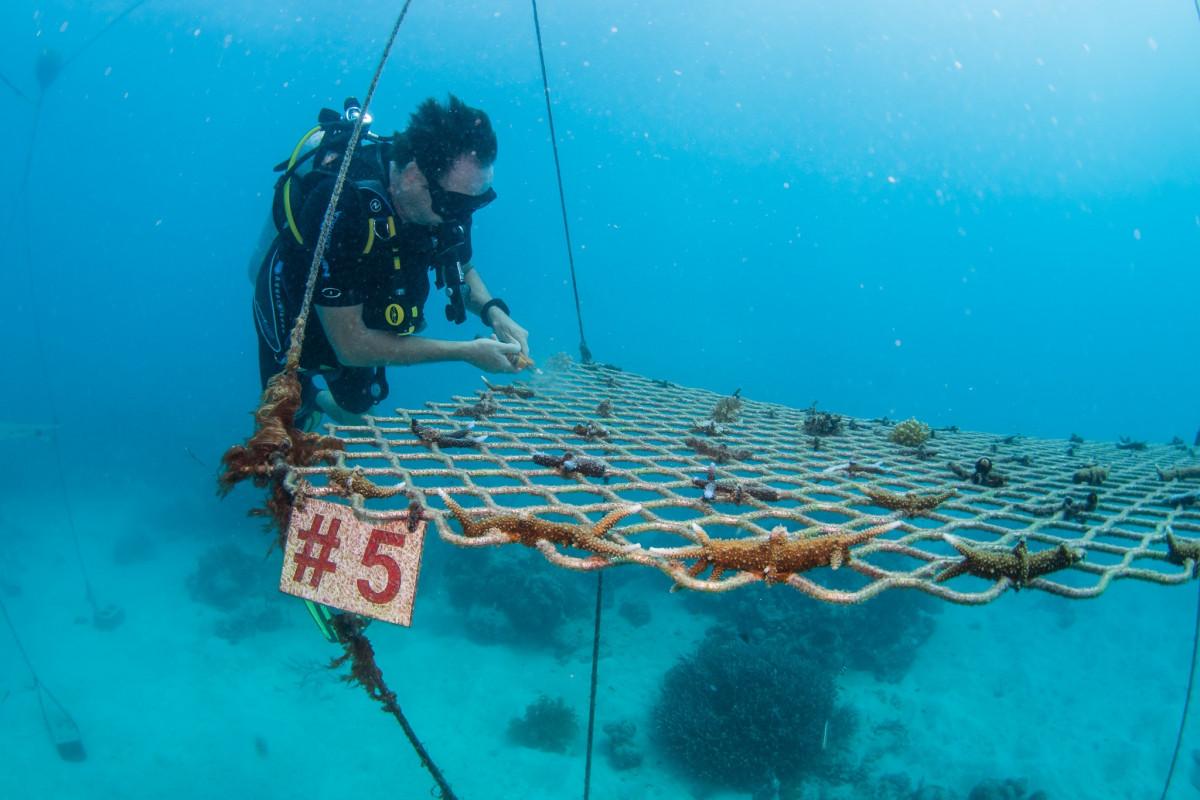 The Coral Nurture Program is a project funded through the Australian and Queensland Government Coral Abundance Challenge and was developed by a team of scientists consisting of Associate Professor Dave Suggett, Dr. Emma Camp, Wavelength Owner John Edmondson, and PhD student Lorna Howlett.
The team has partnered with five tour operators in the Cairns and Port Douglas area: Wavelength Reef Cruises, Ocean Free and Ocean Freedom, Passions of Paradise, Sailaway, and the Quicksilver Group. Starting in June 2019, the "Proof of Concept" stage saw these operators, under the guidance and supervision of Professor Suggett and his team, start out-planting coral fragments onto the reef structure at some of their sites on the Great Barrier Reef.
While Passions of Paradise has had to cease its daily tourism operations as of March 22, 2020, Founder and Managing Director Alan Wallish has donated the vessel to continue the Coral Nurture Program, with the aim of planting over 2000 coral fragments across two locations on Hastings Reef, named "1770" and "Stepping Stones".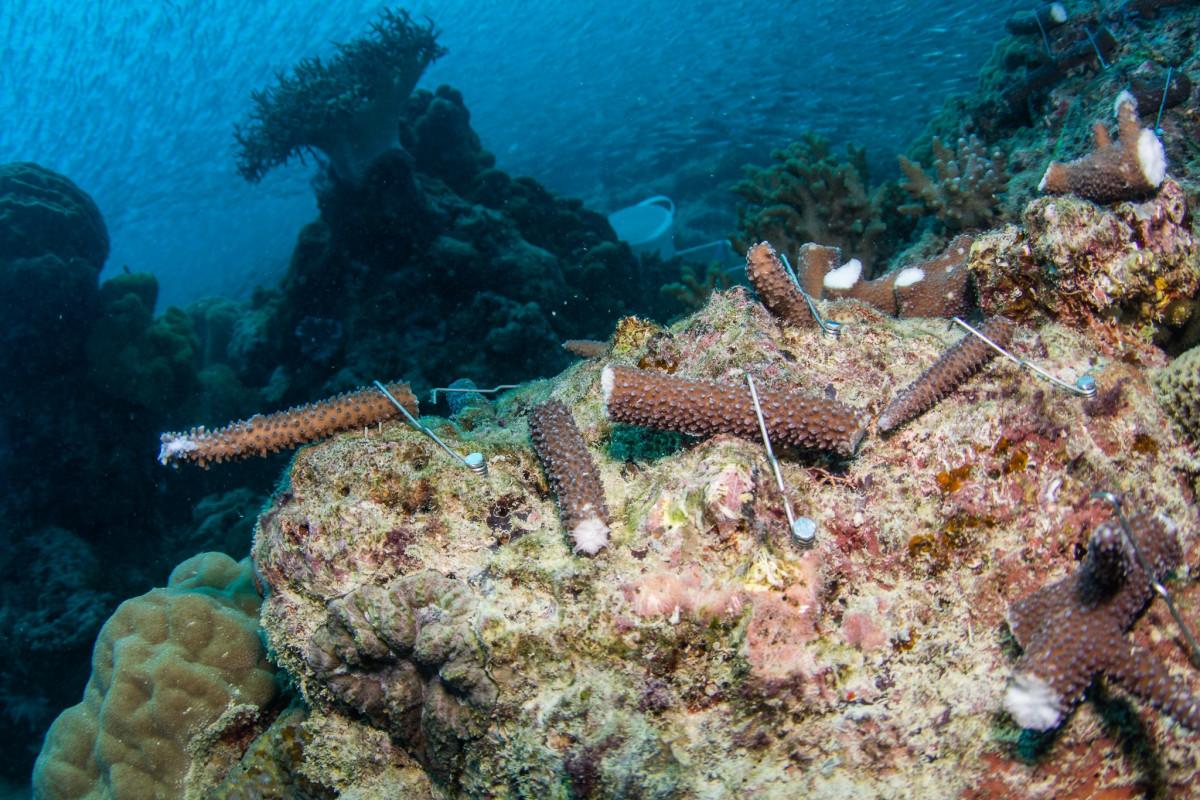 "Hastings Reef provides an excellent opportunity to take this program and really put an intensive effort in supplementing the natural ability of the reef to heal itself," says Alan. "Hastings has faced many challenges in the last decade, from Cyclone Yasi in 2011, the Crown-of-Thorns Starfish outbreak of 2012-2013, and the mass bleaching events of 2016, 2017 and now 2020."
While initially concerned about what effect the shutdown would have on his business, one thing that has been a huge comfort to Alan is the resilience of his reef locations. "The crew have used the so-far 10 weeks of shutdown to plant about 1500 coral fragments, but we have been seeing continual signs of natural improvement every year since we started regularly visiting these sites, and we look forward to seeing what wonders these outstanding locations will provide to our future guests. To people that say 'The reef is dead' I would obviously dispute that and simply say 'Come and see for yourself'."
At the core of the Coral Nurture Program is the process of coral fragmentation. While many people are familiar with spawning, the sexual method of reproduction corals use, and budding, the asexual result of individual coral polyps cloning themselves to build colonies, many are not aware that corals have what is essentially a third method of reproduction, called fragmentation. An excellent explanation of this process comes from Passions of Paradise's Environmental Manager and Master Reef Guide Russell Hosp.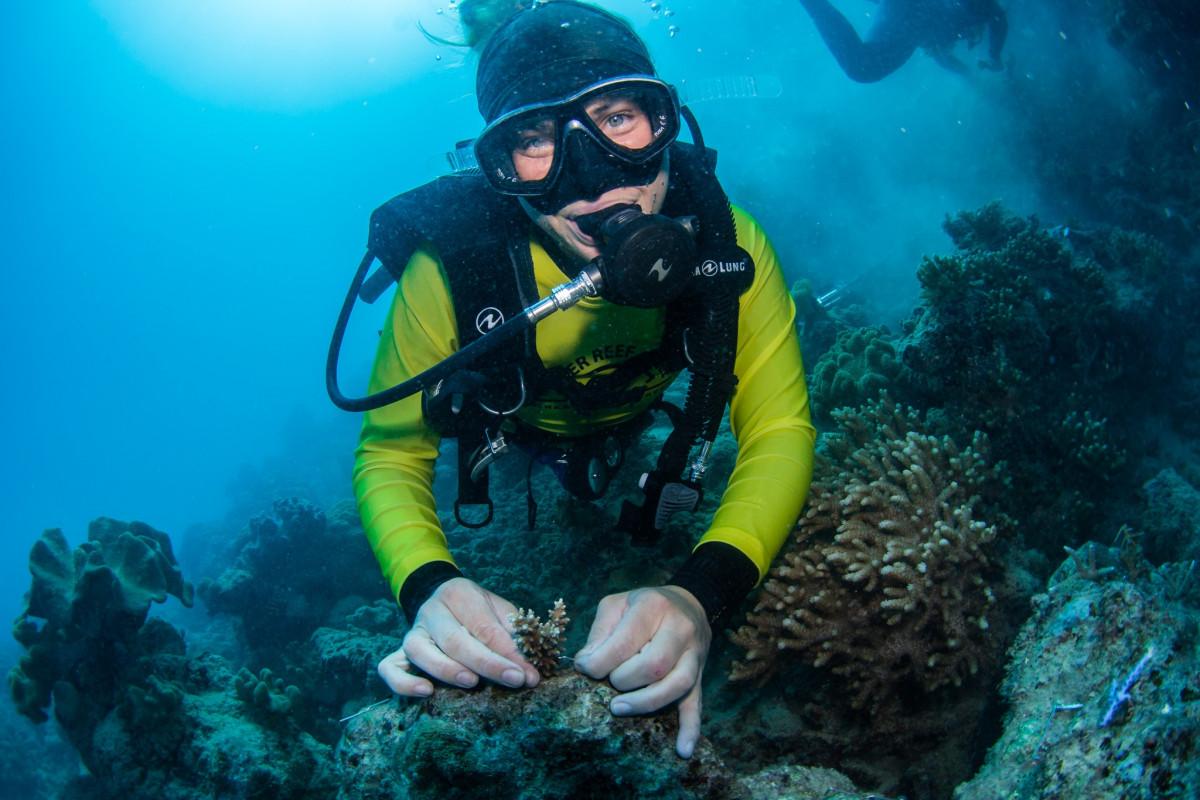 "The common assumption among most of the general public is that if a large coral structure is damaged and broken into pieces, either by severe weather, breakage from wildlife, or other impacts, that both the coral colony and the pieces will die. This is not actually the case," explains Russell. "The coral colony can easily recover from pieces being broken off, and the pieces themselves have a remarkable regenerative ability.
If a piece of staghorn coral, for example, is broken off of the main colony, tides, currents and other natural phenomena can carry these fragments across the reef. If these pieces get stuck in an area where they cannot move, the corals in the fragment may actually start to excrete extra calcium carbonate–the building material of hard corals–and secure themselves into that location. They can then grow an entirely new colony."
Russell and his team, including Marine Biologist and fellow Master Reef Guide Kirsty Whitman, have used the shutdown to use cutting edge technology called the "coral clip" to affix naturally occurring coral fragments to the reef structure. The process for using the coral clip is one-of-a-kind, and once the technique has been mastered, coral fragments can be planted quite quickly, as Kirsty explains.
"The clip itself is a 25-millimetre masonry nail with a stainless steel wire wrapped around the top, and the wire extends horizontally approximately 30 millimetres from the top of the nail; think of something like the shape of a capital letter L on its side," says Kirsty, describing the clip. "You hammer the nail into the limestone substrate of the bare reef, which we call 'live coral rock'." You then pin your piece of coral under the wire, and it stays there immobilised and under tension. With a little luck, after about six weeks, it will have cemented itself to the substrate, and a new colony will start to grow."
Since the March 22 shutdown, Passions of Paradise has been able to venture out on four coral planting trips, and the crew have been able to so far plant about 1500 pieces of coral in total. That's fantastic news for the environment at Hastings Reef, and according to Alan, this is just the beginning.
"We've always had a strong partnership with a variety of scientific projects and organisations. We've hosted scientists specialising in sharks and rays, invertebrates, and corals obviously. We're excited that we've been able to focus on this particular project during the shutdown, and this progress is not an isolated achievement," Alan explains. "We're going to continue this program when we start taking passengers again. We'll continue this partnership far into the future. Planting 2000 coral fragments is the goal; if we can achieve that, it's not the end of the road. When we hit that mark, we will try for more."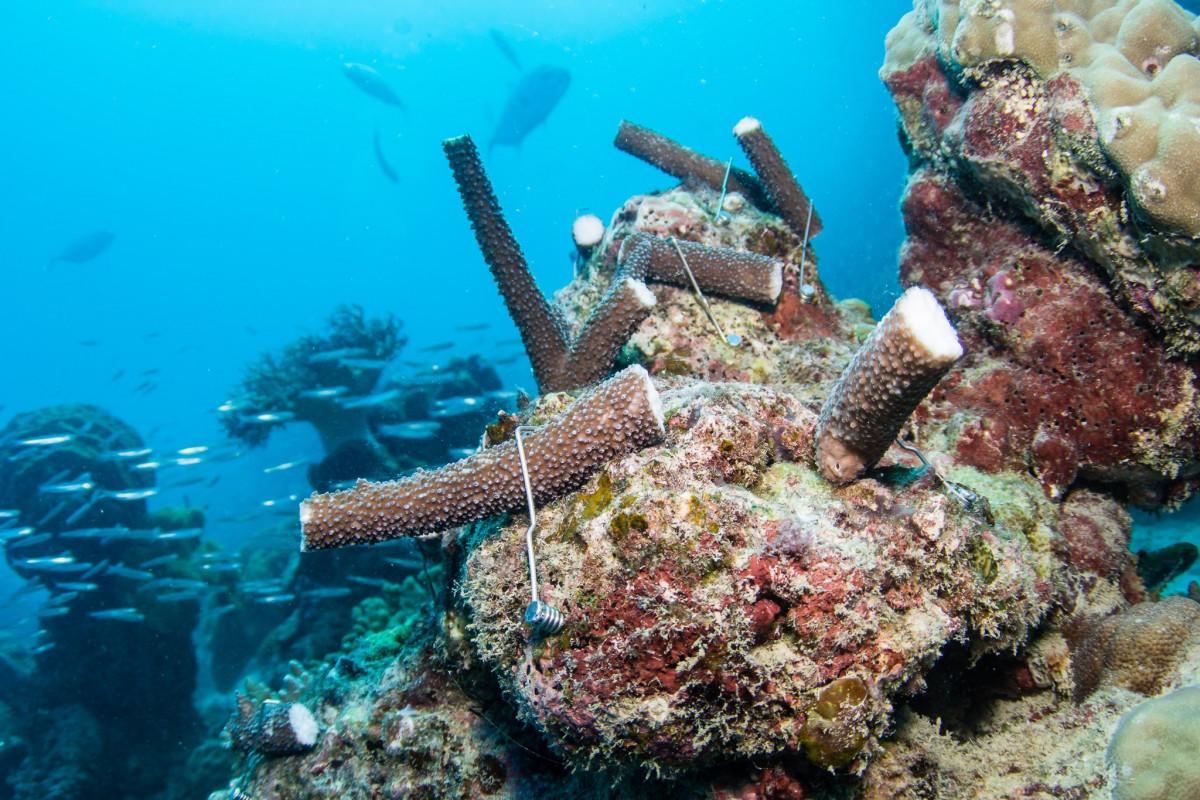 Planting corals on the reef itself has been the focus of the bulk of the work for the crew at Passions during the shutdown, but there is another aspect of the Coral Nurture Program that has kept the crew busy as well: maintaining and adding to six coral nurseries, which are also located at 1770. For Passions of Paradise owner and CEO Scott Garden, these nurseries are an integral part of Passions' future in the Coral Nurture Project.
"Finding coral fragments during a dive can range from relatively easy to frustratingly difficult," Scotty explains. "The idea of having these nurseries is that we can attach some of the coral fragments we find to these underwater nurseries. The nurseries themselves are large aluminium lattice frames, about the size of a household door. As the corals grow, according to the permit for the program, we are then allowed to break fragments off from our nursery and attach them to the reef structure just as we would fragments taken from the wild. Similar to the way a gardener will take plant cuttings, help them mature, and then position the new plants in different areas."
The nurseries are not just beneficial to the crew in creating stocks or coral to transplant to the reef; they also serve as an interesting information point to share with guests. Certified and introductory divers are allowed to dive near the frames, and Passions' daily marine naturalist presentation gives the crew a chance to share with the guests some of the conservation efforts the company participates in.
"It's a great talking point with passengers," says Russell. "There has been a real shift over the last 10 years, as visitors to the reef not only expect a five star experience, but they want an authentic encounter with a high standard operator, a company that shows a commitment to the conservation of the reef ecosystem. We at Passions pride ourselves on our mission, not just to showcase the wonders of the reef, but to share our message of site stewardship. For us, being sustainable isn't just window dressing–we want our guests to know we walk the walk when it comes to conservation and sustainability."
As Passions of Paradise continues its partnership with the coral nurture program, it is also looking to the future. As the state and federal government slowly ease COVID-19 restrictions, Passions is hoping to return to normal operations starting July 2, 2020. As the company resumes day trips, it will continue to set aside a day each week to plant coral fragments and monitor their nurseries. According to Alan, it is this commitment to science and conservation that is at the core of Passions of Paradise's mission going forward.
"The Great Barrier Reef is many things to many people," says Alan. "For traditional owners, it's an integral part of their culture, heritage, and story. For guests, it's an exhilarating ecosystem that offers experiences unmatched anywhere else on Earth. For those of us at Passions of Paradise, it is our lifeblood, and it is only through conservation, sustainability, and best management practices that we will be able to continue looking after this amazing natural resource. And that is our commitment; conservation is not 'what we do' but rather 'who we are' and we will always give mother nature a say in everything we do."
For more information about diving in Queensland visit: Dive Queensland
Photo Credit: Passions of Paradise
Want more conservation-related articles?
500 Green Turtle Hatchlings Released 
Ceningan Divers release online Education Centre to promote environmental conservation
Florida Passes New Bill to Stop Further Sales of Shark Fins