Friends of Chowder Bay group formed to help protect local Mosman marine residents.
Chowder Bay has been a popular dive site for Sydney scuba divers for many years. One of very few easily accessible shore dives on Sydney Harbour, the site is teeming with fascinating marine life that has long attracted scuba divers and free divers.
It's a macro-photographer's dream, with tiny pipefish, several species of nudibranchs and angler fish, moray eels, decorator crabs and of course: seahorses. One particular Moray Eel couple have been residents of a hollow, broken pylon for several years, named affectionately by regular divers; Murray and Ellie.
The recent installation of 'Seahorse Hotels' at Chowder Bay has attracted the attention of even more scuba divers and freedivers, eager to see the progress of this marine conservation initiative.
The 'Hotels' were installed to create habitat for reintroduced juvenile seahorses in a program managed by the Department of Fisheries, Sydney Institute of Marine Science and Sealife Sydney Aquarium to help boost the dwindling population of Sydney's endangered White's Seahorse population.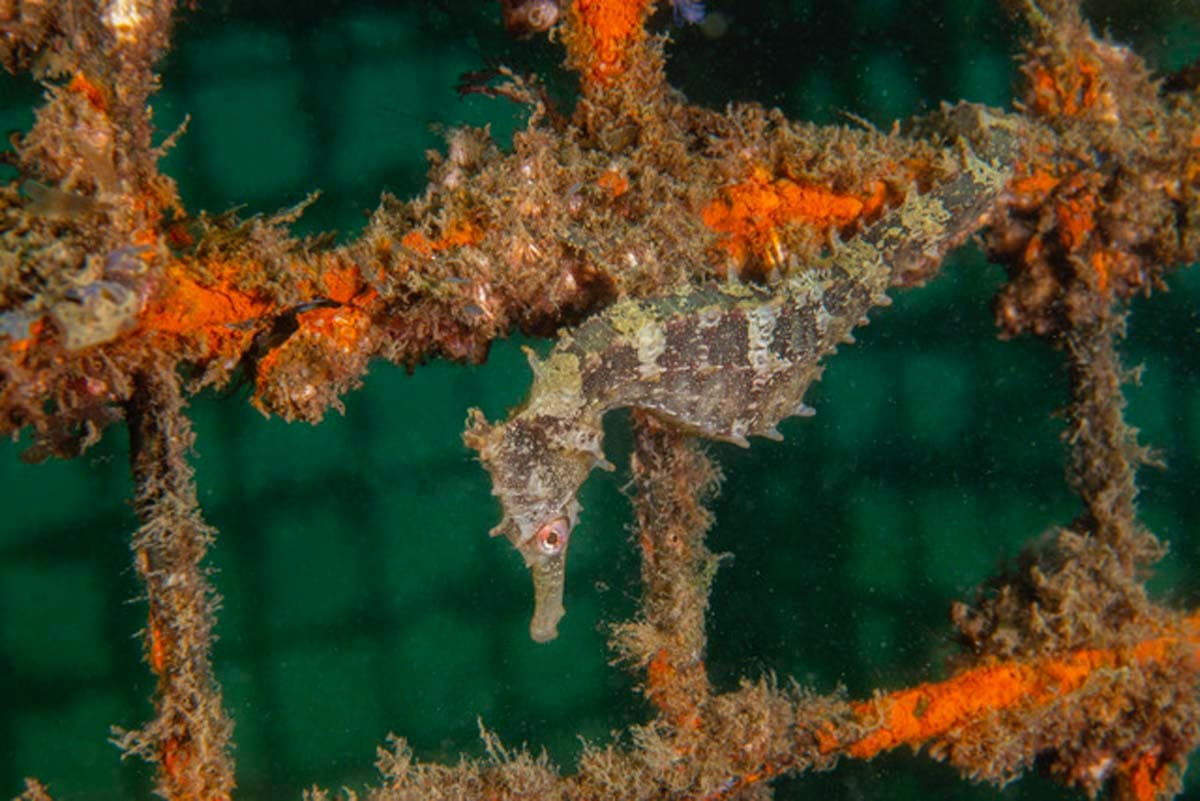 But the experience divers and snorkelers have is not always positive. An increase in activity in neighbouring Clifton Gardens Reserve over the summer holidays, and an increase in the number of fishermen on the jetty, has seen the 'hotels' inundated with fishing debris – everything from leftover bait and plastic bags, to fishing line, lures and sinkers, caught on the Hotels.
Last week, after a busy few weeks on the Harbour foreshore, which saw a beach crowded with families and a jetty crowded with fishermen, divers found a bumper amount of debris on the seafloor and seahorse hotels.
Even more distressing was the discovery of Ellie the eel, dead on the seafloor, strangled by fishing line. Likely entangled by accident – just an innocent victim.
It has prompted a group of regular visitors to form the 'Friends of Chowder Bay', a group that aims to educate visitors to the wonders that lie beneath the water (and the jetty), help clean up the debris with regular underwater and beach cleanup events, and engage locals and visitors alike to help gain better protection for this unique marine environment.
If you're interested in finding out more about protecting Chowder Bay, join our Facebook group: Friends of Chowder Bay, to find out about upcoming educational and cleanup events.
Read the latest issue of Scuba Diver ANZ