Dive computers are one of the most vital parts of a diver's equipment arsenal, and there is a vast array on the market, but by far the most-popular styles are both designed to sit comfortably on your wrist – either wristwatch-style or just wrist-mounted. Aqua Lung boasts a wide array of computers sitting within these formats, and below we showcase four of them. Also check out 5 Best Wristwatch Dive Computers
WRISTWATCH DIVE COMPUTERS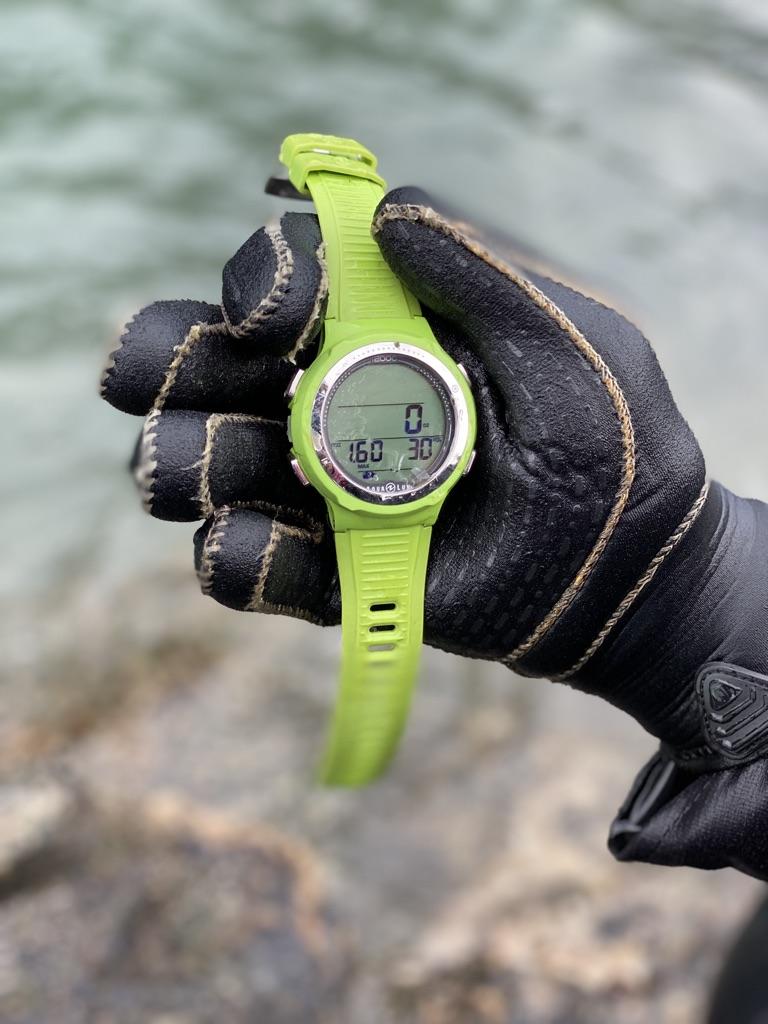 Aqua Lung i200C (SRP: £299)
The i200C represents fantastic value for money for a well-equipped and durable wristwatch-style unit. It uses the tried-and-tested Z+ algorithm, and has a segmented LCD display, which is easy to read – for low-light conditions, it has a push-button-activated back light, which is handy on night dives.
It has got four operating modes – Air, Nitrox, Gauge (with run timer) and Free Dive. Handily, the latter tracks calculations to allow unrestricted switching between free and dive modes.
In Nitrox mode, it can handle two gas mixes, up to 100 percent oxygen, so will cover the vast majority of divers for all of the diving they will ever want to do.
It has a user-replaceable battery, so no sending it off to the manufacturer when it runs low, which is a bonus with a wristwatch unit, as many people will use this as a day-to-day watch.
It comes in six funky colours, from the more-subtle Grey and Dark Grey to in-your-face Bright Pink, Aqua, Blue, and Hot Lime.
The best thing about the i200C is how easy it is to use – it literally takes a couple of minutes to get your head around the menu and navigation and then you are away.
---
Aqua Lung i450T (SRP: £434)
The i450T was Aqua Lung's first real foray into the world of wristwatch-style dive computers, and is a capable unit in its own right, with a whole host of features.
For those who want to do away with their SPG, or just like the simplicity of all of your information being on your dive computer, it offers hoseless gas integration. The i450T is actually compatible with three different transmitters and three different nitrox mixes, each with individual PO2 set-points, on a single dive, so will suit even entry-level technical divers. Aqua Lung's patented Gas Time Remaining algorithm provides real-time calculations, allowing accurate gas management, and there is an optional deep stop with a countdown timer.
The screen is nice and clear, and the large font size makes it easy to read even though there is a lot of information on display. The backlight assists in low-light conditions, while the audible alarms and a high-visibility LED warning light provide additional safety. The durable PVD (Physical Vapour Deposition) finish on the black/grey version means it is extremely tough and resistant to wear, as well as looking very sleek and stylish on your wrist during day-to-day wear. It is also available in white, and black/blue.
It has four operating modes – Air, Nitrox, Gauge, and Free Dive, with the latter having a dedicated dive memory.
The i450T has user-updatable software, giving access to the latest features and upgrades, and like the i200C, it also has a user-replaceable battery.
---
WRIST-MOUNT DIVE COMPUTERS
Aqua Lung i300C (£217)
The i300C is a great entry-level wrist-mounted dive computer which would suit newly qualified divers making their first foray into equipment purchases, and also as a durable, robust unit for dive schools and centres.
However, while the keen price – and the simple two-button designs – makes it attractive to new divers, that doesn't mean it isn't a capable computer. The i300C has four operating modes – Air, Nitrox, Gauge (with run timer) and Free Dive (which tracks calculations to allow switching between Dive and Free) – and it is also able to deal with up to three different nitrox mixes up to 100 percent. There is also an optional deep stop with countdown timer.
For safety, it has audible alarms and additional high-visibility LED warning light.
It has a backlight for low-light conditions, and features a useful user-replaceable battery.
---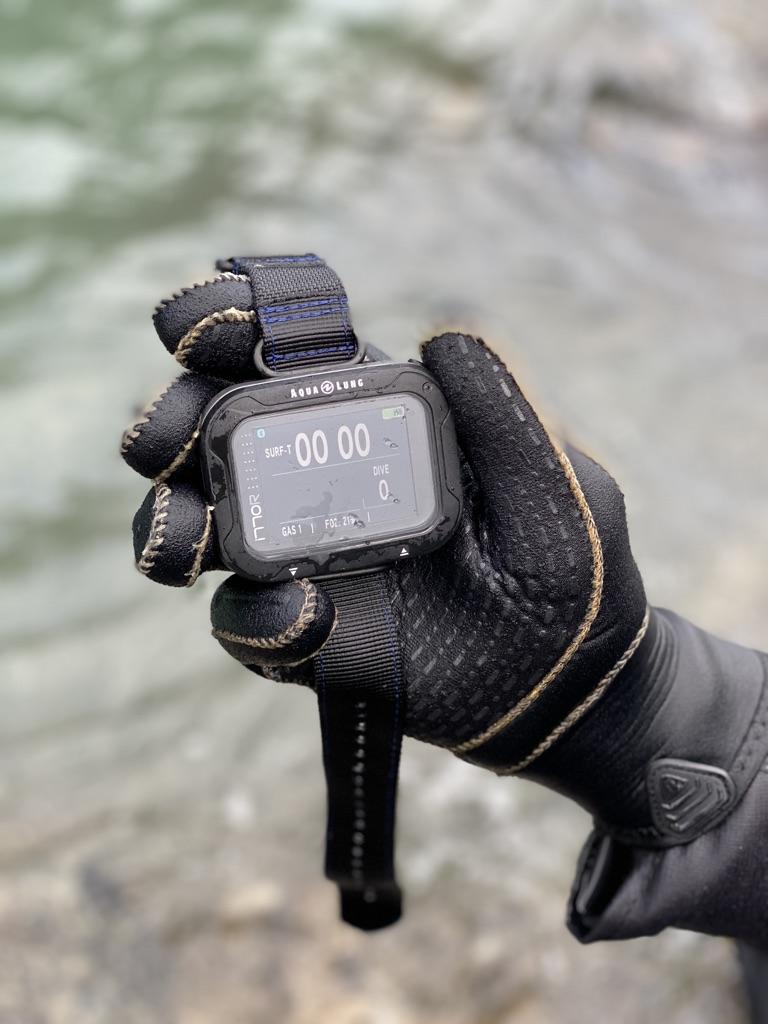 First of all, let's talk about that screen. It is extremely bright and vivid, which makes it easy to see underwater even when it is decidedly murky – one test dive, at 32m, the vis was a grotty 50cm or so with lots of detritus in the water, and yet the screen was still easily legible. The secret to the screen is in the cutting-edge TFT (thin-film-transistor) LCD technology.
The navigation around the menus is controlled by three buttons – two on the bottom, and one on the top right corner. All three are a decent size and can easily be depressed even when wearing 5mm neoprene gloves. Markers on the bottom of the casing show that the lower buttons scroll up and down, and then the right-hand button is for entering – or leaving – a particular area. In set parts of the menu – setting your gases, for example – it even shows you on screen what the buttons do as well. Everything is very simple and easy to use.
As with all computers of this ilk, it is capable of handling multiple gases (and multiple transmitters for hoseless air-integration), so perfect for the entry-level techie. For those venturing beyond this it has a gauge mode, and it has a freediving mode as well.
The 'dive' screens are uncluttered and well laid out, so you can instantly see the important information, and regularly utilised features are clearly visible, such as the all-important three-minute safety stop, which counts down in minutes and seconds.
The three-axis full-tilt compass is very clear and easy to read, and proved simple enough to follow around in the gloom of a chilly British quarry or the warmer, clearer waters of Grenada.
The webbing NATO-style strap is a welcome change from the usual rubber, and can be securely fastened around a drysuit- or wetsuit-covered forearm. An optional bungie version is also included for those that want that style.
It is equipped with a lithium battery, which is easily recharged via a USB cable. I found that even with the computer set to full brightness, it was still giving me several days of use before needing recharging, but it was also useful being able to drop down the intensity when it wasn't needed – for example, in the Caribbean, I didn't need it as bright as I did in the depths of Vivian. And that TFT LCD screen is still clear to read even in the shallows in direct sunlight. It comes in a neat zippered storage case.
DIVERS READY I770R REVIEW
PROS AND CONS
Wristwatch-style dive computer
Pros – compact units that are with you all the time, so no turning up to a dive site and having no computer. Stylish and functional, clearly identifying you as a 'diver' during your normal day-to-day activities.
Cons – due to the design, they have a naturally smaller screen, so the display is smaller than on larger wrist-mounted units. Generally need to use an extension strap if you are diving it over a drysuit.
Wrist-mounted dive computer
Pros – Easy to read thanks to their large display (especially the i770R with its vivid full-colour screen), large straps cover everything from a naked wrist through any thickness of wetsuit to a full-blown drysuit.
Cons – Larger units that you can't wear during your everyday routine. While still relatively compact, they are naturally more-bulky than their wristwatch-style counterparts.
DIVERLOG+ APP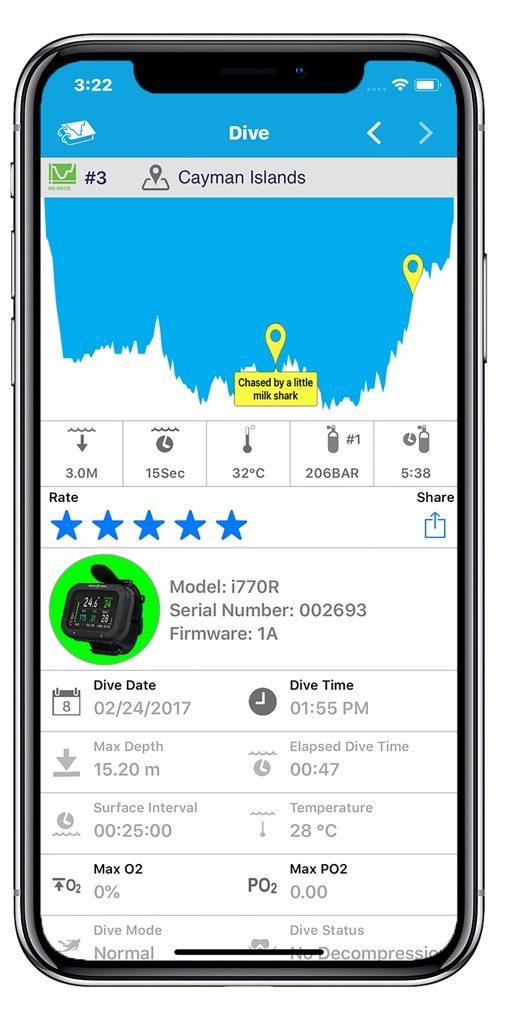 One of the cool features of the i200C, i300C, i450T and the i770R is how they work with the innovative DiverLog+ app (which is available for iOS and Android). The computers seamlessly interact wirelessly via Bluetooth Smart technology, and you can control all aspects of the dive computers from your phone or personal computer.
I found it easy to jump into DiverLog+ and adjust all the settings – gas mix, salt or fresh water, alarms, etc – and then it is a simple matter to just fire that over to the computer and you are ready to dive. Far quicker and easier than doing it all manually on the computer itself, to be honest.
On completing your dive, you can then throw over all your dive data into your DiverLog+ app logbook. Your dive profile, time and date, water temperature, etc, are all brought over from the computer, and you can then add additional information, such as what gear you were using, your location, buddy's name, any photographs or videos you took, and so on.
You can even get your buddy to digital 'sign' your logbook. Once complete, you just hit the 'share' button and can send it out via all the usual channels – email, Facebook, Messenger, Instagram, etc.
The DiverLog+ app has many features beyond those described above – you can build up a file of buddies, locations, 'gear bags' for different conditions, and much more. Like the Aqua Lung dive computer range itself, it is very intuitive and easy to use.
Our gear content is sponsored by Mike's Dive Store, the UK's premier dive retailer. For all your diving needs visit them in-store or online for your diving, freediving, snorkelling and servicing.