WHY RAJA AMPAT IS CHANGING THE WAY SCUBA DIVERS DIVE
Raja Ampat needs no introduction. It is the epicentre of marine biodiversity and is host to over 80% of all the world's coral species! Photos and video struggle to ever do Raja Ampat's vast underwater paradise justice.
The reef is boundlessly alive and continually in movement, tiny fish scamper across the tops of soft corals weaving with the current, while some of the world's rarest sightings make their way through the gin coloured water of this untouched jewel. It is a mesmerising abundance of life in motion.
There is one word to describe the diving in Raja Ampat and that is simply…. INCOMPARABLE.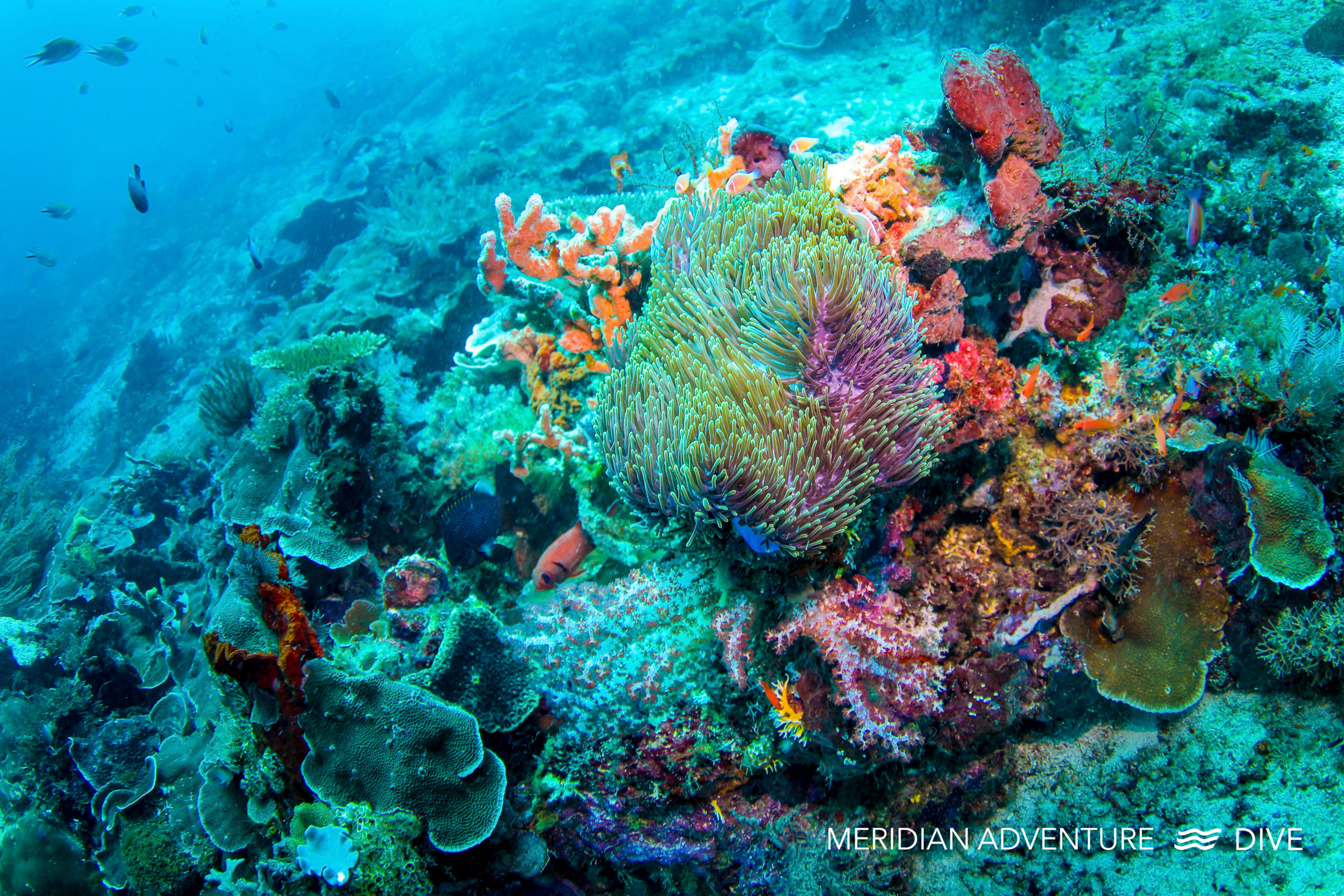 A different type of scuba diver
Raja Ampat is drawing a different kind of diver. One that invests in diving to make a difference. This MAD bunch of divers are serious about doing their research on the type of dive operators and resorts they book – realising that the crowded sites of the Great Barrier Reef, where you are more likely to bump into another diver or smelly dive boat than an epaulette walking shark, is not worth repeating.
The different ways Raja Ampat scuba divers are doing it right
Anchoring yourself at a resort instead of a liveaboard has become more popular. With the development of eco-conscious speed boats that include reef radar, chart plotter and no anti-fouling empowers scuba divers to visit a vast amount of dive sites in hours instead of days.
One such example is Meridian Adventure Dive's first-of its kind dive boats that will get any tech and reef lover giddy.
The dive boats do not anchor near to the dive sites,
It does not discharge sewage, detergents, toilet bleaches, greywater, black water, diesel carbon
Boat anchors can cause considerable damage to coral reefs and can persist for many years. For example, the 1,600 square metres of damage on the reef in Raja Ampat by the MV Caledonian Sky resulted in a decrease in live coral cover and is estimated to take up to 50 years to repair.
Besides the ability of visiting dive sites with zero the footprint, exploring mangrove channels and reefs, watching out for stingrays, manatees and even saltwater crocodiles – evenings are spent in airconditioned, modern and crisp interiors, where the day ends with a dip in the pool next to tiki torches paired with a freshly made cocktails. Now, that sounds like a real jewel in the jungle!
Another way of helping is by asking your dive resort about invasive species and keeping a look-out during your dives. The Crown of Thorns Seastar – a predator of coral – has been causing a bit of a stir in Raja Ampat. It is believed the seastars were introduced to the reef through the ballast water of passing cargo ships, and with few predators, in Indonesian waters, they have thrived.
Keep a lookout for infestations of 5-10 observed in any one traverse.
The difference scuba divers are making in the local community
Do not think just because you are a visitor in another country, that you do not have a significant role to play with the locals. Every visit and monetary investment is a chance to enhance conservation, education and communication.
Raja Ampat's marine life and reefs become threatened with destructive fishing practices, coastal development, runoff from poor land-use practices, and uncontrolled tourism activities.
For example, local subsistence fishermen in Raja Ampat have used dynamite blast fishing methods in the past, and some fragile ecosystems have been threatened by logging, mining, and oil exploration.
It has become even more important than ever to ensure your dive resort supports education, communication and conservation within the local community and serve to promote the area – instead of tarnishing the environment and the people alongside with it.
A good thing to look out for when choosing your dive resort is the extent of their efforts towards enhancing the community, as well as the ocean.
Meridian Adventure Dive has participated in training and upskilling the local Homestay Owners by mentoring the local villagers to become their own entrepreneurs (and not taking any revenue from the bookings made via the resort). By doing this they have opened these homeowners to an international market for people who not only want to visit the pristine environment but want to make a difference in doing so.
Simply put – you make a difference by just making a booking!
For More article from Meridian Adventure Dive Try The Raja Ampat Worm