THE BEST YUCATAN'S CENOTE TO DIVE IN CENOTE EL PIT
Level: Advanced
Depth: between 30 to 40 m
Temperature: 26C
Highlights: Sunbeams, formations, hydrogen sulfide cloud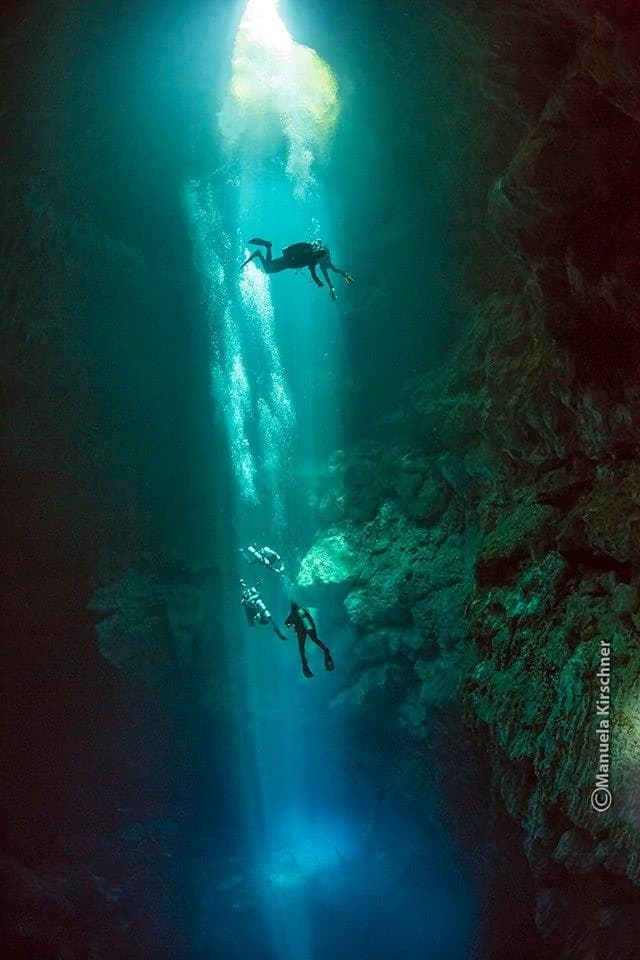 LOCATION
This unique and mystical cenote is located inside the Dos Ojos Natural Park, which is 25km (15.5miles) north of Tulum, about 54km (36 miles) south of Playa del Carmen and 28 km (18 miles) from Xpu-Ha Beach.
DEPTH
The maximum depth of Cenote El Pit is 40 metres and the acid layer at around 27 metres.
The surface of Pit Cenote is in oval shape where you can find stalactites clinging to the ceiling. In the bottom of the cenote, on the other hand, there is cloudy layer of hydrogen sulfide that looks like the fog – this is natural phenomena called The Halicon Layer.
The same fog can be found in Cenote Angelita. This layer is made of by bacteria's which dissolve the organic material but has absolutely no harm to humans who can dive through these clouds without any worries.
TIME
The best time to dive in this cenote is during sunny days, in the morning or the afternoon.
Then divers can be delighted by beautiful light beams that light up this deep cavern.
TYPE OF WATER
This majestic cenote is mix of fresh and salt water – the top 10-12 metres is fresh water and there is mix layer of fresh and salt water. Below 12 metres is salt water.
CAMERAS & PHOTOS
Cameras are allowed in Cenote El Pit. Small underwater cameras like GoPro are free of charge but use of professional ones cost 300 mex pesos.
Book diving in cenotes with Pro Dive International.