Stuart Philpott is a long-time South Coast diver, and here he reminisces about Portland's heydays – and how it is being put back on the diving map
During the late 1990s, Castletown on Portland Bill was definitely 'the' in place to visit. Be it a club, school or just individual divers enjoying a weekend bimble, Portland offered a huge variety of sites to suit all tastes and abilities. The harbour dives including the Dredger, landing craft and Countess of Erne were popular for diver training and also used as a back-up for more experienced divers if the weather turned foul. Further afield the Lulworth Banks yielded plenty of scallops, Pulpit Rock was a good choice for scenery and fish life, not forgetting the plethora of local wrecks at varying depths including the M2, Alex Van Opstel and the James Fennel.
Overnight facilities used to be a tad basic, but there was a variety of pubs, cafes and budget-priced accommodation to choose from. For the slightly more adventurous, the seaside town of Weymouth was just a few miles down the road. Fathom and Blues Dive Centre, owned by Dale and Ron Spree, mopped up most of the diving trade, with Underwater Explorers catering for any last-minute equipment needs and tech gear. The Aqua Hotel, perfectly located next to the boat jetty, kept everybody fuelled up with bacon sandwiches and cups of tea, which at the time all added up to absolute diving bliss!
This is all seemed to tail off in the 2000s. Overseas destinations including the Red Sea and Malta became more popular, the BSAC clubs dramatically reduced in numbers, and Castletown somehow got left behind in the grunge.
Moving on to present day and there's some good news afoot. Local business entrepreneur Derek Luckhurst has revealed big plans to rejuvenate Castletown and put it back on the diving map. I met up with Derek at his refurbished offices located next to the historical Castletown Pier. Derek is a keen diver, which is probably to be expected when his father and grandfather were both Navy clearance divers. Derek explained that the closure of popular Portland wreck HMS Hood had probably initiated the decline. He said: "Modern divers expect more these days", which means a better standard of accommodation, decent places to eat and après-dive activities.
Phase one of Derek's rejuvenation plan was to build Crabbers Wharf four-star accommodation at the Castletown Pier site. Construction work began early 2017 and was completed around Easter 2018 at a cost of around £2 million, which included an additional £20,000 spent on renovating the pier and clearing rubbish off the surrounding seabed. Shaped like a boat, the unique-looking building actually won an innovative design award. There are nine cabins with sea views and balconies all furnished with a nautical theme.
Many of the modern-looking rooms have different features, so they don't look the same inside. I immediately noticed the high ceilings, which made my room less claustrophobic. There is a choice of one, two and four-bedroom accommodation. Every room has a well-equipped kitchen, including microwave, cooker and oven. A designated free car parking space and wi-fi is also included. Cabin nine has to be the ultimate, offering four bedrooms, open living space full of comfy sofas and a massive deck area complete with a 270 degree view of Portland harbour and the surrounding coastline. If I could find six more diving friends, this would definitely be my first choice, but maybe slightly excessive just for two!
Sarah Newman, general manager of Crabber's Wharf, said there had been an amazing response since they opened and they had remained busy throughout the supposedly quieter winter months. The accommodation has proved to be popular with divers, hikers, yachties and kite-surfers as well as 'normal' visiting tourists. Crabbers Wharf have just launched a new comprehensive website – check out: Crabbers Wharf Website
Other attractions include a passenger ferry that leaves from the dockside three times a day (this is seasonal) travelling from Weymouth to Portland, a D-Day museum with tanks, troop carriers, uniforms, guns and all sorts of World War Two memorabilia and a new supermarket. There is also a new self-contained dive school called Bosun's Blockhouse presently sitting vacant and waiting for new tenants. I had a look around the refurbished two-storey building and there was plenty of space for classrooms, shop, and a reception area.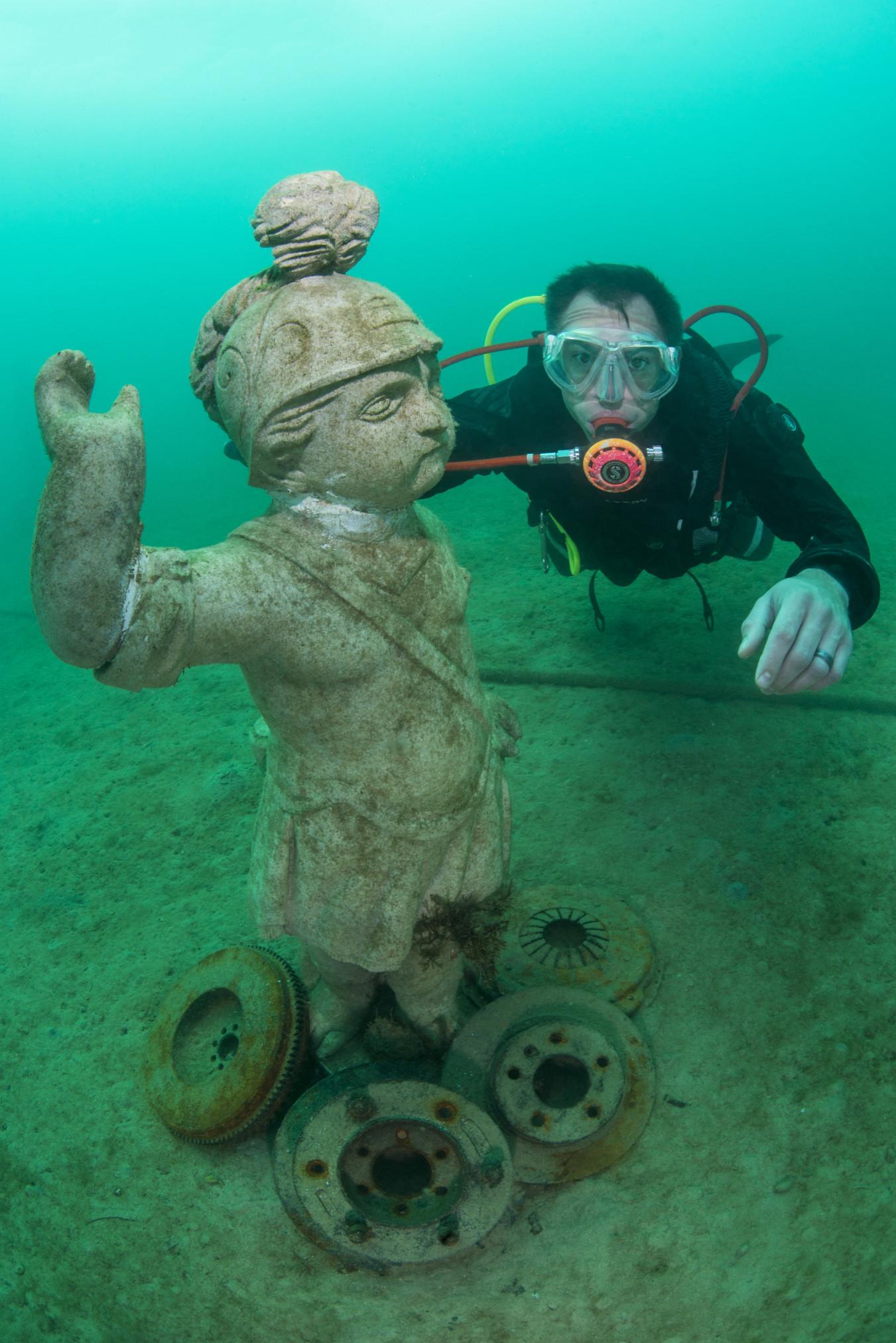 Derek is also in the process of creating a new dive site located near Balaclava Bay on the outskirts of the harbour breakwater. Phase one of the Underwater Curiosity Park opened in 2017 and has been featured in Above 18m in Scuba Diver magazine. Derek's idea is to create a dive site that could be used in all weather conditions, somewhere that divers can practice their buoyancy and co-ordination skills. There has been some criticism from divers, but all in all, the site has been well received. The exhibits have been placed on an otherwise barren sandy seabed, which will undoubtedly encourage marine life habitation. At the end of last year, I encountered an epidemic of spider crabs and juvenile fish.
Phase two will begin around June 2019. The plan is to initially consolidate on phase one, repair any damage from winter storms and lay additional guide ropes from the Dredger wreck. This will include a main thicker guide rope running down the centre, with spur off points leading to the exhibits. Derek would like to sink a tank or a jeep, but there are tight restrictions in place and everything has to be made environmentally friendly.
All the oil and any toxic substances have to be removed, which requires a lot of effort just for one vehicle. Derek said it's probably easier to remove the engine but the weighty block acts as ballast, which is needed to keep the exhibit from moving about on the seabed. There are 18 installations at present. This includes a variety of statues, concrete pipes and two huge anchors kindly on loan from the harbourmaster. Derek has been given permission for another seven, which will bring the total to 25, but this is open to negotiation and there are even possibilities to expand the one-acre site still further.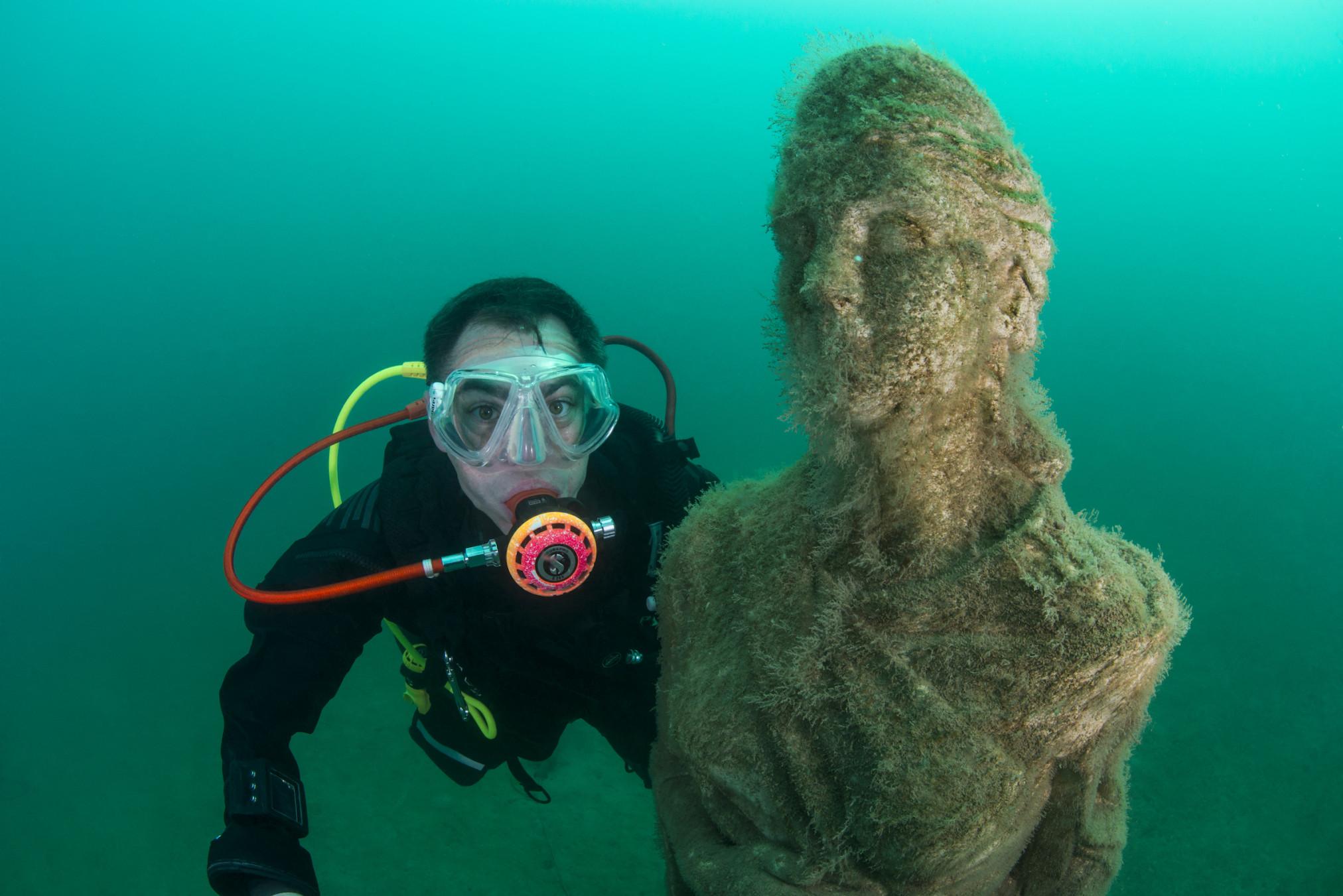 Derek explained that logistics are never the same when working on the water, he said: "You can't seem to account for everything that can go wrong. You need to consider tides, wind direction, equipment failure, winches and strops breaking, which can lead to problems". During last September's expedition, Derek told me how the Statue of Venus lost her head when a strop broke and she plummeted into the sea! Around £70,000 has been spent on the venture so far. Costs included boats, fuel, exhibits and insurance. I had no idea there had to be a substantial insurance policy in case of any diving accidents happening at the park. This costs around £6,000 annually.
Derek is trying to get some diver contributions for phase two of the Curiosity Park. Many local divers have artefacts gathering dust in their garages or hidden away in the back garden. The donation doesn't have to be nautical or part of a shipwreck, but they do need to be reasonably substantial, regards to weight and size, so that they can withstand adverse sea conditions.
Castletown is steeped in World War Two history. Derek asked me if I had seen the opening scenes from the war movie Saving Private Ryan. This shows American forces landing on Omaha Beach during the D-Day landings. The Castletown Pier was used as an embarkation point during the build up to the attack. Tanks, half-tracks, artillery and thousands of troops were loaded onto landing craft destined for the hostile Normandy coastline. Sadly, the dock was used once again on the return journey when the bodies were brought back enroute to the US for burial.
The huge Mulberry harbours, aka Phoenix caissons, tower above the Portland waterline. Derek said the concrete structures were Grade One listed. The harbours were used to offload supplies from shipping during the D-Day landings. Originally they were sunk onto the shallow seabed and then re-floated and towed at a speed of four knots across the Channel to Omaha beach.
The two remaining units, now permanently sunk on the seabed, (and used as a dive site) are positioned as a wind break for ships inside the harbour. Derek managed to get permission from National Heritage, the local council, etc, to place six statues on the top of the harbours. There are now two GIs, two naval officers and two dock workers. The two dock workers look very authentic. One is drinking a cup of tea, and the other is smoking a cigarette!
Mr Luckhurst is certainly making his mark on the 'new' Castletown. I'm sure he will reveal more exciting ventures in the near future. I will be back with Derek early July to cover phase two of the Underwater Curiosity Park, so watch this space!
Photographs by Stuart Philpott