On Saturday 2 September, new owner Julian Syson officially opened the doors at Divelife in Whitefield. Andrew Tonge, experienced tech diver and regular Scuba Diver contributor, went to see what all the fuss was about.
There is no doubt that the north of England diving community watched with sadness as Divelife closed its doors earlier in 2017. Not happy to leave it there, Julian Syson stepped in and rescued the Divelife brand from the liquidators.
With a background in the business of medical diagnostic equipment, he hopes to combine his experience in industry and as a diver to continue to build the Divelife brand. Julian's message is clear – through Divelife, he wants to help people improve their diving, by building the dive community. He wants to make diving available to all, to bring in families and more young people, including kids.
To do this, Julian has opened Divelife as a multi-agency diver training school, including agencies such as PADI, RAID and SSI.
The Divelife philosophy is that divers should be able pick the best of what the diver training agencies can offer, and tailor their training to suit them, to suit their diving. As Julian told me, divers at all levels can train with Divelife, from those that have no experience or qualifications, through to those wishing to qualify as instructors. Divers can also take more advanced courses, such as in technical diving, and learn techniques such as side-mount diving.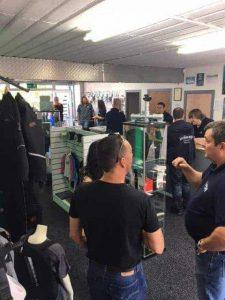 And they can also do what is so often lacking in diver training schools – pleasure dive! The new Divelife Scuba Diving Club is there to give life to those ambitions. Divelife Scuba Diving Club members get a great array of benefits, through the Bronze, Silver and Gold membership levels, ranging from free air fills, pool use, discount in the shop and on training, dive computer battery changes, servicing and more!
The event was well supported by local divers and by well-known manufacturers, including Mares, Cressi, Northern Diver and Fourth Element, all of whom had stands at the event. Underwater photography was actively promoted by Frogfish Photography.
For Julian, the open day was his way – Divelife's way – of not only allowing people in to what will hopefully be a thriving dive community, but also to say thank you to all those that help and support Divelife. The open day was a great success – even the sun was shining!