The Scuba Diver crew headed to the South Coast for a spot of diving Britain on a budget and experienced the typical summer mix of blue skies, bright sunshine, gale-force winds and torrential rain
Huddled in the warmth of the caravan lounge, buffeted by strong gusts of wind, we looked out at the ominous grey skies and watched torrents of rain sloughing off the tent. It seemed hard to believe that just a day earlier, we'd been basking in glorious sunshine as we kitted up for a lovely evening dive at the iconic Swanage Pier. How things change overnight. But this is good old Blighty we're talking about, so we should have known what to expect when we broke out the camping gear for a summer 'Britain on a Budget' trip.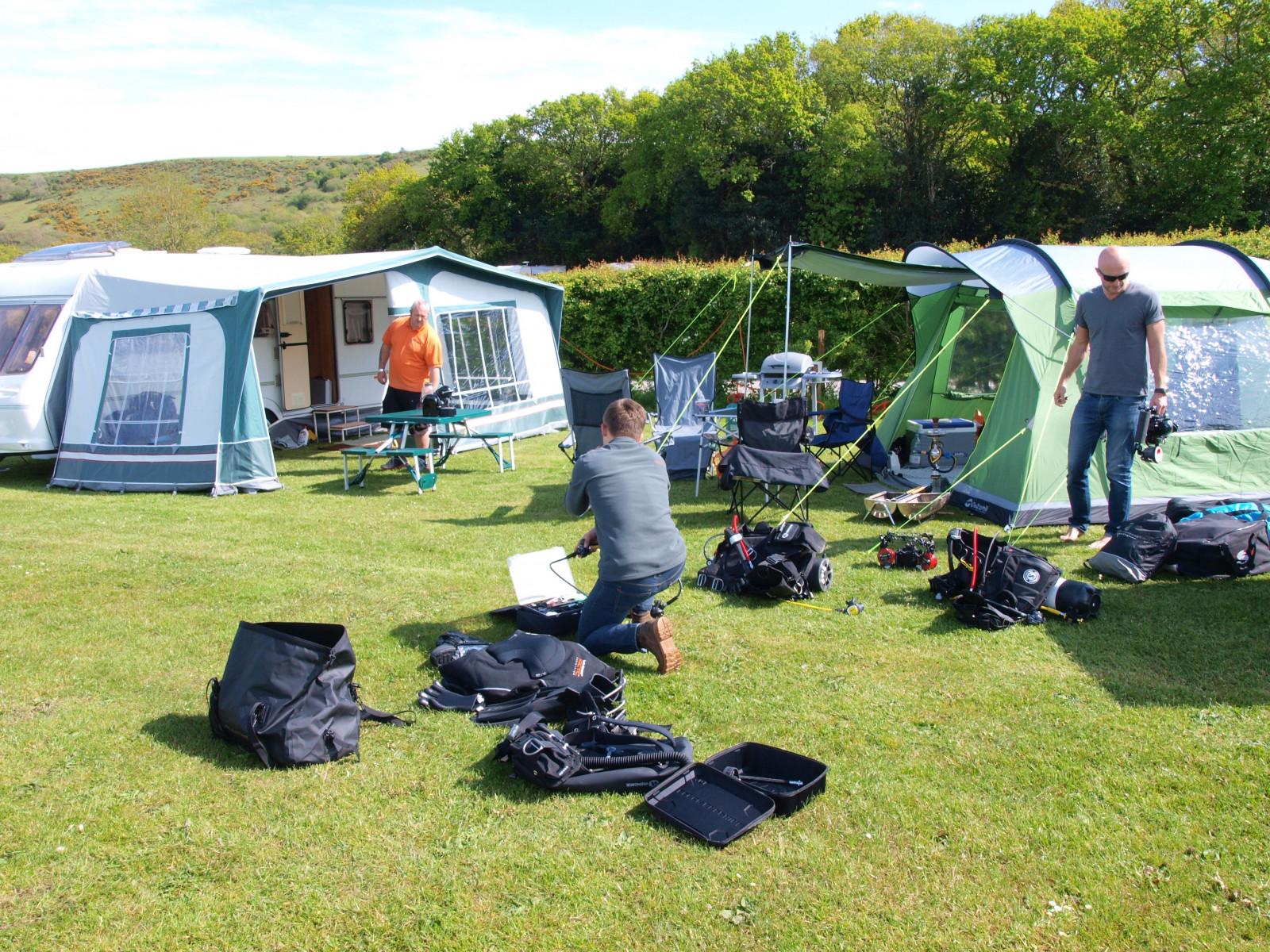 The perfect plan
It had all seemed a fantastic idea just a few weeks before. Sat in my office and looking out of the window at clear blue skies, it seemed like summer was well and truly here, which was the perfect excuse to get out and about for some cheeky British dives. I checked the wall planner, clocked the first available three-day stint, and then set about building a plan to head down to Dorset.
I settled on an area close to Swanage and Kimmeridge, which would give me a variety of shore-diving options, and I duly booked a two-night stay at East Creech Farm caravan and camping site, handily located near Wareham. I dragged the tent, electric cool-box, table and chairs out of the lock-up, and I was all set.
My planned foray to the South Coast came up in a discussion with underwater videographer Bryan Stanislas a few days later and he jumped on board – he was soon booked in next to me at East Creech Farm in his touring caravan.
So that was it – the campsite was booked, the tent and caravan were ready to go, and the dive kit was packed, now all we needed was the weather to co-operate…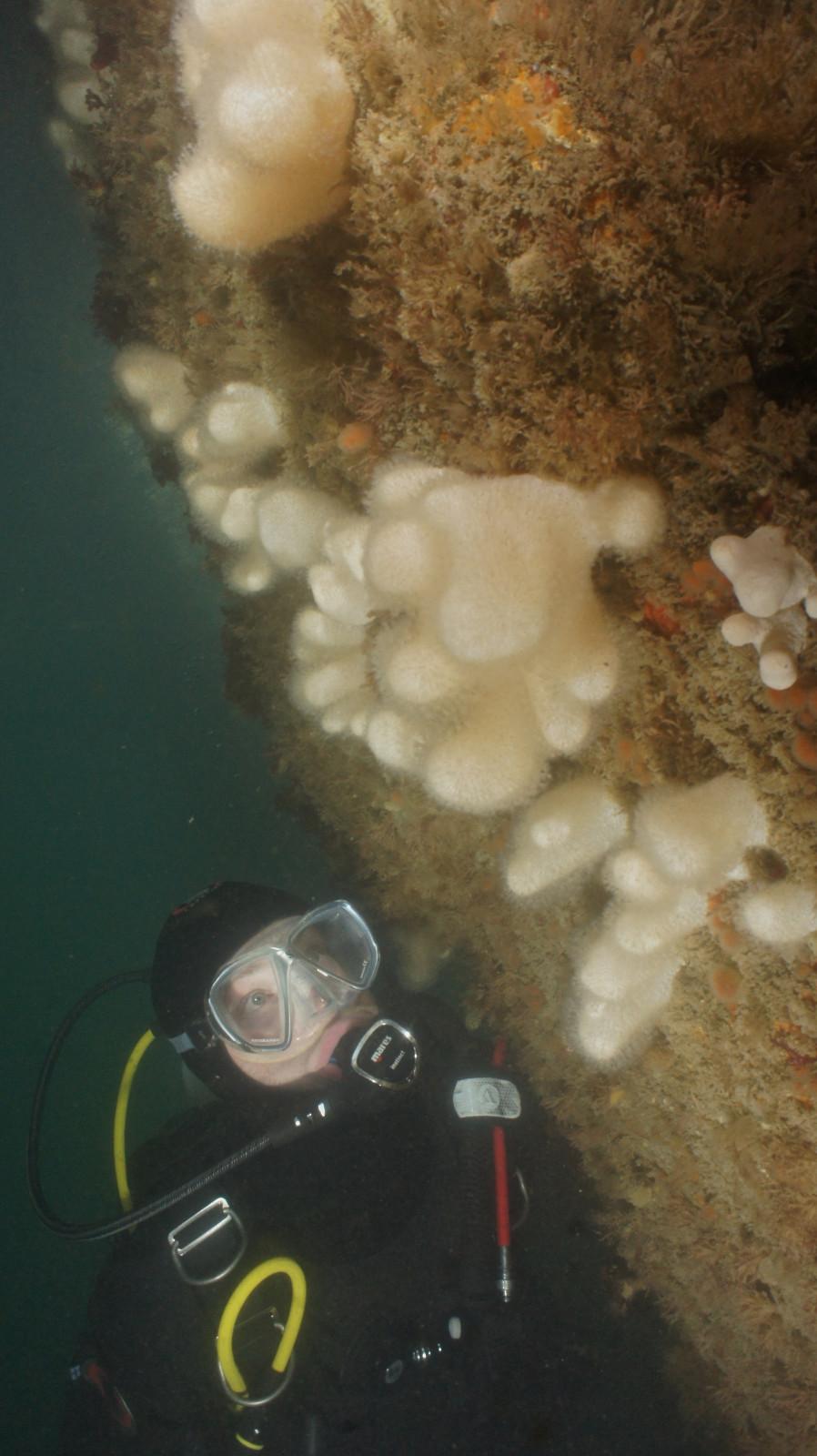 Diversions
My alarm clock went off at 6am on the Wednesday morning, and as I blearily stumbled into the bathroom for a shower and shave, I was pleased to note the sunlight streaming in through the half-open blinds. A quick peek outside confirmed blue skies, the odd fluffy white cloud and little wind – an excellent way to start any camping trip!
I set off down the A5 from North Shropshire basking in the stunning weather, the sat nav showing an ETA of 11.20am. Alas, this is Britain, so I ended up in various roadworks and road closures enroute, the most frustrating of which around Bath that saw me knock off just one mile towards our final destination in 45 minutes!
Some five and a half hours later, I rolled into the campsite. A few minutes later and Bryan drove up in his H20 Films Land Rover, fully laden caravan on the rear.
With blue skies overhead and warming sunshine bathing the South Coast, we set about constructing our 'base camp'. The tent was popped up in ten minutes flat, and then I assisted Bryan with levelling out the caravan and putting up the awning. An hour or so later and it was complete, and we were tucking into a well-deserved late lunch of barbecued burgers and contemplating where to head for our first dive. Bryan suggested the immensely popular shore dive under Swanage Pier, which would be a first for me, and so we set off the 11 miles to Swanage.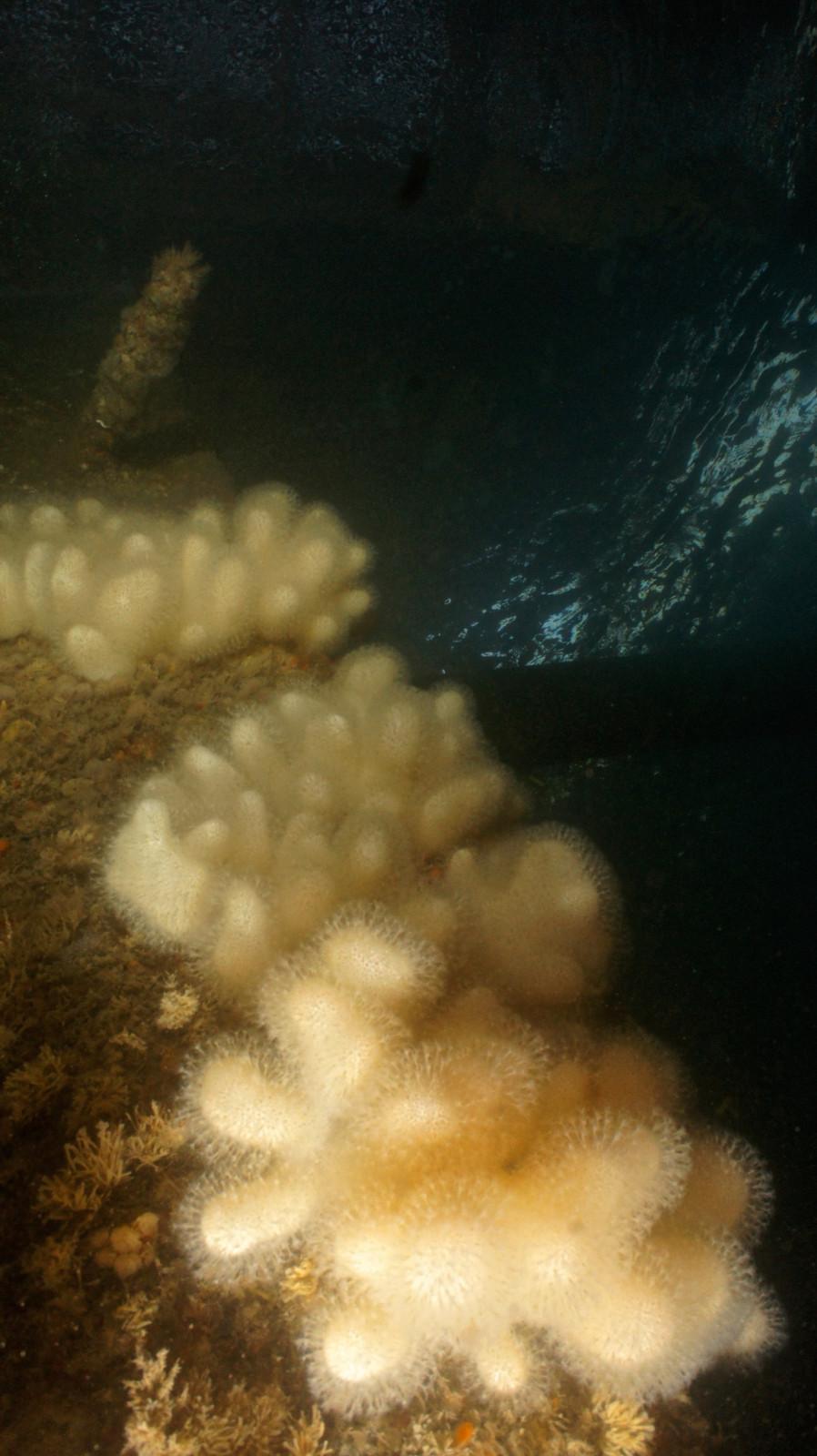 The Pier
Swanage Pier is a truly iconic British dive, and best of all, you can park right next to the pier and the entry/exit point, so no long walks in full kit are required. It is a shallow dive at all states of the tide, and the dive itself comprises of venturing under the pier and then following the support struts. This makes navigation a doddle – as long as you can see pier legs, you are in the right place. No struts in sight, you're lost!
Looking over the side of the pier, we were greeted by the sight of a spider crab crawling in the seaweed some 2m below the water's surface. The clarity was exceptional, and so we geared up with high expectations of the dive ahead. Sadly, vis under the pier in the initial stages was only a metre or so, but this grew to three or four metres once we reached 3-4m towards the end of the pier.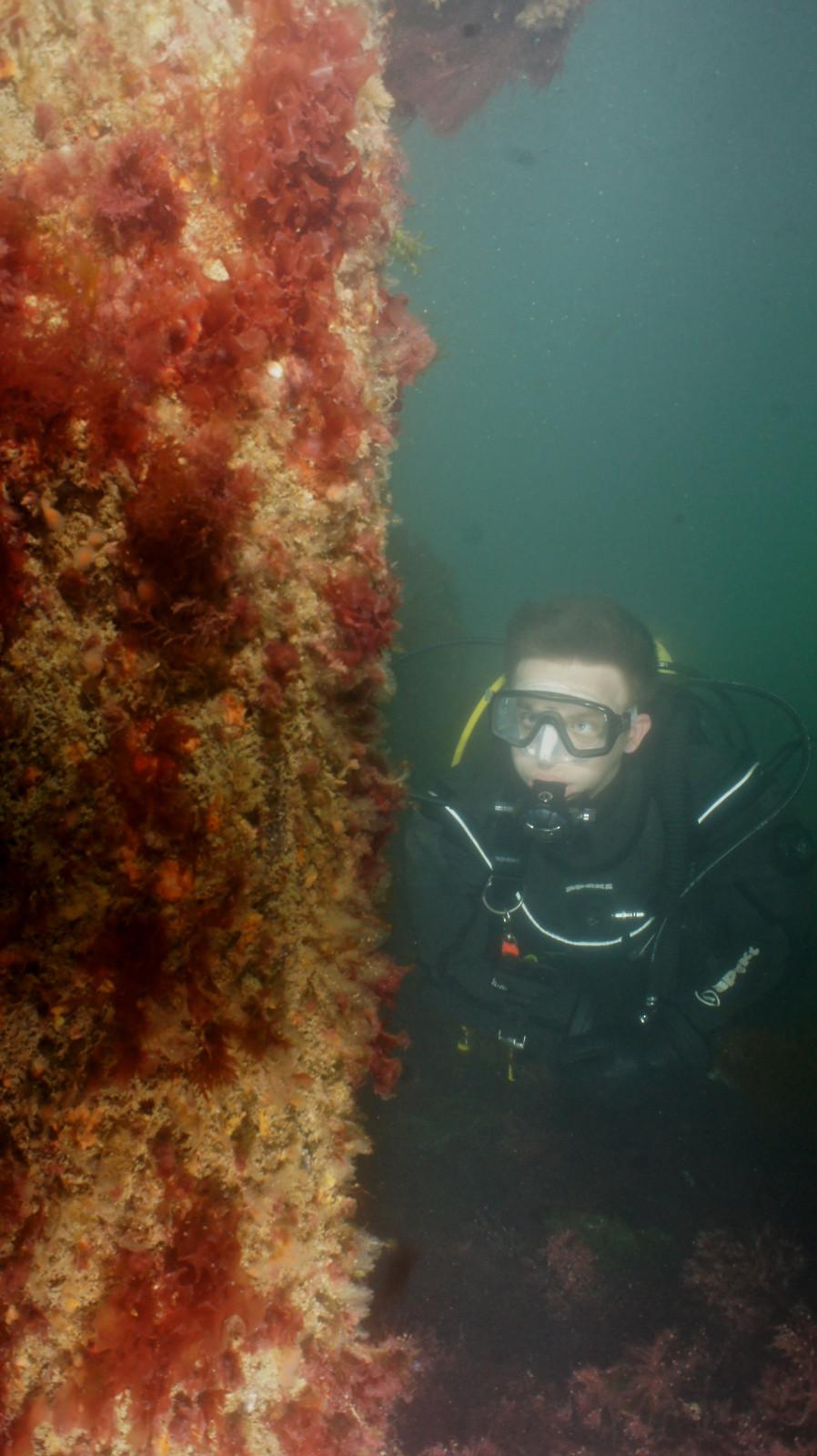 There is a huge array of seaweeds, algae and kelp growing on the rocky seabed below the pier, and on the supports themselves. This provides a rich habitat for blennies, gobies and wrasse, as well as juvenile pollock and numerous invertebrates, including the afore-mentioned spider crabs, edible crabs and velvet swimming crabs. We even found a small flatfish hiding under a ledge.
Despite the visibility not being fantastic, it was still an enjoyable dive and it is easy to see why this place is crawling with divers most summer weekends. We clocked up over 60 minutes bimbling around the pier legs and had barely used half a tank of air. My favourite bit was right at our turning point, where bundles of dead man's fingers adorned some of the pier supports in just a metre or so. The sunlight was streaming through the water, illuminating the vibrant white marine growth and making a visually stunning photographic subject. With better conditions, I can imagine this place being a haven for underwater photographers.
The sun was still shining when we emerged from the water and de-kitted. As we got our cylinders filled at Divers Down dive centre, handily located right at the pier, it felt more like late afternoon than 7.45pm.
Back at the campsite, we broke out the barbecue for more meaty treats, and enjoyed a few post-dive beers as the sun slowly set. Even through the temperature plummeted as soon as night fell, we just bundled up in a selection of fleeces, hoodies and dive undersuits to make the most of the eerily still evening. This for me is what makes a camping and diving trip – the apres-dive banter with your mates, mountains of good food washed down with cold beers, and all in the great outdoors.
All gone pear-shaped
Alas, we knew it couldn't last. The weather forecast for the Thursday had been looking particularly lousy, and sure enough I was woken up in the early hours by rain thundering onto the tent, which was also being battered by strong gusts of wind. The heavy rain turned positively torrential as we sat having breakfast in Bryan's awning, and we despondently stared into our coffee mugs as we contemplated having the entire day blown out by the conditions.
Lunch came and went, and still the rain poured down, but then, as we were close to writing off the day and breaking out the cold beers to drown our sorrows, the wind dropped, the downpours quit and the skies took on a less-ominous shade of grey. Showing true British grit and determination, we resisted the siren call of alcohol and decided to risk another shore dive, this time at nearby Kimmeridge, despite fears that the vis would be terrible given the conditions we'd sat through during the morning.
Worth the risk
Arriving at the water's edge in Kimmeridge, which is a large sheltered bay nestled close to the dramatic sheer cliffs of the Jurassic Coast, not to mention a military range which sounded like they were practicing for World War Three, the sea looked flat and calm. Looking down the concrete slipway, the vis in the shallows looked good, but from past experience, we knew that once we ventured into a couple of metres, it could all turn into plankton soup.
Sticking close together as we expected a metre or so of visibility at best, we surface swam out a short distance and then after a quick round of 'okay' signals, dumped air and sank down to the seabed below.
Well, what a turn up for the books! We were greeted with a good four metres plus of vis, and plenty of kelp and seaweed growth to mooch through as we headed out into the bay. As the depth increased slightly – and we mean slightly, as we never went deeper than 4m – the bottom composition changed from sand and shale to slabs of ancient rock, worn smooth by years of current action.
I scared a large flatfish from its hiding place before I managed to snap a photograph, but a large spider crab was more accommodating, but despite a lack of prolific fish and invertebrate life, the interesting topography kept us bimbling around for nearly an hour. The highlight of the dive was coming across a large ammonite fossil embedded into one of the rock slabs.
We surfaced into glorious sunshine and blue skies, the morning's 'perfect storm' seemingly a distant memory, and as we trudged up the slipway back to the pick-up, we all agreed trying for the dive had been a risk well worth taking. The skies clouded over 30 minutes later, but the rain held off, meaning we could round off our final diving day with another barbecue and a few more well-deserved beers.
Packing up the tent and awning and stashing our dive kit away, we discussed the merits of camping and diving. Firstly, it is bloody good fun with your mates, but perhaps just as importantly when everyone is watching their pennies, it is a cheap and cheerful way to get some solid British diving in on a serious budget. The UK coastline is dotted with fabulous shore-diving sites, and with campsites costing from under a tenner, this means you can utilise some of that accommodation budget you'd set aside for B&Bs and hotels for gas fills, entry fees or even the odd boat charter if you want to hit a dive further offshore.
As we went our separate ways and prepared for the gladiatorial battle that is the UK's motorway system, I was already planning the next Britain on a Budget trip. What's Pembrokeshire like in September, I wondered? Or maybe the west coast of Ireland?
Photographs by Mark Evans
Want to read about more great places to dive?