100 years ago, on 18 April 1918, the SS Pentyrch was hit in the rear of the engine room by a torpedo from the German submarine UB-40. She is reported to have sunk quickly and although most of her crew managed to escape, one was killed.
On the 100th anniversary, Brighton BSAC placed a commemorative wooden plaque on the ship to remember John Snowdon Liddle, as well as the more than 18 million people killed during World War One.
Submarine UB-40 was scuttled later that year in October 1918, during the German retreat from Belgium.
John Snowdon Liddle died when the SS Pentyrch was sunk. He was a 'Donkeyman' on the ship, 'donkey' referring to the boiler of the steamship's engine. It was his job to stoke, maintain and grease the engine. The torpedo fired by the German submarine UB-40 hit to the rear of the engine room. John Liddle was likely killed as a result of this part of the ship's hull being breached.
He is remembered on the Tower Hill Memorial, along with the 17,000 merchant mariners killed during the conflict.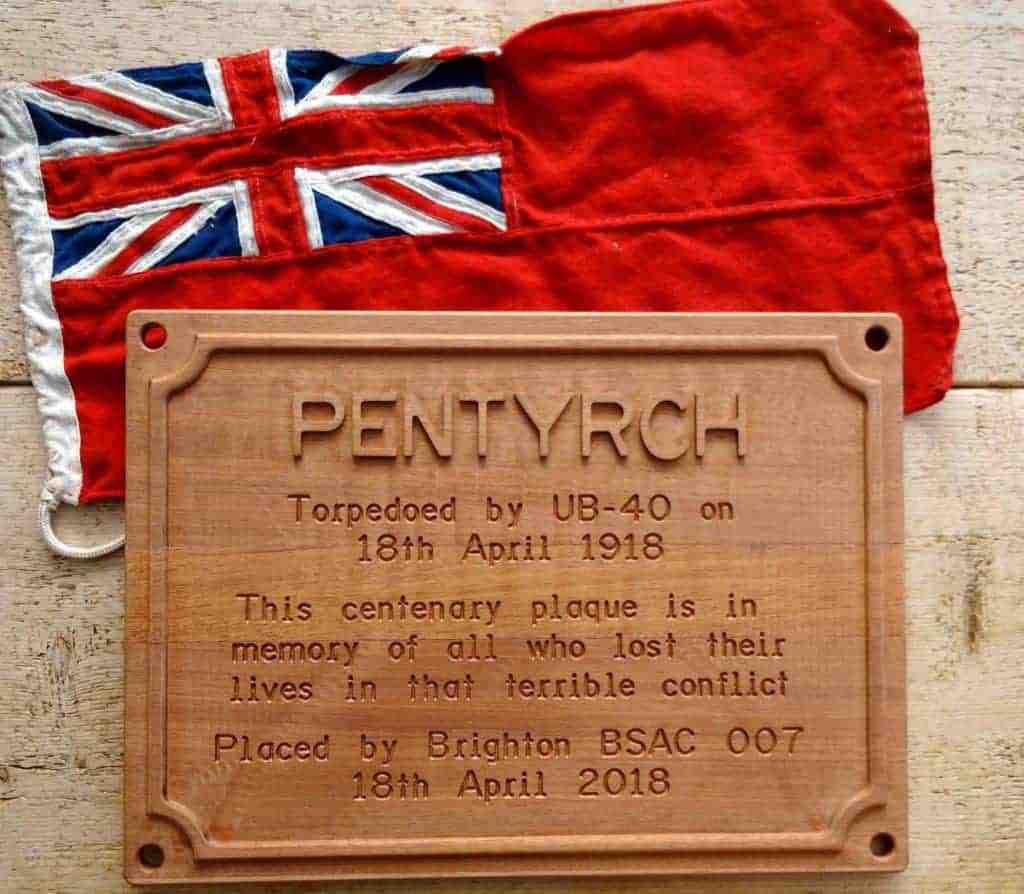 The SS Pentyrch (pronounced pent-earch, as in ear) was built in 1899. Originally named SS Bardsey, she had a tonnage of more than 3,300 and was more than 100 metres long. She was later sold and renamed after a village near Cardiff. During the war, she was armed with a 4.7-inch gun on her stern and shipped coal from Britain to ports on mainland Europe's Mediterranean coast.
In 1916, she was attacked in the Mediterranean by a German submarine but escaped with minimal damage and no serious injuries. She was less fortunate in April 1918. Her last voyage was from South Shields to Genoa, during which she was intercepted by UB-40 in the English Channel a few miles off the coast from Shoreham.
The wreck now exists as an artificial reef on a muddy/sandy seabed. The ship is covered in anemones and corals, large conger eels shelter within the twisted wreckage, and large schools of fish can be seen swimming around her.
Steve Martin, Diving Officer, said: "Although conditions were challenging after a recent Atlantic storm, we safely and successfully managed to place the plaque on the wreck of the ship. This was a particularly poignant dive, being 100 years to the day since she was sunk during World War One."