Scuba Courses is a Brand New Dive Centre that has just opened in Adelaide.
SUN-kissed tropical coral reefs are a far cry from the grey skies of Lancashire and the chilly cold depths of a disused and fresh water filled quarry.
But that was how the journey to the much warmer blue waters of the world's top diving spots began for Adelaide diver Simon Bowen.
Bowen, 61, came to the sport two decades ago while he was living in the UK and recovering from serious health problems that had threatened to derail his life.
At the time, he was looking for constructive pastimes that would clear his head and get him outdoors and using his body. He'd always been fascinated by the world beneath the surface of the sea, although that start might not have seemed auspicious immediately.
"I began at Stoney Cove, a disused quarry that had been turned into a 20m deep inland lake designed specifically for diving and is very well known in the UK," Bowen explains.
It's more like a huge cold-water pond and has a series of shelves – 6m, 12m and 18m for qualification – and Bowen, who by his own admission never does things by half, completed his open water and advanced open water qualifications over two successive weekends under the keen-eyed tutelage of well-known British PADI Course Director Darren McNamara.
"The week after that, I flew over to Sharm El-Sheik in Egypt and that sold me completely," he says. "I loved it; it was a beautiful place to dive. I also became friends with Terry Axam, my dive guide, and we are still in contact 16 years later, so making new friends is a huge part of the attraction.
"I have since done more than 3,600 dives all over the world, including in The Maldives, Portugal, Spain, PNG (at Raja Ampat), The Solomons, New Britain and Rabaul, Vanuatu, Fiji, Tahiti, Indonesia, The Philippines . . . and, of course, on our very own Barrier Reef in North Queensland, which has to be an absolute premier location to dive and it's right here on our doorstep."
As his passion grew, Bowen began toying with the idea of setting up his own PADI dive centre in Adelaide, his hometown – and two years ago, he decided he was going to do it instead of just thinking about it.
Scuba Courses, his new dive shop and centre at Stirling in the Adelaide Hills – just a short drive from the city and the underwater wonderland of Gulf St Vincent and the beautiful clear waters of the Adelaide Mid-Coast and the Fleurieu Peninsula – opened its doors earlier this month and Bowen has fitted the shop out with a host of top-end gear.
He opted for quality and says it represents an important selling point: Beyond the usual tanks and refills, which will be done with a Bauer compressor, the shop is very nicely stocked with top-shelf gear that includes Mares, Sharkskin, Nauticam, Atomos, Sea and Sea, Faber, Nautilus, Sony and Canon cameras, Shearwater Teric dive computers and more. Divers browsing in the shop would have plenty to interest them, including an antique 1880 British diving helmet.
For the courses, he is currently negotiating to use three swimming-pool locations and once students are ready for open water, they will go to Port Noarlunga or Rapid Bay and Second Valley, a bit farther down the Gulf.
The shop will be staffed by two full-timers and the courses overseen by Bowen and fully qualified instructors. The instructor-student ratio will be set at a maximum of 4:1, which means two couples could also be accommodated if they wanted to dive together.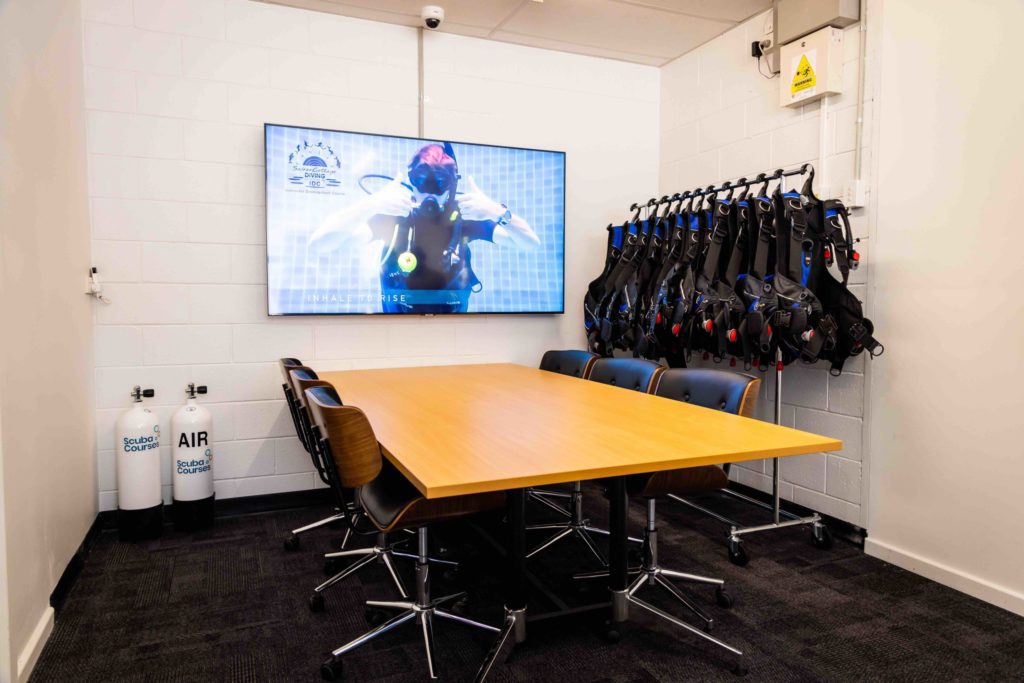 "All my students will be using top-quality gear, including premium semi dry wetsuits and Sharkskin thermal protection for cold-water diving, with strobe lights and Nautilus GPS beacons as standard. I want it to be as much fun as possible but also as safe as possible," Bowen explains.
"And no one will be rushed. We'll work with the students at their own pace."
Bowen is as keen as ever to pass on his passion to others – and that factor alone was a huge motivation for him.
"It's an incredible thing to do. Like the logo on our window says, 'Same planet, different world' – it's magic," he says. "I've seen some unbelievable things that you just don't think about until you do this – for instance, a super pod of 450- 500 dolphins in The Maldives and hundreds of reef sharks suspended in the deep blue waters of channels in Rangiroa, Tahiti, where they use the tide and currents to remain suspended so they can conserve their energy. They're well-fed and harmless provided you use some common sense . . . we'll be doing our best to impart that to our students in spades as it's a key requisite for diving."
Bowen has also teamed up with Dive Adventures to operate trips to premier locations overseas and in Australia. He is determined to make a go of the business and is no stranger to running a successful one. He's operated Visible Recovery, a private rehab in Adelaide that also serves Department of Veterans Affairs clients and Australian Defence Force members.
"The DVA and ADF clients we work with there will also be eligible to do the dive courses so we are looking forward to that too," he adds. "It will be something different and special for them . . . as it is for everyone, really – and that's the fun."
Scuba Courses: 1/83 Mt Barker Rd, Stirling, SA 5152; phone 0407 580 580. More information: Simon Bowen: 0437 285 441