The Egyptian Red Sea has a brand-new liveaboard in the sleek shape of the MY Big Blue, the brainchild of the team behind the award-winning Roots Red Sea and Pharaoh Dive Club.
MY Big Blue is 38 metres long and eight metres wide, but despite its large size, it only offers a maximum of 24 berths. Why? Space. From the outset, MY Big Blue was designed with space in mind – space to eat, space to sleep, space to relax, space to shower and, of course, space to dive.
MY Big Blue has done away with the unnecessary – and often unused – trimmings, such as hot tubs and in-room TVs, and has instead focused on what they consider the more-important aspects.
Each cabin has a large, modern en-suite bathroom with walk-in shower, basin and WC, and is fully air-conditioned with independently controlled individual units.
In addition to the luxurious standard cabins, MY Big Blue has two disability cabins on the main deck, with full wheelchair access. Ramped access, widened passageways, sliding doors and larger floor space all provide easier access to wheelchair users. This fits well with the existing partnership between Pharaoh Dive Club and Deptherapy.
The salon, dining room, sun decks and dive deck are all designed to be as spacious and open as possible.
Diving on the MY Big Blue is out-of-the-ordinary too. Even with a max of 24 divers on board, you will not be crowded underwater – groups of six go out at intervals.
The dive team often operate a 'pools open' approach if they are at a suitable site and will be there for the day. Subject to having the right qualifications and experience, divers are given a full and thorough dive briefing and then allowed off to explore at their own pace – with surface cover, of course.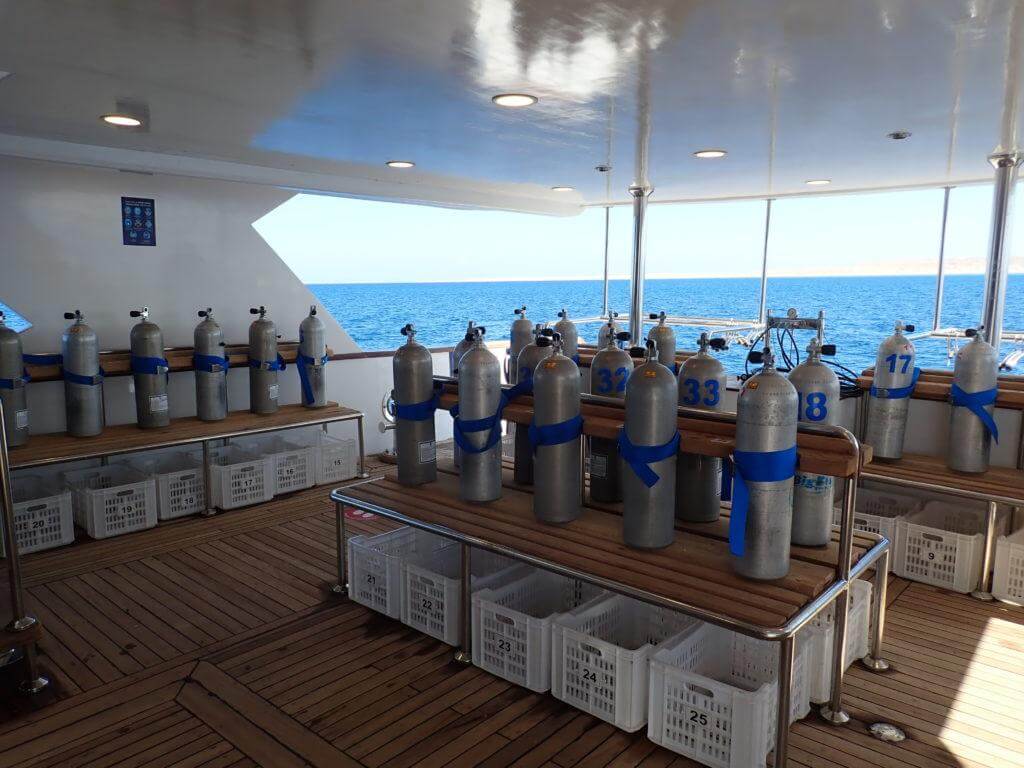 MY Big Blue can also accommodate technical divers. If it is a mixed trip, you would be diving the same sites as the recreational divers, but to a completely independent plan, however, full technical charters can be organized to deeper dive sites. The team can supply and support stage tanks, sidemount diving, manifold and independent twinsets, CCR and SCCR.
MY Big Blue offers a range of regular itineraries, including the Ultimate Red Sea Wreck Safari, Pelagic Encounters in the Red Sea, The Ultimate Brothers and Northern Special, and Wall-to-Wall Red Sea. However, with a full charter, they are happy to create a bespoke itinerary to fulfill your desires.
The owners
Clare and Steve Rattle have a long heritage with liveaboards – they have managed and operated safaris since the early 1990s, where they worked with Chris Scott and Peter Collings pioneering liveaboard safaris in the Red Sea on board the Xanadu. From the tip of the Gulf of Aqaba down to the Sudanese border and back up again through the Gulf of Suez, they have experience of diving to all corners of the Egyptian Red Sea. It's therefore no surprise that they finally decided to launch their own boat to take complete control of their safari operations.
Steve said: "With so much disruption to dive travel around the world making planning very difficult for everyone, but also feeling that divers are desperate to get back in the amazing Red Sea, we have planned to start the 2021 MY Big Blue season on 6 March with two back-to-back trips, with a 'March Madness' 15 percent discount special offer."
6 March 2021 – HRG to HRG – Northern Wrecks Tour – £665 pp sharing, excluding flights
13 March 2021 – HRG to HRG – Safaga and Brothers Tour – £765 pp sharing, excluding flights
Should there still be Covid restrictions that cause cancellation to flights or your government bans travel to Egypt, the trips are 100 percent refundable or transferable.