A group of divers from Dorset are raising funds to embark on a thorough search of the English Channel in a bid to locate a Hercules aircraft which was stolen and then ditched by a homesick USAF mechanic desperate to see his wife in Virginia.
The full facts about the incident and subsequent aftermath are still shrouded in mystery, but the official report states that on 23 May 1969, 23-year-old Vietnam veteran Sergeant Paul Meyer – who had been refused leave shortly beforehand – spent an evening drinking, and then, after escaping from police custody, impersonated a captain, ordered a Hercules C-130E transport aircraft to be refuelled and took off from Mildenhall in Suffolk in a bid to get home to the US. Meyer had a private pilots licence, but nothing that would have given him the experience to fly a complicated four-engined military cargo plane, so it is a miracle he even managed to get the aircraft off the runway in the first place.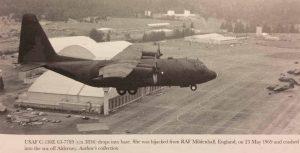 Tragically, the aircraft disappeared from radar in the middle of the English Channel, shortly after his last recorded words to his wife – who he had made contact with via radio – were 'leave me alone for five minutes. I've got trouble'. Eyewitnesses reported seeing the Hercules fall out of the sky before exploding on impact with the water, and part of the undercarriage was later recovered floating on the surface. However, whether the plane crashed due to pilot error, or was shot down, remains a mystery.
Now, the Deeper Dorset group aims to use complex sonar equipment to seek out the remaining wreckage of the Hercules, map it using 3D photogrammetry techniques, and hopefully find some answers for Meyer's family. According to a spokesman for the group, after studying official records as well as tidal movements and weather conditions at the time, they believe they have five good potential sites within a ten-square-mile section of the Channel, some 30 miles off Portland Bill.
The group has launched a crowdfunding appeal to raise £6,000 and is aiming to start sonar scans of the seabed later in the year. To donate, check out: Finding Meyer's missing Hercules
Photographs courtesy of Deeper Dorset