Photographs by Stuart Philpott.
The Caribbean Sea has claimed many ships over the years; some purposely sunk as artificial reef projects, while others have faced a more-tragic demise, victims of harsh weather, war, illicit activities or plain and simple human error. I have outlined the best wreck dives in the Caribbean – on eight different Caribbean islands, with a few pictures thrown in for good measure. Bear in mind that some of these pictures were taken several years ago, so due to the corrosive nature of the sea, there may be a few changes in appearance.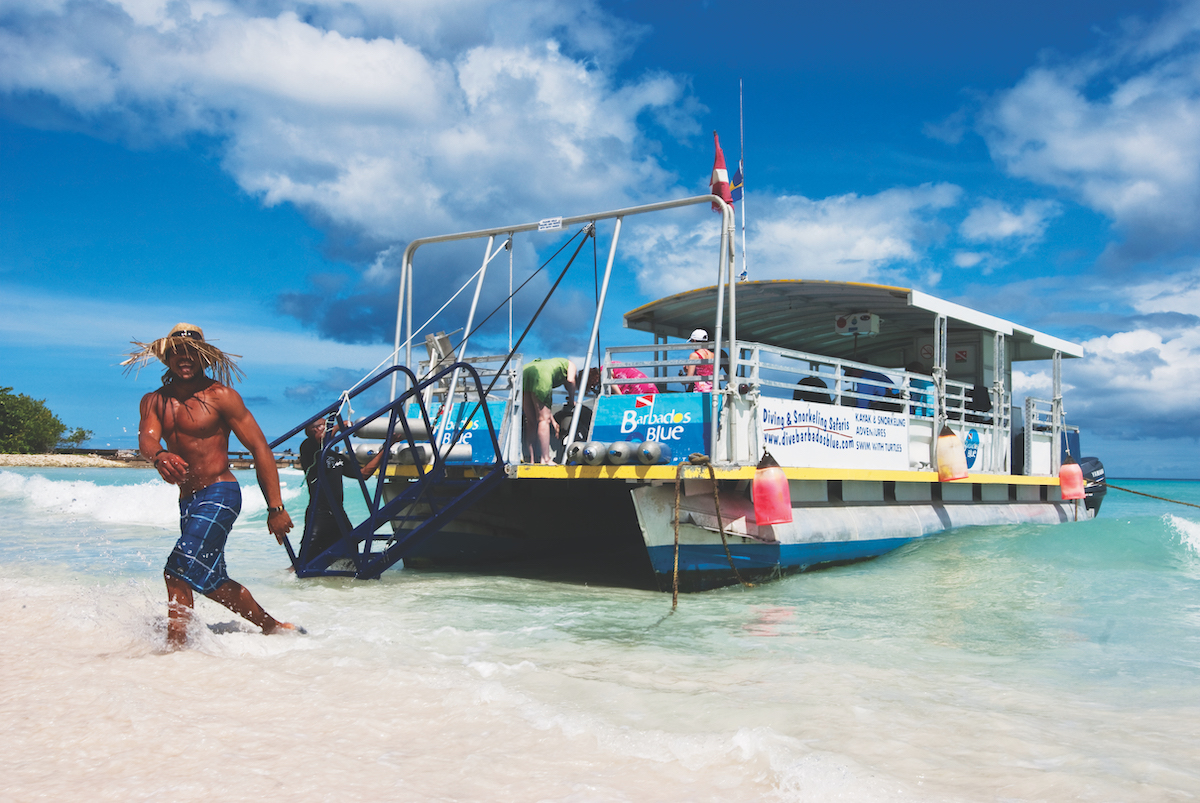 Bonaire
My journey to discover the best wreck dives in the Caribbean begins in the Dutch Caribbean, and in particular the island of Bonaire, which is probably the most-popular diving island in the ABCs. Completely geared up for shore diving, there are 63 sites located all around the island (mostly southwest coast), all clearly marked with yellow stones. Steps, railings and concrete platforms make entries and exits hassle free. Divers usually rent a truck, park up and dive. Local guides are not necessary – Bonaire is the home of diving freedom. Dive boats are also available for offshore sites such as Klein Bonaire, where seahorses reside.
1. Hilma Hooker
Bonaire has two main wrecks on offer, one for recreational divers and another lesser-known site for techies. The 72-metre-long Hilma Hooker lies at a max depth of 29m. Her intriguing story made international headlines. She lost all engine power and was towed to the main town pier. During a routine search, 25,000lbs of marijuana was found hidden behind a false bulkhead. Legal proceedings took months to organise. For some strange reason, the ship's owner didn't come forward to answer questions! Whether it was due to damage caused by the search, or just poor maintenance, she was far from seaworthy. Pumps were working at full capacity just to keep her afloat. Port authorities consulted with local dive operators and towed her out to a suitable anchorage point. On 12 September 1984, the Hilma Hooker disappeared beneath the waves forever.
She now lies on her starboard side, with the cargo holds and bridge area easily accessible. Winches and masts are adorned with huge purple, white and red tube sponges. Although penetration is possible, it is not recommended. The freighter wasn't sunk as an artificial reef project, so doors, pipe work and other obstructions can easily snag divers. Best photo opportunities are around by the huge propeller, which is swathed in orange cup corals.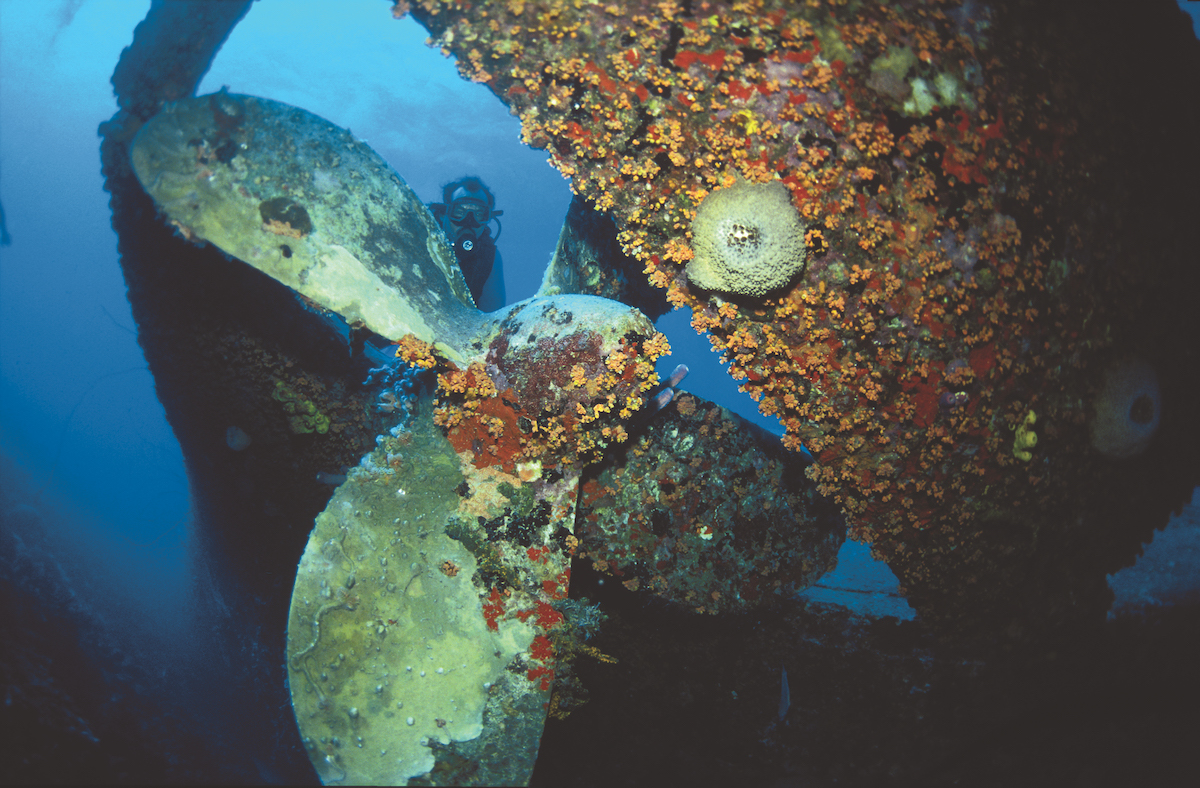 2. Marie Bahn
The Windjammer, aka Marie Bahn (1,315 tons) lies at a max depth of around 60m. Divers usually wade into the shallows, clip on their stages and drop down the wall. The wreck lies parallel to the reef on its starboard side. While en-route to Marseille, she was caught in a raging storm. Huge, unforgiving seas drove her up against the reef. During the commotion her cargo of asphalt shifted in the hold. Some of the barrels broke open and escaping fumes ignited by a kerosene lamp caused a massive explosion. Although four men perished, Captain Luigi Rezeto and the remaining crew of 28 swam safely ashore, where they watched the burning ship list to port and finally disappear beneath the waves.
Both forward and aft cargo holds are easily accessible. Most of the wooden decking was destroyed in the fire. A slender iron framework is all that remains. Molten asphalt has created an unusual lava flow pattern on the surrounding seabed. Eerie wire corals coat most of the outer hull. The crow's nest on one of the remaining masts is a nice feature to explore, and it's also worth venturing out to the bowsprit. Marine life encounters include a shoal of jacks and moray eels.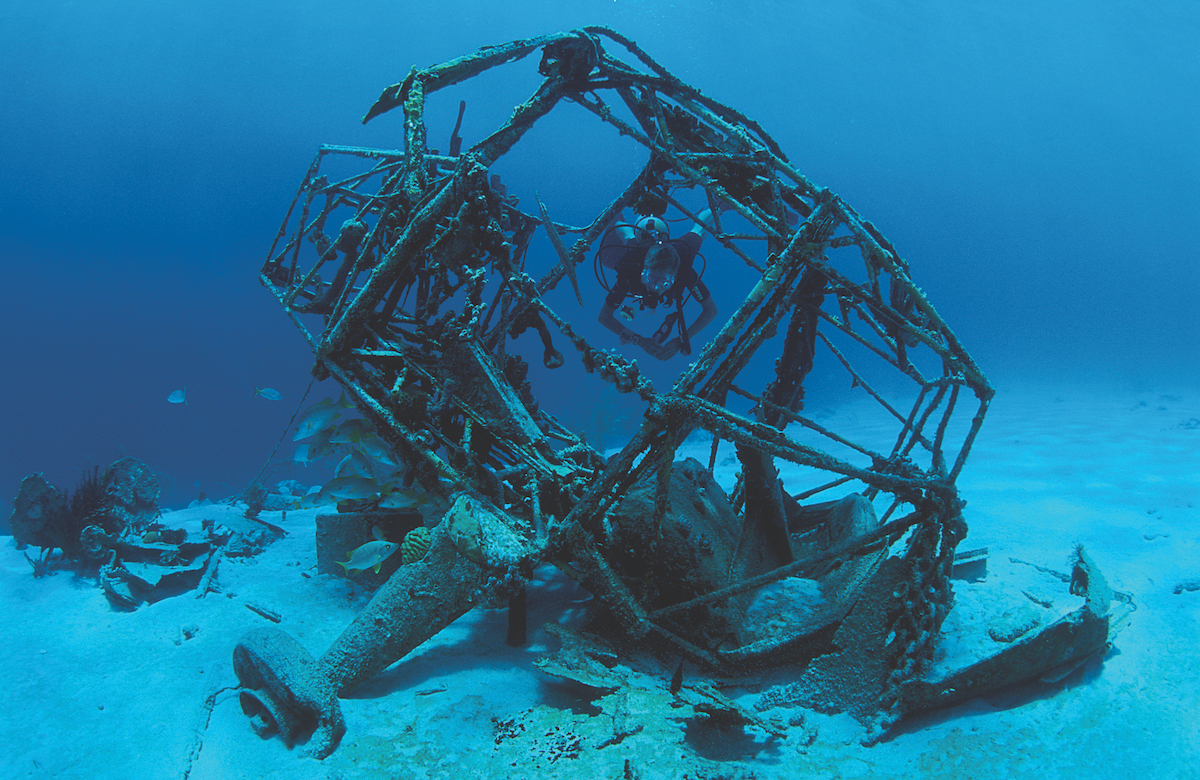 Curacao
Curacao is the largest of the ABC islands and has the biggest population. It's approximately a 20-minute flight from Bonaire. There are 35 sandy beaches to choose from and most of the 70 dive sites are shore dives.
3. Superior Producer
The Superior Producer is Curacao's best wreck dive. The only slight negative is the fact that she lies close to the busy harbour entrance, and is therefore subject to passing boat traffic. The cargo ship sits upright and reasonably intact at a maximum depth of 35m. Wheelhouse and foredeck are at 24m. A single mooring buoy is attached to the remains of her coral-encrusted foremast. It's better to dive the wreck in the mornings, as by mid-afternoon there is a strong current. Divers swept of the wreck will quickly drift into the harbour entrance, which is not a good idea.
Silt flushed out from the harbour can affect visibility. Water colour and turbidity can change from hues of blue at 30m to a green tinge at 10m. Most of the wreck is easily penetrable. Barracuda patrol the two cargo holds. Sergeant majors, snapper and soldierfish congregate around the stairwells and doorways. Vibrant orange cup corals literally coat the whole wheelhouse. The accompanying reef wall is perfect for safety stops, teeming with colourful marine life, including seahorses.
4. Tugboat
Tugboat is located on the southeast side of Caracas Bay near the Aquarium. This shore dive is an absolute must for snorkellers and divers. Sunk in 1976, the 12-metre-long vessel lies upright at a max depth of 5m. Shards of sunlight filter down from the surface, making the site perfect for photography. Big round brain corals sporadically grow over the decking. Parrotfish, angelfish and damsels are prolific. A steep wall, three minutes fin to the southeast, compliments the wreck site perfectly. This drops to around 30m and is full of hard and soft corals. Most divers start their dive on the wall and then off-gas at the scenic wreck.
5. Two Tugs
Next to Ocean Encounters dive centre is the entry point for another tech site called Two Tugs, which as the title suggests, is two small tugs lying side by side. From the shore entry point, divers descend down a sandy gully to the drop-off where the wrecks lie below. The first tug was sunk as a diver attraction, but instead of settling at the planned depth of 10m, it slid down the reef wall. Commercial divers followed the tug's trail down to a narrow plateau at 55m. They were surprised to find a second, unknown tug sitting right next to it. Both tugs are around 20 metres long, sitting upright on the sandy bottom. Only a small gap of two to three metres separates the wrecks. At a depth of 10m, there is a huge propeller lying flat on the reef floor. From this point it's a vertical drop down to the wreck site. Underwater visibility is usually around 30 metres. Grey angels are frequently sighted, as well as moray eels.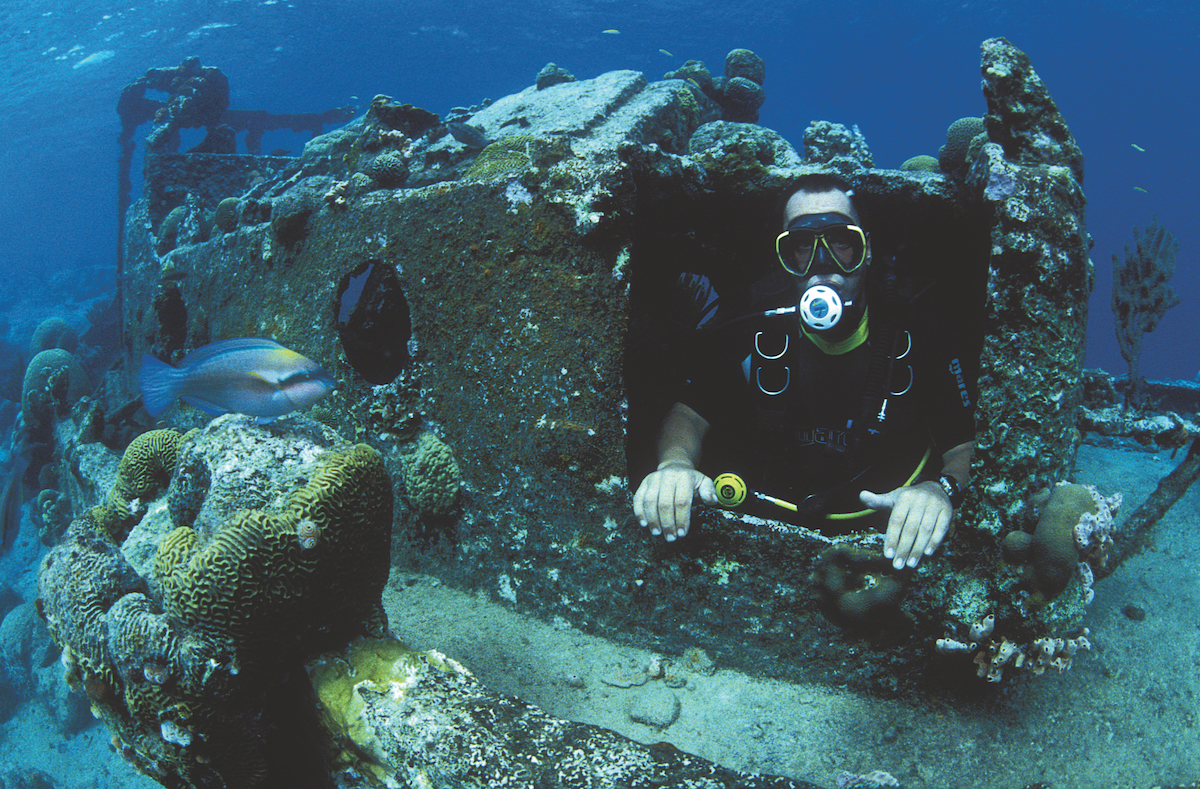 Aruba
Aruba is a lively island offering a huge selection of bars, restaurants and casinos. It's also a regular stop over for cruise ships. Most of the 30 or so dive sites are boat dives. There are around 12 wrecks scattered along the west side of the island, with some in the north while others are further south.
6. Antilla
The most-popular wreck is the 120-metre-long, 4,400-ton Antilla, a World War Two U-boat tender built by Finkenwarder, at the Hamburg shipyards, in 1939.
"Her massive cargo holds were stacked full of torpedoes, mines, mechanical spares and other vital munitions."
Aruba was deemed 'neutral' territory, so the Antilla was safely at anchor, but circumstances quickly changed and when Holland entered the war, military forces stormed the ship. Captain Schmidt was given just 24 hours to surrender. There was no way of avoiding capture as Allied warships were waiting offshore.
On 10 May 1940, he gave orders to scuttle the freighter. Antilla's steam turbines were flooded with water, causing a massive explosion that ripped the ship apart. Captain Schmidt and 46 crew members escaped in lifeboats, only to be detained as POWs at Flamingo Divi on neighbouring Bonaire for the remainder of the war.
She now lies on her port side at a max depth of 18m. Part of her bridge still breaks the surface. Pelicans are often seen sunbathing on the salt-encrusted ironwork. Some 60 years of marine colonization has created an amazing artificial reef system. Orange tube sponges, tunicates and soft corals adorn the hull. Thousands of silversides take refuge inside the wreckage. This, in turn, attracts the predators. Jacks and barracuda are often seen sweeping among the shoals. Angelfish, trumpetfish, grunts, parrotfish and coral grouper are just a few of the many species encountered.
Her cathedral-size cargo holds are well worth exploring. There are also some good areas for deep penetration, including the rudder room. A predominantly sandy seabed means visibility can reduce to around ten metres (visibility is far better inside the wreck). The Antilla is also a popular site for snorkellers.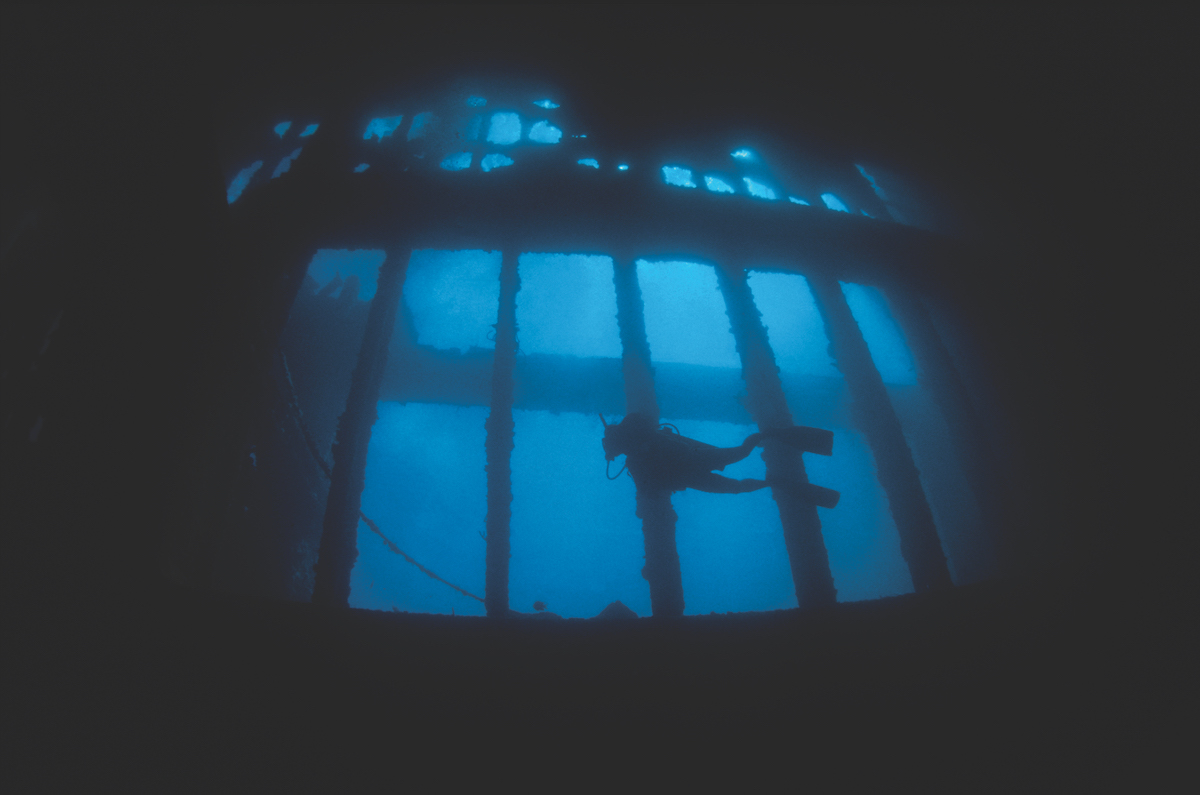 7. SS Pedernales
The 108-metre-long SS Pedernales (3,945 tons) was the victim of a U-boat attack. A well-aimed torpedo struck her amidships. Although her back was broken by the explosion she miraculously remained afloat. Captain Herbert McCall and 18 of his crew managed to escape in the only remaining lifeboat. Tragically, eight men lost their lives. By morning the raging fire had burnt itself out. Two tugs managed to ground the drifting ship near Oranjestad. Engineers assessed the damage and deemed she was still salvageable.
It took two solid weeks to cut out the mangled 38-metre section. A new compact version of the Pedernales was eventually put back into service. Later, she was used in the Normandy landings. The discarded mid-section was towed 3km out to sea and sunk. Quite fittingly, it lies close to the Antilla, a supply ship used by marauding U-boats.
There are three main areas of wreckage to investigate. Although most is low lying, one section still breaks the surface. This is usually frequented by large shoals of French grunts. Macro photographers will have a field day as the whole site is teeming with marine life and lying at a maximum depth of 7-8m, there is plenty of time for exploration. Frogfish are the main celebrities.
8. Debbie II
The 37-metre-long fuel barge Debbie II was sunk as a diver attraction on 19 March 1991. She is sits upright at 20m close to another popular dive site named Blue Reef. Dive operators made the wreck 'diver friendly' prior to her sinking. Most of the cabin floor has been removed, allowing easy access to the engine room. There's not much coral growth but plenty of marine life. Sergeant majors, grunts and angelfish cover the deck area. The forward hold is perfect for penetration, although the hatchway itself can be a tight squeeze.
There are also a number of plane wrecks, including a drug-smuggling Convair 400 sitting at 20m and the remains of a Lockheed Lodestar and a twin-engine Beechcraft at 12m.
9. Jane Sea
The 76-metre-long cement freighter, Jane Sea, is probably the best of the southern wrecks. She lies at a max depth of 29m with the bow around 15m. A routine customs inspection uncovered a huge quantity of cocaine stashed in her cargo holds. She was impounded and then handed over to dive operators in 1988. There is plenty of wreckage and marine life to keep divers occupied. The two-metre propeller is covered in orange cup corals. The stern quarters and galley are ideal for penetration. It's well worth bringing along a torch to light up the darker confines (night dives on the wrecks, especially the Antilla, are a must). The massive crane, used to lift cargo in and out of her vast holds, still sits on the foredeck and is covered in soft corals.
Unfortunately, most of Aruba's divers are relatively inexperienced, which dictates the dive sites visited. Rarely explored wrecks include the SS California, situated on the northern tip, classed as an advanced dive due to the fact that the site is exposed to big wave action and strong currents. Max depth is 14m. There is also a tug boat down south at a depth of 30m which is supposed to be an excellent dive, and for techies the SS Oranjestad lies at 56m by the oil refinery.
Barbados
Barbados, located in the eastern Caribbean, has a laid-back tropical atmosphere, every night is party night. Laced with a rum punch or two, it can be extremely infectious! The St Lawrence Gap has so many bars and restaurants packed along a 1.3km stretch of road. Oistins fish fry is a 'must do' on either Friday or Saturday night. The local fishermen bring ashore their catch of the day and this goes from the weighing scales straight to the restaurants next door for grilling, frying or sushi.
Diving in Barbados could be taken to a whole new level in 2021, as Barbados is considering letting visitors stay on the island for 12 months. You could work remotely in Barbados and dive to your heart's content!
All 25 dive sites are boat dives; this includes ten wrecks mostly located on the protected west side of the island.
10. SS Stavronikita
The 110-metre-long SS Stavronikita is probably the best wreck dive. Russian named and Greek owned, the ship's demise began way before her sinking as an artificial reef project in 1978. A fire started in the engine room, killing at least six of the crew. This was followed by a huge explosion that destroyed all means of communication. The ship drifted for two weeks, eventually ending up in Barbadian waters. She was towed into harbour and left there for more than a year due to wrangles over insurance before being sunk as a diver attraction.
The wreck now sits upright on the seabed just a few hundred metres from shore. The ship should have sunk in shallower water, but the anchors dragged just before the charges went off. The bow looms up as divers make their way down the mooring line. The entire foredeck (depth 23m) is a forest of giant purple gorgonian sea fans.
"There are two prominent masts, cargo holds, bridge and accommodation block to explore."
The huge prop is still attached at a depth of 40m. Marine life encounters include turtles and moray eels to horse-eye jacks.
11. Carlisle Bay
Carlisle Bay has to be the 'Alton Towers' of wreck sites. It really is a playground for divers seeking some of the best wreck dives in the Caribbean! There are six wrecks in all, varying from 3m to 15m in depth. The names of the wrecks are Barge, Cornwallis, Berwyn, Bajan Queen, C-Trek and Eilon. They are all sitting close together, so it's possible to swim from one to the other. The sandy bottom can sometimes get stirred up, but at the shallow depth, there is loads of ambient light and plenty of time for exploration on a single 12-litre cylinder. There can't be many places in the world where you can explore six wrecks in one dive! Each wreck has its fair share of marine, life including French grunts, trumpetfish, blackbar soldierfish, blue-striped grunts, spotted morays, turtles and even eagle rays.
There is another wreck located in the north. The Pamir is a 50-metre-long freighter sitting upright at a max depth of 20m. Her V-shaped bow silhouetted against the anchor makes a really nice composition. There is also a yellow mini-submarine lying about 30 metres from the portside bow just to add some extra interest.