Scuba Diving in the Philippines
The Philippines, or officially the Republic of the Philippines, is situated in the western Pacific Ocean and consists of around 7,640 islands covering some 300,000 km2 and split between three main divisions from north to south – Luzon, Visayas and Mindanao.
As with many countries in Southeast Asia, there is much to do in the Philippines topside, from hiking into the mountains, exploring cave systems, surfing, white-water rafting, even skydiving. However, the Philippines is perhaps most-renowned for its epic underwater offerings.
Anilao, Batangas
Explore the underwater world of Anilao, Batangas, home to a variety of nudibranchs. Anilao, Batangas is one of the closest dive sites from Metro Manila that takes a three-hour drive. Anilao is best known for nudibranchs, the tiny exotic creatures it hides in its waters. Out of the 800 identified nudibranchs around the world, 600 can be found in Anilao.
You can also find various kinds of frogfish, sea moths, gurnards, wasp fishes, stonefishes, stargazers, flounders, worms, stingrays, shrimps, and seahorses (specifically the pygmy seahorse), pipefish and shrimpfish, among many others.
Verde Island Passage, Batangas
The Verde Island Passage, also known as the San Agapito dive site, is located 400 metres from the eastern corner of San Agapito. The island sits at the heart of the Verde Island Passage, a strait that covers around 1.14 million hectares. The usual flow of current in this part of the Verde Island Passage is extremely strong. Thus, only seasoned advanced scuba divers can dive here.
The San Agapito dive site has a wall that stretches 70m deep where you will find huge coral fans. You can find juvenile sea turtles, schools of jacks and mackerels, as well as families of big tunas and grouper.
Malapascua, Cebu
Malapascua Island is the only place in the world where you can dive with thresher sharks nearly on a daily basis in their natural habitat. In fact, thresher sharks are regarded as local celebrities on the island, with thousands of tourists visiting every year for guaranteed encounters. But that's not the only thing that makes Malapascua a true island paradise. The underwater scene in Malapascua Island is teeming with beautiful corals and rock formations, perfect for divers, underwater photographers, or anyone who wants to experience life under the sea.
Moalboal, Cebu
Imagine yourself swimming over a million sardines in clear blue waters just a few metres off the shore. Many who have tried it call the experience surreal, exhilarating, and definitely a 'once-in-a-lifetime' that cannot be missed. Diving is still considered the best option to be in the middle of this huge dancing ball of millions of sardines.
You can watch these fish congregate, move, glide, and race about when huge predator fish like jacks and tuna come near that will surely take your breath away.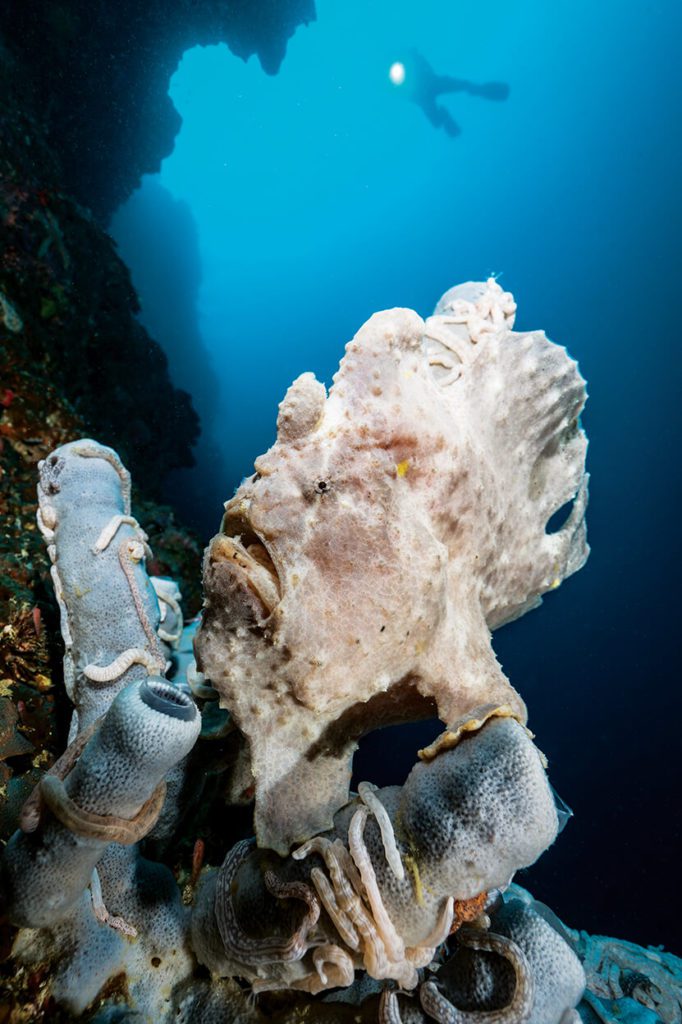 Tubbataha Reef, Palawan
In the southwestern part of Puerto Princesa in Palawan, where the heart of The Coral Triangle sits, is the Philippines' crown jewel, the Tubbataha Reefs Natural Park. The word 'Tubbataha' is a Samal term that means 'long reef exposed at low tide'. It is the largest Marine Protected Area in the country, a UNESCO World Heritage Site, and is part of the Ramsar List of Wetlands of International Importance.
Coron Shipwrecks, Palawan
The vicinity of Sangat Island in Coron has the largest concentration of sunken ships – 11 of them are within recreational scuba diving depths of 25m to 40m. The shipwrecks are in great condition and are highly recommended among advanced scuba divers to penetrate. Things to look out for include a three-barrelled anti-aircraft gun by the sandy area near the base of the huge crane and the crane's intact machinery and gears.
Balicasag, Bohol
Located southwest of Panglao Island is Balicasag Island, a prime diving and snorkelling spot in Bohol due to its precious and diverse marine life. This round-shaped island houses some of the most-beautiful reefs as well as colourful corals and fishes. Many divers and snorkellers also have a chance of encountering sea turtles.
Divers Guide To The Philippines
Weather and Climate – If you want the bright and sunny, tropical glory of the Philippines, plan your trip between the summer months of March and May. It will be hot and dry, but that's what beaches, sunscreen and hats are for! While some might say avoid the rainy season from June to October, a good traveller knows that off-peak season means lower rates when booking airfares, hotels and resorts. Just be forewarned that the months between July and September is monsoon season, which could mean strong winds and heavy rain. The dry cooler season during the northeast monsoon period typically lasts from November to February. Year-round temperatures range from 78°F (25°C) to 90°F (32°C) with mean annual humidity at 83 per cent.
Top Side Activities
Underground River, Palawan
Puerto Princesa Subterranean River National Park, a UNESCO World Heritage Site, is located in the town of Sabang and has also been named one of the New 7 Wonders of Nature back in 2011.
Chocolate Hills, Bohol
Bohol is one of the most popular and tourist-friendly destinations in the Philippines.
One of its most famous tourist spots is the Chocolate Hills with its chocolate-shaped hills and brown colour during the dry season.
Sinulog Festival, Cebu
The Sinulog Festival or Santo Nino Festival is an annual religious and cultural event in Cebu. Usually held in January, Sinulog is thought to be the first of the most well-known festivals in the Philippines.
Find more inspiration for your dive trips this year in the Ultimate Divers Guide.
Meet The Asia Pacific Operators