Kicking off our Group Test BCD reviews, we take a look at the middle-of-the-range models for drysuit diving.
There are many types of BCD available these days, so this time we concentrated on traditional-style jackets, leaving back-inflate and backplate-and-wing set-ups for another Group Test. We examined their build quality, comfort, fit, ease of use (particularly weight pockets and accessory pockets) and the performance of dump valves and power inflators. Learn how to Choose a right mask for diving
AP Commando Explorer (SRP: £430 (£375 direct from AP Diving)
The Commando Explorer BCD is based on the original tried-and-tested Commando jacket, which is no bad thing as they were virtually bulletproof. Made from robust 1,000 denier material with a twin-bag construction, it is built to withstand the roughest treatment.
It is equipped with three efficient dump/over-pressure valves, and has 10 pre-bent aluminium 50mm D-rings. The 'Reflex' comfort-fit system means the BCD is anatomically contoured, fully padded and adjustable to the finest degree at shoulders, waist and backplate.
The basic Commando Explorer doesn't have weight pockets, it comes with Cargo Clips, and a pair of pouches is a £25 option.
It comes as standard with a robust APV200 power inflator but you can opt for a chunky Auto-Air octo-inflator for an additional £42. And while it is set up out of the box for a single cylinder, you can get a twinset camband for an additional £30.
The Explorer BCD envelopes you so completely it is like being hugged, and it is very supportive in the water. The pockets are huge and easy to access, the dumps and power inflator are efficient, and the swathes of padding on the backpack and straps mean it is exceptionally comfortable. And the build quality is second-to-none – it just oozes durability and I defy anyone to be able to kill one! It is quite bulky compared with some of its rivals, but that may appeal to some users.
Aqualung Pro HD £290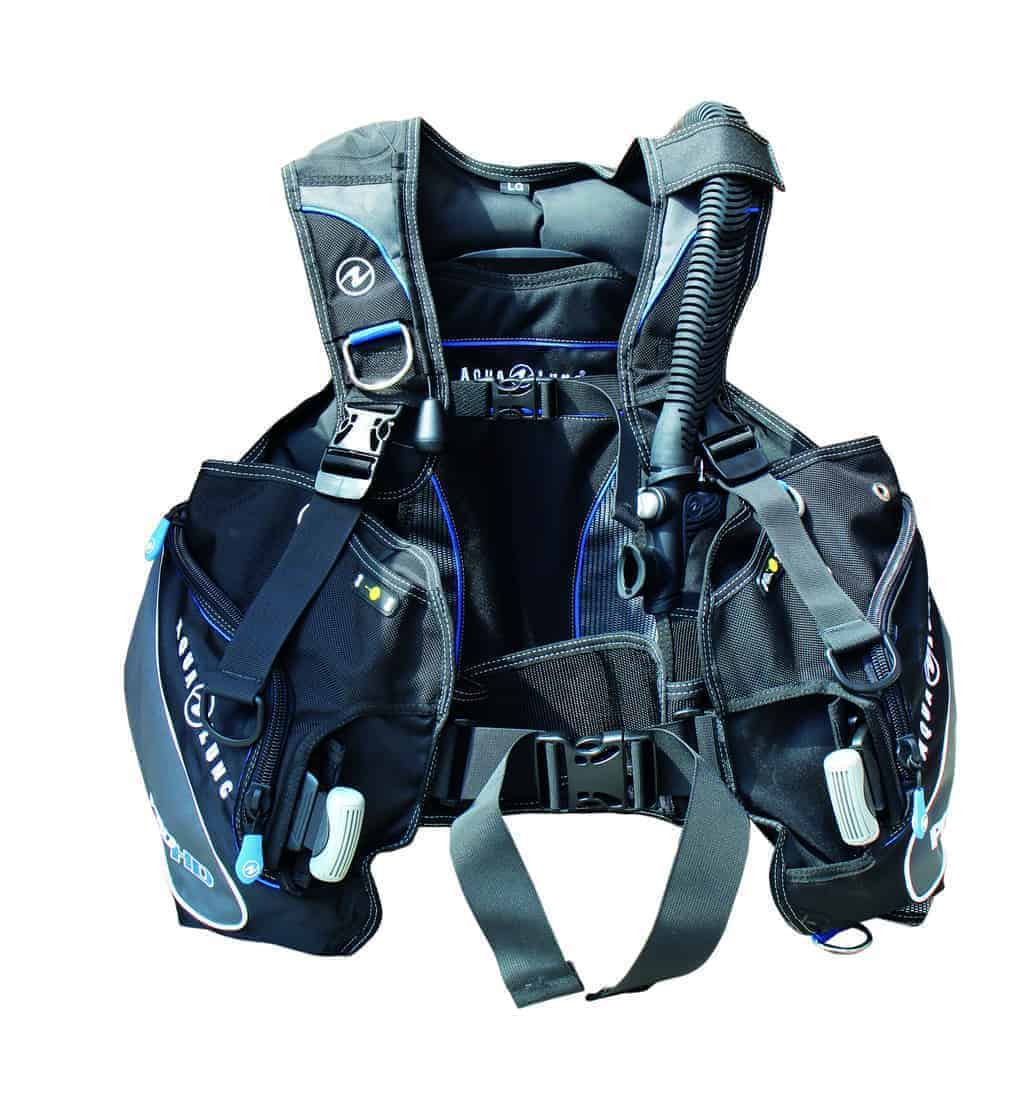 The Aqualung Pro HD is a well-specced BCD that benefits from a lot of the technology and design points from its higher-priced siblings.
It is constructed from ResisteK material, which resists fading and abrasion, the chest strap and waistband can be adjusted for comfort and fit, and it has large pockets with two-way zippers. There are five stainless-steel D-rings for accessories, and is has knife-attachment points on the left side.
There is a scooped Octo pocket to stow your octopus on the right-hand side, and you can route your instrument hose through the left-hand side, which keeps everything neat and tidy and less of a snag hazard.
It is equipped with SureLock II integrated weight pockets, and has two non-dumpable trim weights on the camband.
The Pro HD is a lightweight but well made BCD, which is extremely comfortable and can be adjusted to fit snugly. It holds you well underwater, allowing easy movement into any orientation, and lets you sit upright at the surface.
The power inflator is fast and efficient, as are the flat dump valves positioned to the rear and on the shoulder.
The SureLock II integrated-weight pockets clip securely in place, and the dual-zippered pockets are easy to access and quite roomy. Cracking bit of kit for the money, and good for diving both here in the UK and abroad.
Mares Dragon SLS £439
The Dragon SLS sits near the top of our price bracket, but you do get a lot of BCD for your money.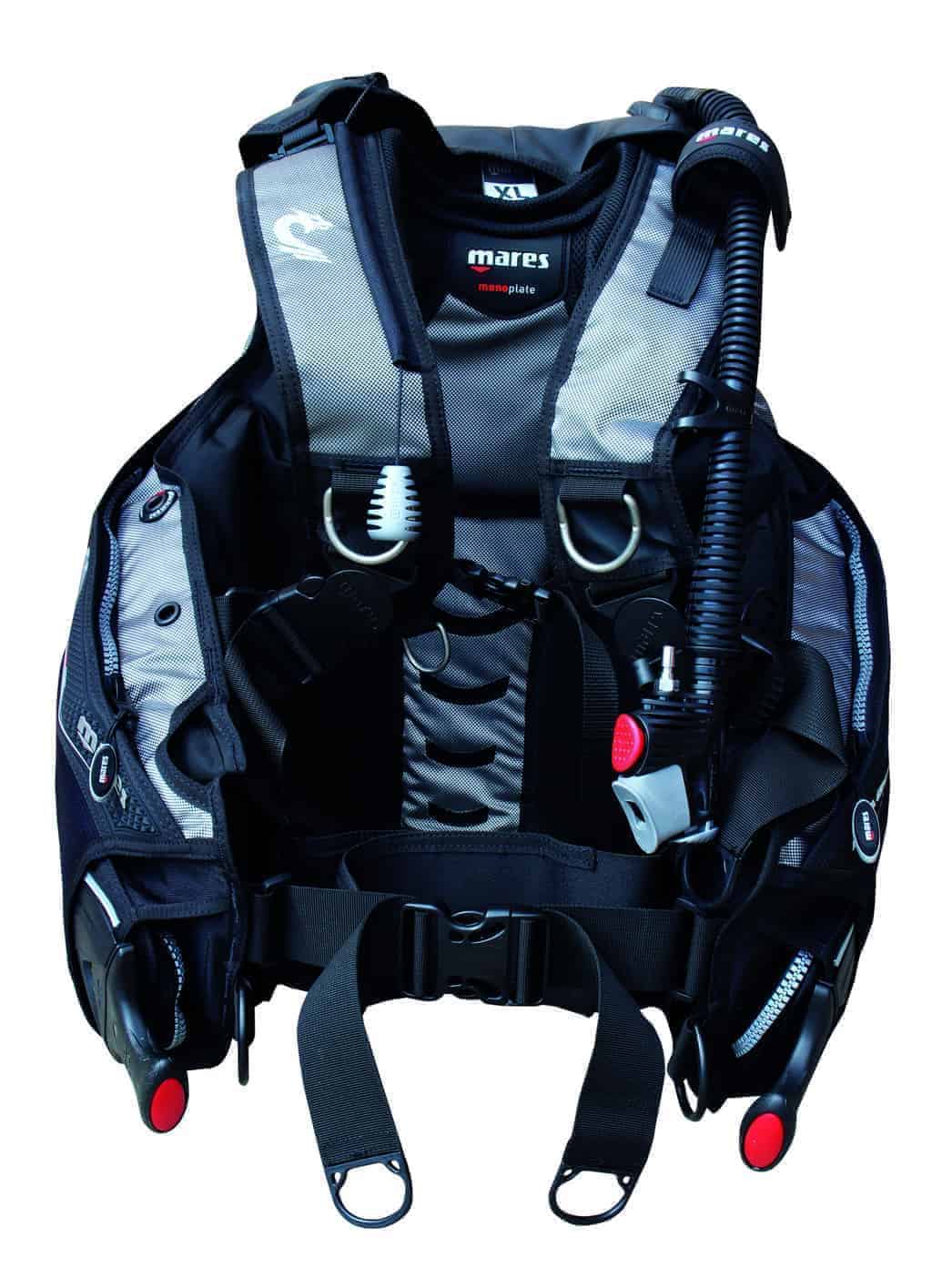 The backpack and shoulder straps, which are fitted with swivel buckles, are well padded, and the design of the aircell means it slides up the back of the shoulders as it inflates for added comfort.
There are D-rings and grommets for attaching lit, and the cargo pockets have stretch panels so they can store more or bigger accessories.
The new controls on the SLS integrated weight pockets mean you get a visual confirmation that the pockets are securely clipped into place. The 'sword handles' are being redesigned, though, so they do not protrude as far, and will be out soon.
The Dragon is a good-looking BCD, and in the water it is very comfortable and effortlessly holds you in whatever position you contort yourself into. The high-lift aircell also provides plenty of lift on the surface, but because of the design, there is no 'squeeze', so you are still comfortable even fully inflated.
The new weight pockets work very well, but the new version that doesn't stick out so far will be an improvement.
The stretchy pockets are a neat idea, but the zipper to get into them is still fairly small, which makes accessing them quite awkward – a bigger zipper and these would be great.
All-round, another nice BCD from the Italian manufacturer.
Oceanic Atmos £349
The Atmos BCD is a robustly built jacket which features an innovative hybrid aircell which provides rear-inflation for support underwater along with front inflation as per a traditional BCD for surface support.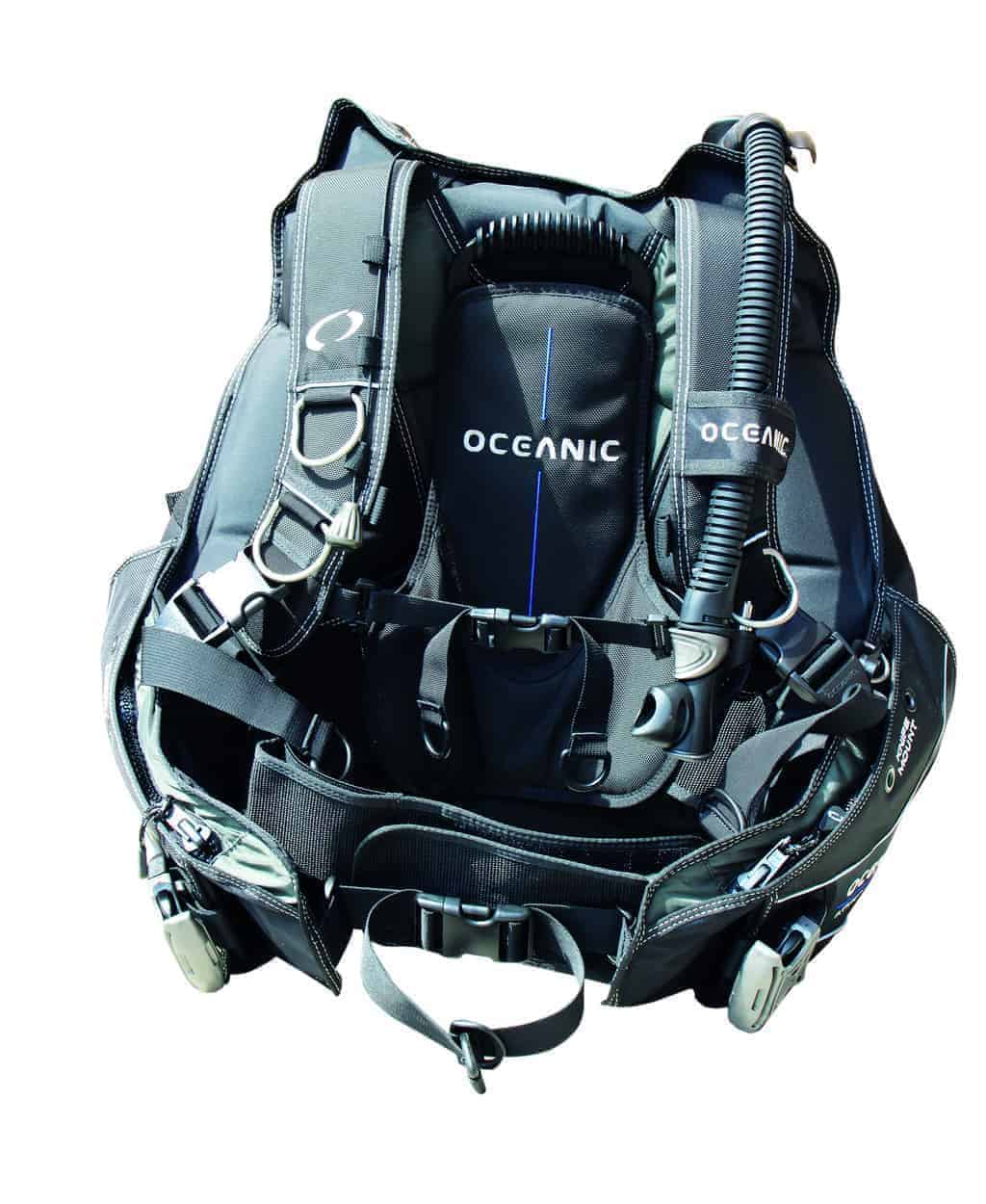 It incorporates 1,000D denier Cordura fabric in crucial areas, has two large zippered pockets, a depth-compensating cummerbund, and a well-padded backplate for comfort.
The 'pinch-and-release' integrated-weight pockets are very secure and easy to both lock in place and jettison.
It boasts three over-pressure/dump valves for optimum buoyancy control, and a compact but efficient power inflator.
The Oceanic Atmos sits right in the middle of this price bracket, and has always faired well with the Test Team. It is a comfortable jacket thanks to the padding on the straps and backpack, and the extended lumbar support helps transfer some of the tank weight on to your hips to relieve shoulder stress.
The innovative aircell works well, with the BCD acting like a rear-inflate jacket underwater, but then offering upright support on the surface as the air shifts into the frontal areas. This means underwater you do not feel as restricted up-front.
We all liked the weight pockets, which were easy to deploy with one hand, and the pockets were okay, just a little problematic to access when wearing a bulky drysuit. Good overall jacket from Oceanic that performed well.
Scubapro Equalizer £295
The Equalizer is Scubapro's latest foray into the sub-£300 category of BCDs, and as you would expect from this company, it is a good-looking piece of equipment with a decent amount of features.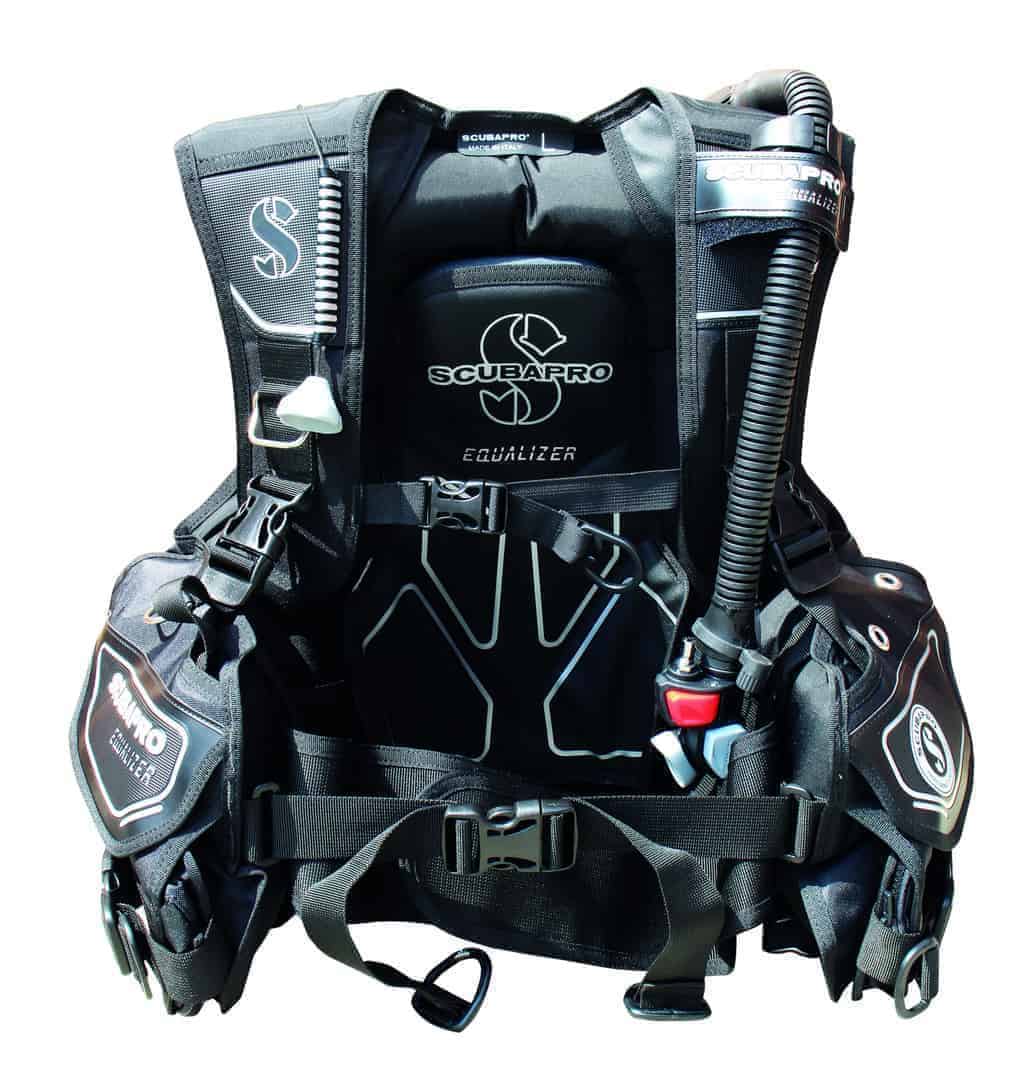 It is made from 420 denier nylon to ensure it is both lightweight and durable, and has a wraparound aircell for comfort and support both underwater and on the surface.
It has the tried-and-tested Scubapro balanced power inflator and pull dumps, and comes with Velcro-closing pockets, and four stainless-steel D-rings for attaching accessories.
The Equalizer also has the company's secure 'pinch-and-release' integrated weight pockets.
The Equalizer is a good-looking BCD that looks more expensive than it actually is. Made from a robust material, it is still quite lightweight, so would suit the travelling diver as well as someone who dives regularly in the UK.
I still maintain that the Scubapro inflator is one of the best on the market, and it does work exceptionally well, but it is matched by the rapid pull dumps. And we are big fans of the integrated weight system, which is secure yet easy to use.
This is the only jacket here with Velcro-closing pockets, and they are easy to locate, but quite hard to access as it isn't the biggest opening in the world. Overall, though, another classy offering from Scubapro.
Conclusion
Due to splitting our back-inflate jackets into a separate test, we were down to just five jackets for this Group Test. All of the BCDs reviewed performed well, offering plenty of support underwater and on the surface, and were comfortable when walking about topside as well.
The Best Value award went to the Aqualung Pro HD, which offered a great all-round package at an enviable price point. It was pushed close by the Scubapro Equalizer, which was just left down by its pockets.
The Choice award was a tough one. The Mares and Oceanic offerings were both very good jackets, but both of them suffered a little by having pockets which were not the easiest to access. The AP Explorer was well priced, robustly built and the massive pockets were easy to get into, so it just edged it over the competition. 
Our gear content is sponsored by Mike's Dive Store, the UK's premier dive retailer. For all your diving needs visit them in-store or online for your diving, freediving, snorkelling and servicing.