Members of the British Divers Marine Life Rescue (BDMLR) group stepped in to assist with a grey seal that was washed up on Formby Beach in a sorry state.
The large metre-and-a-half , 81kg animal was first seen just after 9am on Monday 3 April. Chris Tyman, a ranger with Sefton Council, contacted the RSPCA because he was concerned the seal has distemper. The animal went back into the sea at high tide, but was left stranded again the following morning.
At this point, BDMLR stepped in, and in a joint operation with the RSPCA and the Formby Lifeguards loaded up the seal and took it to a RSPCA rehab centre Stapeley Grange in Cheshire. It was hoped that a vet would be able to treat it, get it healthy and then arrange for it to be released back into the wild, but sadly, the animal had to be put to sleep.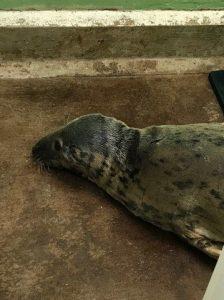 A spokesman from the RSPCA said: "When the seal was brought in, he was in a very bad way. He was very lethargic and had a snotty nose and dry eyes. It was obvious that something was seriously wrong with him. We did everything we could, but unfortunately we had to put him to sleep."
Graham Lawton, a member of the BDMLR who helped transport the seal, said: "Sad news about the seal we took to Nantwich, unfortunately the big fella was just too badly injured to help. Still, at least we know we all did the best we could and gave him a fighting chance".