Mark Evans: When the waters get cold, it is all well and good being wrapped up in layers of undersuits and a quality drysuit, but if your hands get frozen.
Well, you are done – you can't operate suit or BCD controls, torches or cameras efficiently, and it is just damn uncomfortable and unpleasant. And let's not even talk about the pain back topside as the feeling slowly returns to your fingertips…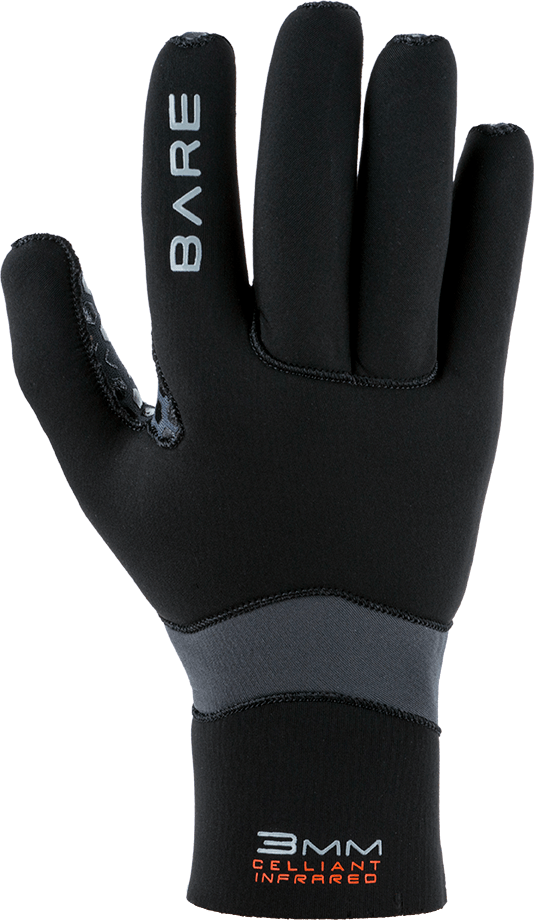 BARE reckon they have solved some of these issues with their Ultrawarmth gloves, which come in 3mm and 5mm versions (we have the 5mm versions on test). As with other BARE gloves, they feature a double-glued and blind-stitched four-panel design to improve overall stretch by reducing the number of seams, making the glove easier to don and doff, and the anatomically correct pre-curved fingers reduce hand fatigue and improve overall dexterity.
Glideskin-in wrists act as another line of defence from water entry. So far, so good, but what makes them different? Well, for added warmth, the BARE Ultrawarmth gloves incorporate the low-loft Celliant Infrared Technology – 13 thermo-reactive minerals embedded in the fabric of the material catch heat leaving your body, convert it to thermal energy, and reflect it back to your body for maximum warmth and comfort.
Now I have become a convert to drygloves in recent years, and so I was more than a little dubious how warm these wet gloves were going to be, but you know what, that Celliant Infrared Technology really works!
They were much warmer than my existing 5mm wet gloves, and even gave my trusty back-up three-finger mitts a run for their money. Okay, so they were not as warm as drygloves, and I didn't expect them to be, but they are significantly warmer than other 5mm gloves I have tried. Even after two one-hour dives in sub-5 degrees C temperatures, only the tips of my fingers were starting to feel cold, the rest of my hand was still relatively warm.
Want to read more Scuba Equipment Reviews?