Experience a different side to Raja Ampat on a Homestay with Meridian Adventure Dive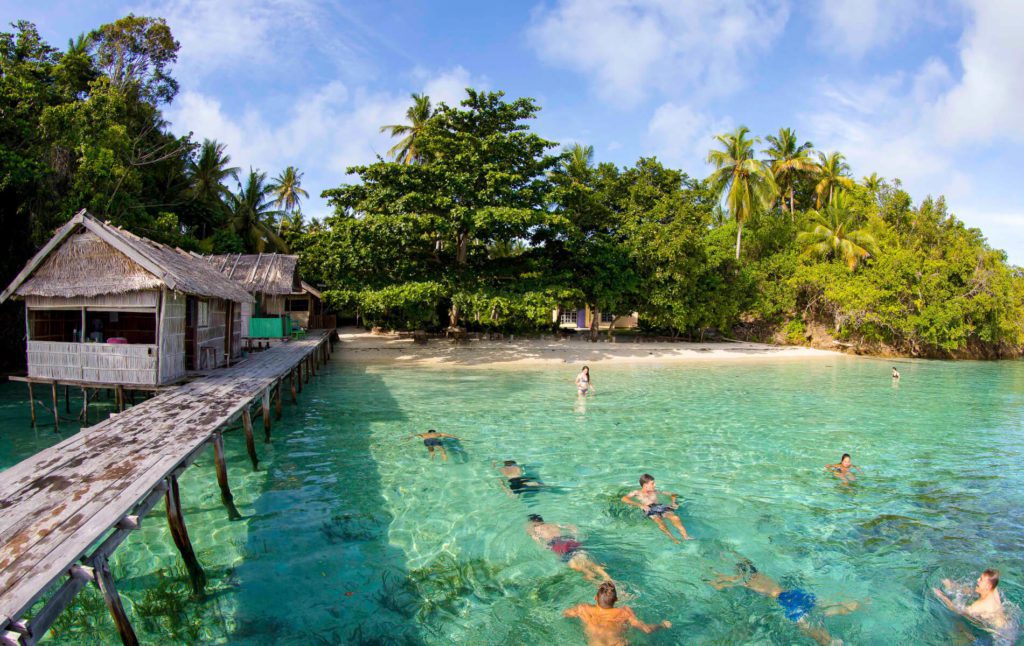 While many prefer to have all the comforts of home (and often even more) when traveling, some prefer the charm of roughing it and experiencing the local way of life. The homestay experience has seen a surge in popularity across the world in the last decade, as an alternative to hotels and the less the glamorous hostel experience.
This trend has also extended to the diving industry, where many have moved on from the mass of liveaboards, that used to be the only way to see remote diving areas, to staying with local homestays. This has been made possible by partnerships with local dive centres, allowing divers have a more personal and authentic experience.
Raja Ampat, located in the Indonesian province of West Papua, is known as "The Last Paradise" and tops many divers' bucket list of destinations. Due to the remoteness of the area, liveaboards have been the only way to experience this paradise for many years. However, with the growth of eco-conscious tourism practices in the global diving industry, and in the Raja Ampat area specifically, there has been a shift by local communities and businesses to grow the homestay industry. This style of accommodation allows divers to experience the magic of the area year-round.
Homestays are not the only land-based options available to divers visiting Raja Ampat. Divers who want to experience the area year-round, can do so with a more personalised itinerary and local experience. It is possible to spend your time between an affordable luxury resort, with all the bells and whistles a diver wants and needs, as well as also spending time with a local family in their homestay.
A dive operator like Meridian Adventure DIVE can take care of all these arrangements, including safely and professionally getting you to your dives every day, even while staying on a beach island with a local family.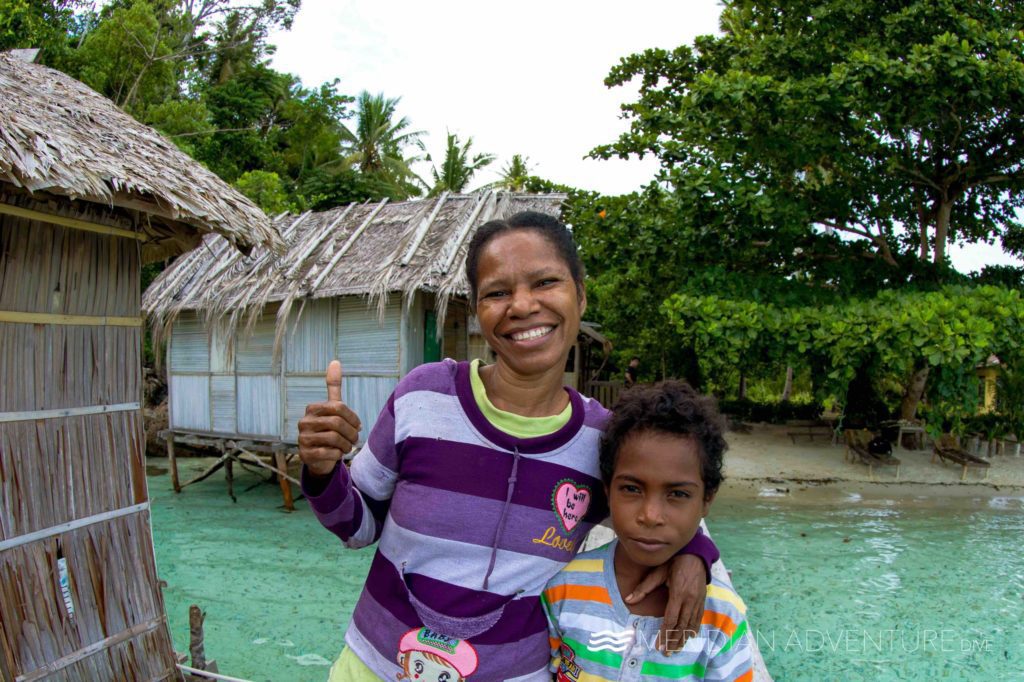 What exactly can one expect from a trip like this?
For many, the most daunting part of the homestay experience is the cultural and language gaps that can often lead to embarrassing or even frustrating misunderstandings. This is easily avoided by booking your trip through a dive operation, like Meridian Adventure DIVE, who have partnered up with the local homestay association to not only help promote the local homestays, through their own website and social media, but also given the local homestay owners the opportunity to offer professional diving and snorkelling activities as an add on to your stay.
From the moment you arrive in Waisai, your holiday truly begins, and you have nothing left to worry about. Your personal local taxi driver awaits, to take you from the ferry terminal to the Meridian Adventure Resort just five minutes away. If your planned itinerary begins with a stay at the resort, the check in process is quick and before you know it, you not only have the keys to your modern room, but you can also decide on your diving itinerary and have your equipment sized and labelled ready to go.
After getting rid of the travel grime, the resort pool and mangrove lounge gives you the perfect opportunity to unwind, while having a cocktail as the sun sets. Follow this with a fresh and tasty meal in the fusion restaurant and you will know you are on holiday.
For the homestay experience Meridian Adventure DIVE will, not only manage your booking with the homestay but, provide a daily pick up and drop of service to and from the homestay, as well as transfers on your diving or snorkelling days. At the on-site marina, you are shown your modern and clearly labelled dive gear, aboard the luxury custom dive boat, and receive an in-depth safety briefing, all while the crew make sure your luggage is stowed away in a safe and dry place for your transfer to the homestay.
Now it is no secret that Raja Ampat offers some of the best diving in the world, but you will still be left amazed by your dives and even more excited about the rest of your stay. After your introduction to the underwater paradise, it is finally time to meet your local family. After being taken to your homestay you can rest easy knowing that your diving equipment will be washed, checked and ready for you when the dive boat comes to collect you for your next scheduled diving trip.
The first reaction is the beauty of the locations of these homestays, the owners truly have the prime properties in the island paradise. White sand beaches and palm trees surround the traditional palm leaf houses. Even though these homestays do not share the modern luxuries you might be used to, such as electricity 24 hours a day or hot water, you could truly experience the island lifestyle. After making yourself at home in your hut, many of which have western style beds and mosquito nets, you are free to explore your new island paradise and the incredible reefs that surround.
The hospitality of your local hosts becomes clear with the amount of food, and snacks, that they continually bring for you to try. From fresh coconuts to fried bananas, every snack is a true local treat. Fresh fish, rice, and locally grown vegetables are cooked over open flames and served in a buffet style for you to enjoy. Often the hosts will join you, to tell you stories of the islands or even just to learn a new English word or two.
It is at night, when you truly get a sense of the incredible place you are in. When the generator has run for the allotted time and the lights go out, you are left amazed by the night sky where millions of stars can be seen in all their glory, stretching as far as the eye can see. The sounds of the ocean and the jungle fill your ears as you fall asleep… just be sure to use a mosquito repellent and make use of the net to avoid the sounds getting too close.
After a delicious breakfast of local fruits and coffee or tea, you are picked up right on time to go on your next diving adventure. For as long as you choose to stay with your host, this is the island life you can expect to enjoy. All while growing a close bond with the local family and seeing how they go about their daily lives, while welcoming you into it.
But, as with all good things, it must come to an end and as you depart to spend the rest of your time in the modern luxury resort, where you again have all the amenities you could think of, you realise that you have experienced something unique… something not many others will even think is possible. Now this kind of holiday might not appeal to all, but for those who are willing and excited about the idea of leaving their creature comforts behind for a few days, this is the only way to dive and experience the Raja Ampat area… the homestay way.
About Organisation:
Situated in Raja Ampat, Indonesia, Meridian Adventure Dive is a PADI 5 Star Resort and winner of the PADI Green Star award. Scuba divers enjoy our professional services that have become synonymous with both the PADI and Meridian Adventure names.