Scuba.Digital is a new online dive show for diving, freediving and snorkelling – and we asked co-founder Jason Haiselden for the lowdown on what you can expect.
Virtual dive shows have been attempted before, but have suffered from glitchy connections and other technical issues, but Scuba.Digital is set to break the mould. The brainchild of Jason Haiselden, April Fung, and brothers Stefan and Boris Glumpler, who know a thing or two about digital being as they were also behind the creation of ScubaClick (a well-received liveaboard management, reservation and booking system), Scuba.Digital had been around in concept form for a few years, with the team even investing in a platform on which to run the event while attending the DEMA trade show in November 2019. The advent of COVID-19 gave them the impetus they needed, and so Scuba.Digital was truly 'born'.
When is it?
Scuba.Digital will run for a full 72 hours from 12 noon (GMT) on 23 October until 12 noon (GMT) on 26 October. Unlike a traditional show, Scuba.Digital will not close at night, but instead will remain open and thus catch audiences and exhibitors in all time zones.
It is envisaged that Scuba.Digital will 'follow the sun', covering the following areas – EU and Africa, then the Americas, followed by the Pacific, and then Asia and Australia.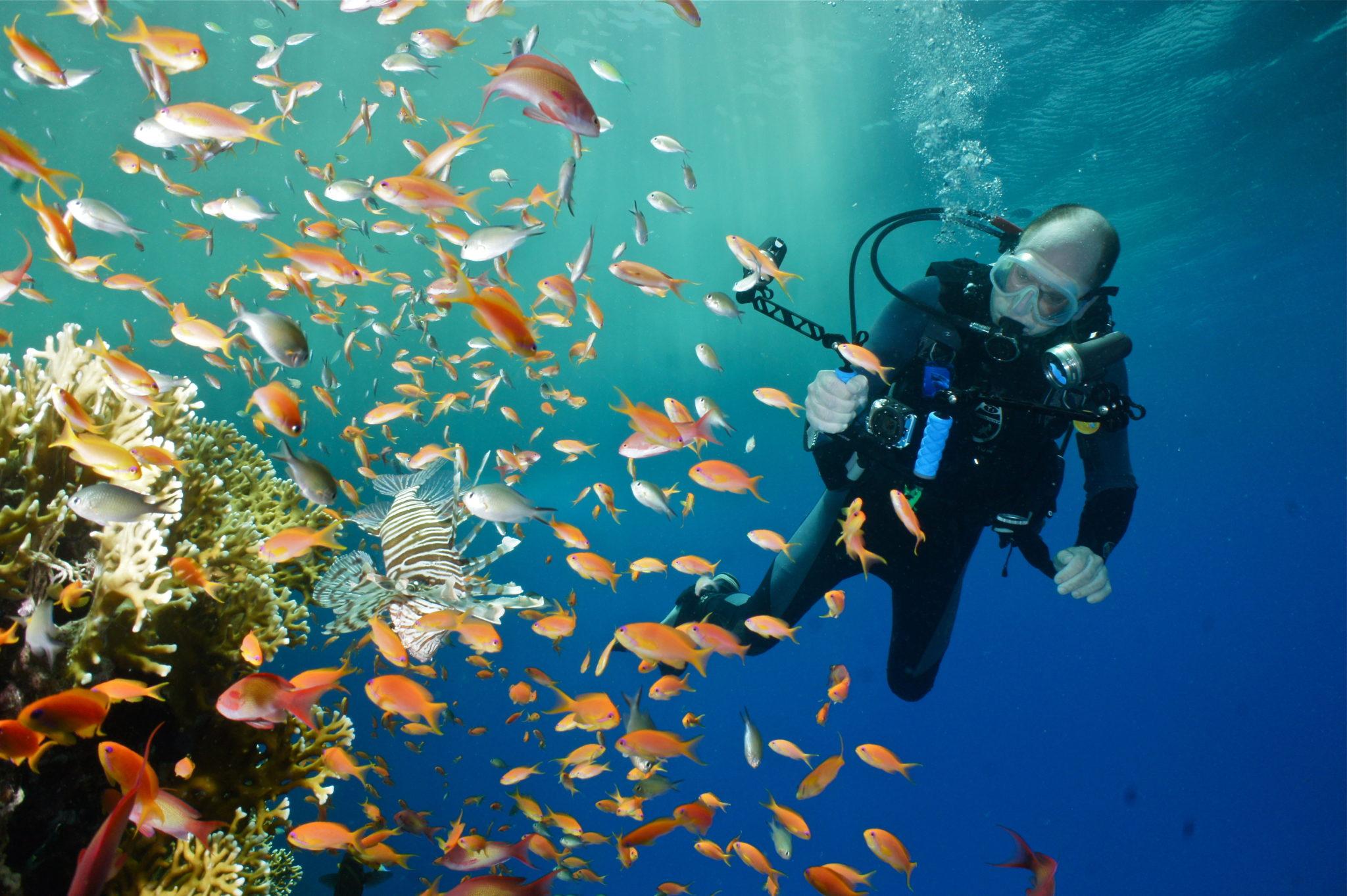 What's featured at Scuba.Digital?
Scuba.Digital is seeking to be a true show in every sense of the word, covering scuba diving, freediving and snorkelling. There will be a main stage where most presentations will be, and there will be 'break out' rooms (known as sessions), where further discussions and smaller-scale presentations will take place. Live presentations currently scheduled include a focus on liveaboards and resorts, an insight into the latest dive equipment, hints and advice on underwater photography, informative talks about coral and pelagics (sharks), and a call-to-arms on conservation.
There is even a 'Networking' area – a bit like bumping into people at café tables or in the halls of a traditional show.
Exhibitors are able to 'man' their expo areas throughout the entire 72 hours, so whenever you 'tune in' as a visitor, you will be able to find out the information you need through videos, links to websites and special offers, or even interact with these dive industry experts live via an 'in-person' session, much as you would chat to an exhibitor at a true show. For visitors, this section will be like a virtual version of wandering the aisles at a traditional dive show.
Concept of Scuba.Digital?
The concept of Scuba.Digital appears to have been well received. Jason explained: "We put the website together, started setting up the show on the platform, and on Saturday 16 May we launched.
"We had 40 people sign up to take part as speakers and exhibitors in the first ten days, and fully expect to have nearly 200 exhibitors as we approach the end of September."
Jason added: "The multi-lingual event may have an even broader reach, in that we can envision surfers/kite surfers also being a target audience, as there is quite a crossover for resorts and liveaboards that also cater to these audiences."
Scuba.Digital will be free to exhibitors and speakers, and Jason explained why. "Quite simply, without exhibitors and speakers, there is no show for visitors, and we want to make Scuba.Digital the biggest online dive show there have ever been, with plenty to keep people attending occupied for extended, or even multiple, visits.
"The important thing to stress about Scuba.Digital is that it is a truly 'live' event, and visitors will be able to speak directly to exhibitors right there and then, as well as take part in fully interactive presentations and talks."
Who are the Dive Show Scuba.Digital Speakers?
There are a selection of speakers already lined up, including the likes of shark expert Cristina Zenato, underwater photographer Ellen Cuylaerts, Georgienne Bradley from Sea Safe Foundation, Atlantis Dive Resort's Brent Durand and Roni Ben-Aharon, Christopher Bartlett from Indigo Safaris, Deborah Dickson-Smith from Diveplanit Travel, Beneath British Waters' Mark Barrow, Bryan Horne from Dive Curacao, Yan Cai from Navatics Technology, Thalassa Dive Resort's Simone Gerritsen, Bernardo van Hoof from Goby Divers and Watersports, Oceans Below's Elisabeth Lauwerys, Alain Tiggelaar from Tec Diving Curacao, the International Scuba Divers Club's Alejandro Dutto, and Susanna Lourenco about the psychology of freediving. More speakers are being announced all the time, so keep checking the Scuba.Digital Speakers website.
Scuba.Digital Prize Draws – be in it to win it!
Each visitor that purchases a ticket for Scuba.Digital will automatically be entered into the prize draws. The draws will take place on the main stage, with the sponsors who provide the contribution being able to join the stage to present the prize to the winner. Names will be drawn electronically and read out to the audience. If the winner is in the audience, then they will be able to claim the prize, otherwise another name is drawn, so make sure you are there 'in person' when the draws are made.
Prizes currently include offerings from Indigo Safaris, Fundiving Curacao, Diveplanit, Baja My Love, The Napoleon Divers, PT Innerseas Adventures, Snorklean, Nautilus Dive Adventures, and SG ScubaGaskets Ltd.
These range from vouchers worth from $100s to $1,000s for equipment or to put towards travel, and trips to St Helena, the Philippines, Curacao, Indonesia and Socorro, Guadalupe or Sea of Cortez.
More are being added all the time – check out Scuba.Digtal Prize Draws for the latest.
How to attend Scuba.Digital Dive Show?
Tickets covering all three days of the show are available now, with early bird specials! There are only 500 'Seahorse' tickets available at the special discounted rate of $10 – normally $20. Head to https://div.ng/SDM
Exhibitors
More exhibitors are signing on all the time, but at this moment, the list included:
D-Luxe Dive Gear, Tourism Fiji, Greenwood Beach Resort, Dewi Nusantara, Bunaken Oasis Dive and Spa Resort, Dive Tribe, MV Valhalla and MV Valkyrie, Undersea Hunter, Cocotinos Boutique Resort, Sea Save Foundation, Devocean Divers Malapascua, Emperor Divers, South Pacific Island Travel, Blue Ocean Dive Centre and Abu Dabbab Lodge, Walindi Plantation Resort, Galapagos Sky, Aggressor Adventures, Coral Guardian, UnBelizeable Travel, Fort Young Hotel and Dive Resort, Dominica, Quest Dive Adventures, Sand Dollar Condominiums, Manta Trust, Indux Media, Reef and Rainforest Dive and Adventure Travel, Scuba Libre Adventures, Bluewater Travel, Dive Travel Curacao, Dive Curacao, Pacific Dive and Travel, All Star Liveaboards, Goby Divers Curacao, Naboo Resort, Lighthouse Point Resort and Residences, Africa Tour, Cayuco Reef Divers SA, Cozumel Marine World, Belize Dive Haven, Dive Flag Jewellery, Divebooker.com, Fascination Maldives, Atlantis Dive Resort and Liveaboards, Ilios Dive Club, Solitude Liveaboards and Resorts, Fourth Element, Scuba Diplomacy, Professional Scuba Inspectors, Dutchcraft, YourBagTag.com, Freedive Cozumel, The Fifth Point, Cabrits Dive Centre, Red Sea Elite Diving, Dive Inspire, Bilikiki Cruises, Oceans Unlimited, The Diver Medic, Scuba Psyche, EVE Diving, Weelze Diving Services, Malapascua Exotic Island Dive Resort, Shark OFF, Maltaqua Dive Centre, Calico Jack Charters, Tambora Dive Cruises, Conor Culver Photography and Design, Scuba Gifts, Rabaul Dive Adventure, Best of Papua New Guinea, Indigo Safaris and Best of PNG, Olive Ridley Project, Manta Ray Bay Resort and Yap Divers, Roots Red Sea, Wetwear, St Croix Ultimate Bluewater Adventure, Baja My Love, Costa Rica Scuba Diving and Adventure Tours, Oasis Guesthouse Bonaire, Seafari International, Tec Diving Curacao, Pelagic Dive Travel, Asia Scuba Instructors, NAUI, The Reef-World Foundation, Kasai Village Dive Resort, Swanage Boat Charters, Liquid Diving Adventures, Fundiving Curacao, Damai Liveaboards, Sunset House, Magic Resorts Philippines, Go Dive Bali, Jungle Bay Hotel Dominica, Rafida Liveaboard, La Galigo Liveaboard, Asia Liveaboard, DivingPass, Thalassa Dive Resorts Indonesia, Lumbalumba Diving Manado, Pelagic Fleet, Dive in Culture, Finclip, Snorklean, C&R Testing, Ocean Geographic, Diving in Elba, Oyster Diving, Buceo Anilao Beach and Dive Resort, Diveplanit Travel, Nature Island Dive, Carpe Diem Maldives, WaterMate Boats, Underwater Tour, St Andrew's Divers Cove, Navatics Technology, Diveshop, Infiniti Liveaboard, PT Inner Sea Adventures, Blue Force Fleet, The Smiling Seahorse, Heaven Saphir Liveaboard Red Sea, SG Scuba Gaskets, and Dive Patches International.
Keep checking the website for the most up-to-date list of exhibitors