The Aqualung Shot FX fins are actually designed for women, but the stiffness of the blade increases as the size goes up, so these fins (to fit a size 9-10 boot) felt very similar to the almost-identical X Shot fins, which are considered more generic.
Regardless of whether you go for the Aqualung Shot X or the Shot FX, you will end up with a paddle fin with a relatively short, wide blade that incorporates various design features aimed at increasing the thrust and power generated while at the same time reducing fatigue and any loss of efficiency.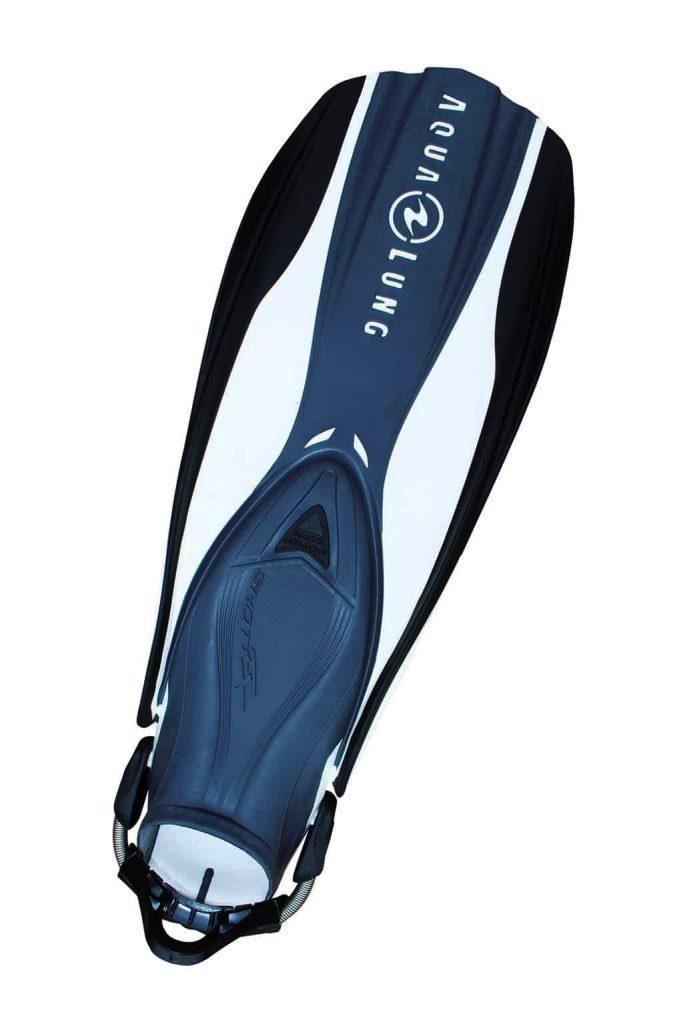 The spring straps are equipped with a large thumb loop and make putting the fins on and off very easy, and the non-slip bottom will prevent any embarrassing slips on boats. Available in a selection of colours.
The Aqualung Shot FXs are a good-looking pair of fins, and they feature some nice detailing, such as the engraving on the blade and foot pocket. The supple foot pocket is extremely comfortable, and the spring strap means getting the fins on and off is a doddle, even when you have cold hands encased in thick gloves.
The blade does generate plenty of thrust both with a normal kick cycle and a frog kick, though you need good leg muscles to really get the best out of them. Manoeuvrability-wise, they scored well, and you could helicopter turn and back kick without any real difficulty.
VERDICT
Good-looking and well-made fins, with a relatively short blade, comfortable foot pocket and robust spring strap.
Want to read more Scuba Equipment Reviews?