Wreck Diving with Volivoli Fiji's Premiere Dive Resort
Whilst the Bligh Water lapping the sandy beaches at Volivoli Beach Resort is known to divers around the globe as the 'soft coral capital of the world' and 'Fiji's Finest Diving' it is also home to a few nice little wreck diving options for those that seek a little change of pace.
Our schedule for today was 'hitting the rust' and exploring the MV Ovalau II followed by the Papuan Explorer. Pleasingly these two wrecks are peacefully sitting on the bottom of the ocean just 10-minutes from the resort so after an informative boat safety briefing with the crew we headed off across glass flat water under bright sunlight and clear sky for our day of wreck diving.
On arrival at our first site for the day, the MV Ovalau II, which gave up its life as a 55-meter roll-on roll-off car and passenger ferry in August of 2003 with thankfully no loss of life, the crew picked up the mooring as our excitement of what lays around 25-meters below us grew. Nice little dive brief, final gear check and in we went slowly descending down the mooring line. Within a few moments the outline of wreck appeared and its 2-large propellers predominantly stood out as she quietly sits upturned amongst the surrounding reef.
As we made our way around the perimeter it was hard to know which way to look as there were pieces of the wreck and its lost cargo strewn around the site. Although there are openings here and there allowing penetration it is advisable to use great caution as spaces are tight and the structure itself is visibly falling apart.
Several vehicles including trucks, or at least what is left of them after over 17-years of being at the bottom of the ocean, are still inside albeit upside down and intertwined with general cargo and collapsed steel. This is a perfect site for nitrox use which is readily available from the resort, plus for those that are not yet nitrox certified just hit the crew up; the Enriched Air Nitrox certification course is simple and comes with lots of advantage when enjoying time in this tropical paradise.
On our surface interval, we were entertained by some super energetic spinner dolphins as we enjoyed sweet fresh local pineapple and watermelon, as well as some super yummy chocolate chip, cooked baked fresh this morning by one of the chefs. Talk about being spoilt – this was luxury. After the surface interval, it was time for some more wreck diving.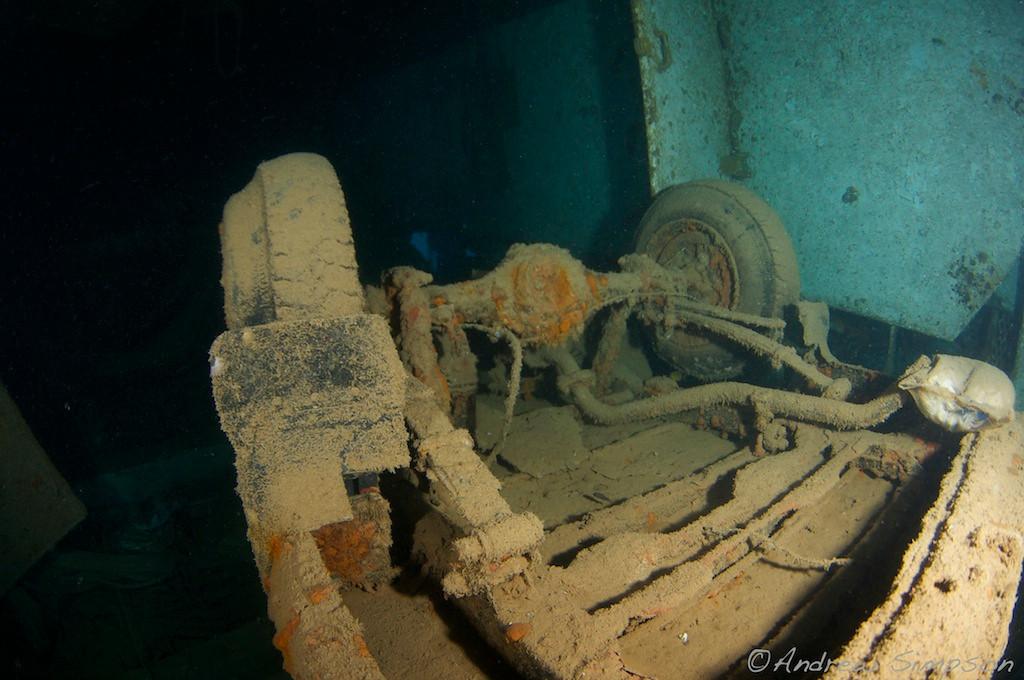 Five minutes away and we arrived at the Papuan Explorer, dive # 2 for the day. She sits upright with lots of penetration options into the wheelhouse, cargo holds, up and down stairwells for those that have that investigative streak. The outside of this wreck is covered in a vast array of soft and hard corals, sponges and plenty of wire coral spiralling upwards towards the sunlight.
After another fun and informative dive brief, we stepped off the side of the Ra Explorer to be immediately engulfed by a large and apparently resident school of silver snapper. Not a bad welcoming committee to get things started. As we slowly descended down the mooring line, which I couldn't believe how completely coated with coral and minuscule critters it was, almost a dive in itself to be honest, the wreck quickly appeared and within moments we were within a meter or so of the superstructure sitting in just 10msw. The wreck itself is around 30-meters long with the main deck in 15msw and drops off to 26msw on a flat sandy bottom.
Although we did this as a day dive I can imagine it would also be super night dive as well with such a diverse range of inhabitants enjoying their artificial reef home. This is also a lovely site for divers wishing to complete their Wreck Diving certification course with Fiji's Premier Dive Resort.
One other nice little thing that the crew always does to help protect their amazing backyard and beautiful ecosystem is they never anchor and have moorings located at the vast majority of their 80+ dive sites. Being environmentally friendly is clearly obvious from the minute you arrive on-site with these guys.
To come and experience world-class 'valet diving' from our beautiful award-winning boutique resort will leave you with a lifetime of amazing memories and our team feel like family.
If you're not a diver and want to learn then go no further, you will be in safe hands with Fiji's most experienced team, if you are already a diver and looking to up-skill we can take you right through to Instructor level, we also have a great range of marine ecology courses for the inquisitive minds, or if you simply want to relax on the beach or around the pools with a refreshing drink we can certainly cater for you all.
Volivoli Beach Resort, Rakiraki, Viti Levu, Fiji Islands
Web: www.volivoli.com
Email res@volivoli.com
Phone + 679 992 0942
Photo Credit: Andrew Simpson