Operating since 1995, ADEX is the biggest and longest-running dive expo in Asia, and one of the most-popular events in the diving industry.
Since its handover to Underwater360 (UW360) in 2009, ADEX has seen significant expansion, running shows in Singapore, Beijing, Shenzhen, and Hong Kong.
Previously regarded as a trade show, ADEX has since evolved to include divers, families, and students with its attractive programmes and activities. The show serves as an invigorating platform for the diving community, giving them a voice and space to meet, exchange ideas, and get recognition for their achievements.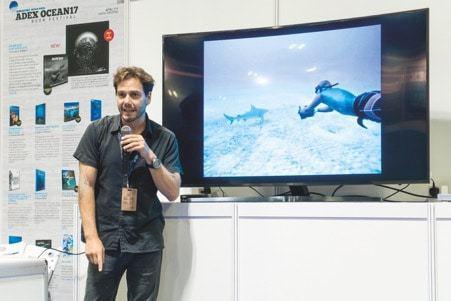 The Image Festival works with a wide network of incredibly talented photographers, and provides a visual showcase of the world beneath the waves, while the Film Festival brings together some of the most-inspiring productions dedicated to our beloved big blue.
The Mermaid Festival gives visitors the chance to see the mythical mermaid come alive as performers swim and interact with the audience in the dive tank. Children can meet the mermaids and take photographs with them, and talking of youngsters, the Kids' Zone provides a wide range of activities, competitions and craft workshops for children to learn about conservation and ocean life.
The Freediving Workshop gives visitors the rare opportunity to sign up for freediving workshops conducted by freediving record-holders, and the Tekdive Conference allows the pioneers of technical diving to share their passion for exploring deep ocean trenches out of reach for the average diver. It is the go-to place for tekdiving enthusiasts around the world.
Conservation is a key part of ADEX, and the organisers hope to inspire visitors with talks by some of the best conservationists whose mission is to save the ocean, while the History Corner, run by the Historical Diving Society of Asia, enlightens visitors on the history behind diving.
ADEX is proudly endorsed by major organisations in the industry, such as the Diving Equipment and Marketing Association (DEMA), Singapore Tourism Board (STB), and the China Underwater Association.
ADEX is dedicated to an endangered marine species each year to raise awareness and promote the conservation of marine life, and visitors are treated to fresh and exciting content delivered by marine life experts. In 2018, ADEX will be dedicated to sharks. Just like in 2010, when it first began to  raise awareness of the pressing issues around conserving sharks, this year will see the show educating a new generation about their fragile existence. Showcasing some of the world's top shark conservationists, defenders and photographers, ADEX 2018 will change the way the world views sharks.
ADEX Singapore runs from 6-8 April at the Suntec Convention Centre.