The Covid 19 Pandemic has given a much need break to Marine life
Good things come to those who wait. Underwater photography guru Mario Vitalini considers what the worldwide COVID-19 lockdown has done in terms of giving marine life and coral reefs a much-needed 'break'.
Photographs by Mario Vitalini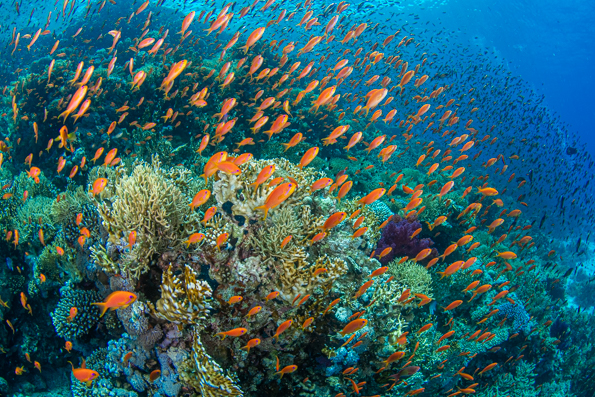 Sitting at my desk, looking out the window at an early autumn sunset, I find myself daydreaming about warm-water dives with my camera. Some destinations, some dive sites – they have the right ingredients that make taking pictures not just more enjoyable, but also easier. A healthy environment with good corals, abundant (and when you are really lucky, co-operative) marine life and not many other divers… these are the hallmarks of a super photo dive.
And as 2020 draws to autumn, I have been wondering how will the last few months under lockdown have affected my favourite photo destinations? How will the reefs look the next time I'll be able to visit them? The current pandemic has impacted almost every aspect of our lives, but dare we hope that 2020 will have been a good year for coral reefs?
I look to the Red Sea for an early indication. I first visited Egypt in the early 1990s as a newly certified advanced diver. I can't really recall much of that trip, but the incredible fish life and spectacularly lush corals left a lasting impression on me.
In early 2000s, I went back to work as an instructor and for about five years I had the opportunity to dive almost all of the Egyptian Red Sea, from the northern wrecks and reefs to the offshore walls of the south. By the time I left in 2007, there was a general sense that the impact of this tourism was being felt on the reef ecosystems.
The Arab Spring paused most diving for several months, and by the time I went back in 2012 I saw first-hand how quickly the underwater world can recover if given the opportunity. I was treated to flourishing, healthy reefs and bags of fish life. Sites such as Jackson and Yolanda reef were bursting with thick colourful soft corals and the hard corals at The Barge were showing a lot of signs of new growth. Anthias, fusiliers and red-toothed triggerfish were swimming around all the sites in big numbers.
In March 2020, almost the entire world went into lockdown. Many dive destinations have been virtually dived since. Otherwise busy sites have been almost deserted. Coral reefs will have had a break from all the pollutants found in suntan lotions, worn by snorkellers and divers. Most touristic and commercial boat traffic stopped altogether. This global 'pause' hopefully gave stressed ecosystems an opportunity to bounce back.
Today, although several popular destinations are still closed to divers, a handful have made tentative steps to reopen. It's early days but the signs are very encouraging. The Red Sea, the Maldives, some Caribbean islands and offshore Pacific hotspots have been welcoming limited numbers of tourists since mid-summer.
In each country, dive operators have had to go through a rigorous process of government certifications to be allowed to resume. Combined with pre-travel testing, extensive cleaning protocols, PPE and social distancing, dive operations are doing everything possible to welcome divers in a secure and safe environment.  And after months on dry land, the dive guides are more enthusiastic than ever.
The photos and videos I have seen so far show suggest that lockdown has been especially beneficial for pelagics. In Egypt, an unusually high number of whalesharks have been spotted around the northern sites this summer, and divers report being the only ones at normally busy sites such as the Thistlegorm.
In the Maldives, the manta rays appear relaxed and coming to the cleaning stations in large groups. Ali Matha, another site that attracts many dive boats, has been packed with the resident nurse sharks and very few divers. There were concerns that the lack of diving boats has created a space for fishing vessels to move in, but the reports from areas like the Galapagos or Cocos show huge schools of hammerheads. This could be the perfect time to pack your wide-angle kit and head to your favourite big fish dive spot.
But while the reefs are bursting with life, many resorts and liveaboards are working at reduced capacity, and most offer the possibility for you to have your own cabin. When you carry loads of photographic equipment, the extra space is welcome on board – all the more so as a diver in 2020. And underwater, you should able to avoid other divers, photobombing your shots with pesky bubbles in the background.
We all have to get used to a new way of travelling, which includes the need for testing and potentially to quarantine when coming home. I understand this way of travel won't work for everyone and these concerns will, without a doubt, dissuade many from taking long journeys. But for those that can make the journey, get your wide-angle lenses and dome ports out, pack your kit and you should find vibrant reef scenes, few other divers and impressive pelagic encounters. As photographers, we are always being told patience is a virtue, and boy, this has certainly been true in 2020. But it looks like it's been worth the wait.
Click here for Scuba Diver ANZ issue 31