As many of our readers dive all year round, we always test scuba regulators in February and March, when water temperatures are at their lowest in the inland sites – much to the chagrin of the Test Team members. This year, due to COVID-19, we ended up in the water in July.
We push the units to their max by extensively purging them underwater and topside, over-breathing them underwater to simulate a panic situation, breathing them in every orientation, working any Venturi and/or cracking resistance controls, and various other trials – if they can handle this over-the-top usage, they can handle a normal diving situation.
A large array of manufacturers produce regulators, and our aim here at Scuba Diver is to give you the widest selection in each review, and here we have regulators from the majority of the big players.
Atomic Aquatics Z3
Hollis 200 LX/DCX
Oceanic Zeo FDXi
Scubapro MK25 EVO D420
xDeep NX700 LS200
Zeagle F8
HOW TO CHOOSE THE BEST SCUBA DIVING REGULATOR OVER £475
When deciding for the best regulator, you must consider the following hub characteristics:
CRACKING RESISTANCE CONTROL
The amount of work a regulator requires to begin the flow of gas is called the 'cracking', or opening effort. Many regulators now feature a cracking resistance control knob, which allows the user to adjust how much effort they need to put into inhalation to start their regulator delivering gas. It can also be useful if you are diving in extremely cold water, in a strong current, or maybe on a DPV, when you can dial up the cracking effort needed to avoid a freeflow.
VENTURI CONTROL
The Venturi Effect explains that when gas is forced through a constriction – such as the valves inside a second stage – the speed at which the gas particles travel will increase. As the fast-moving gas leaves the constriction, it draws some of the surrounding gas particles with it, which results in a vacuum in the area around this fast gas-flow.
Many regulators utilise this Venturi Effect to make the breathe of their product even easier, and with a Venturi Control lever or knob, you can adjust this to your personal preference. This may be because you prefer a slightly 'harder' breathe, or you want to limit the Venturi Effect – as you are entering and exiting the water, for instance – in order to reduce the chance of freeflow.
DIVING TYPE
When buying a regulator, it is worth considering where you will be using it, and what you want it for. If you are going to be mainly using it for travelling to warmer waters in foreign countries, then the weight of the unit needs to be taken into consideration so you don't eat up valuable luggage allowance. If you are going to be predominantly diving in colder conditions, then you need a regulator that is designed to operate in cold water, with the appropriate environmental protection, and with features – Venturi control, cracking resistance control and purge button – that are easy to operate when you are wearing gloves.
9 BEST SCUBA REGULATORS IN 2020 OVER £475.00
APEKS MTX-RC £670 (stage 3 set including octopus)
The Apeks MTX-R was the civilian version of the military-spec MTX (it was developed in accordance with the United States Navy Experimental Dive Unit's extreme cold-water test), and this regulator featured a first-of-its-kind over-moulded first stage end cap and environmental diaphragm to prevent ice build-up, a forged body with five low-pressure ports and two high-pressure ports, and was equipped with a double-swivel braided hose.
However, the second stage had no dive adjustment controls, and that is where the MTX-RC comes in – the second stage has a venturi lever, and a cracking resistance control knob. It also comes in a subtle gun-metal grey colour rather than the bright white of the MTX-R.
All of the Test Team were complimentary about the construction and looks of both the first and second stages of the MTX-RC. While it performed well straight out of the box, we liked the ability to tweak the breathe to our liking – the venturi and the cracking resistance control were both large and easy to locate and operate while wearing gloves.
Thumbs up for the comfort of the ComfoBite mouthpiece as well. It breathes well in all positions. As you expect, all of the regulators in this price bracket performed well, but the MTX-RC was ultra-smooth in all orientations and however you are breathing through it, making it a clear favourite.
| | |
| --- | --- |
| Pros | Cons |
| Well made | Perhaps a little on the heavy side for travelling |
| Smooth Breathe | |
| Comfortable Mouthpiece | |
| Cracking resistance and Venturi control for manual performance adjustment | |
AQUA LUNG LEG3ND ELITE | SRP: £650.00
The venerable Legend – now Leg3nd – is back in an all-new guise, and the Elite is the pick of the pack. The chromed overbalanced diaphragm first stage offers total environmental protection, giving it phenomenal cold-water performance, and the new heat exchanger, which has a bigger surface area and a co-moulded end cap, gives it excellent resistance to freezing. It has two high-pressure ports and four low-pressure ports. It is equipped with Aqua Lung's ACD (Auto Closure Device), which keeps corrosive water out of the first stage inlet by automatically closing as the reg is removed from the cylinder valve.
On the second stage, the soft co-moulded purge button is effective and easy to locate and operate even with thick neoprene gloves, the Comfo-Bite mouthpiece is still one of the best on the market in my opinion, and the co-moulded exhaust tee efficiently vents exhaled bubbles either side of your face.
The Leg3nd Ultra has a venturi lever and a cracking resistance control knob, for complete independent control over the ease of the breathe. Again, regardless of thickness of exposure protection on the hands, the controls were easy to use, especially the cracking resistance control knob. It gave a silky smooth breathe in all orientations and is a good-looking unit to boot.
| | |
| --- | --- |
| Pros | Cons |
| Eye-catching looks | Perhaps a little on the heavy side for travelling |
| Smooth Breathe | |
| Comfortable Mouthpiece | |
| Build Quality | |
| Cracking resistance and Venturi control for manual performance adjustment | |
ATOMIC AQUATICS Z3 | SRP: £479.95
Atomic Aquatics are renowned for producing high-end, high-performance regs, but with the Z3, they have managed to bring all this workmanship and technology into a well-priced package.
The Zirconium – that's what the 'Z' stands for – delivers corrosion-resistance apparently three to four times that of conventional chrome plating, and the second stage lever, orifice and spring are titanium, as with the higher-spec (and price) models.
It is equipped with a factory sealed first stage, huge purge button, comfort swivel, and no less than seven low-pressure ports and two high-pressure ports.
As with all Atomic products, the reg benefits from a limited lifetime warranty – not contingent on proof of service – and boasts a two-year/300 dive service interval.
The Z3 scored very highly with the Test Team and it is a keenly priced way to get on the 'Atomic' ladder. It looks good with the chrome second stage surround, is extremely well made, boasts a silky smooth breathe and has some neat features like the Automatic Flow Control (AFC), which does away with a manual venturi lever and offers full control through the single knob, and a black PVD-coated comfort swivel on the hose.
| | |
| --- | --- |
| Pros | Cons |
| Lifetime warranty | First stage is fairly heavy |
| Two-year service interval | |
| Cool control system | |
| Cracking resistance and Venturi control for manual performance adjustment | |
HOLLIS 200LX DCX | SRP: £524.95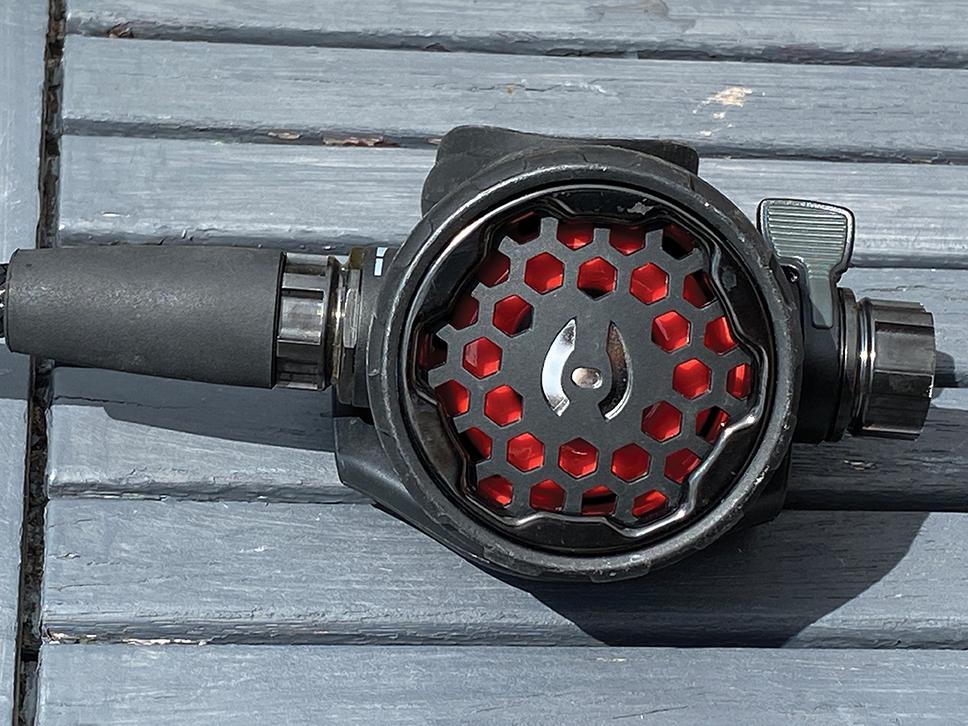 Hollis continues to forge a path into regulators, and the flagship 200LX DCX is well worth a look.
The 200LX features a braided hose, large venturi lever, chunky cracking resistance control, and has a big purge. It can also be converted from right-hand to left-hand if you so wish.
It has five low-pressure ports and two high-pressure ports on its DCX first stage.
All metal components are have a PVD coating for added durability.As with all Hollis regulators, it comes with a lifetime warranty, only requires a service every two years – and you get service kits free-of-charge for the life of the regulator.
As we noted with the 150LX last month, the super-comfy mouthpiece, which is soft but has harder inserts in the 'bite', is very reminiscent of Atomic Aquatics. The breathe on the 200LX is smooth and dry in all orientations, and the big, chunky venturi lever and cracking resistance control are both easy to use even wearing drygloves, as is the huge purge, which is effectively the entire front of the second stage. It looks good too, in an understated way with the PVD finish inserts, and I like the red-and-black colour scheme.
| | |
| --- | --- |
| Pros | Cons |
| Good-looking regulator with well-designed controls. | DCX is not the lightest of first stages |
| Two-year service interval | |
| Lifetime warranty. | |
| Cracking resistance and Venturi control for manual performance adjustment | |
MARES EPIC ADJ 82X | SRP: £584.00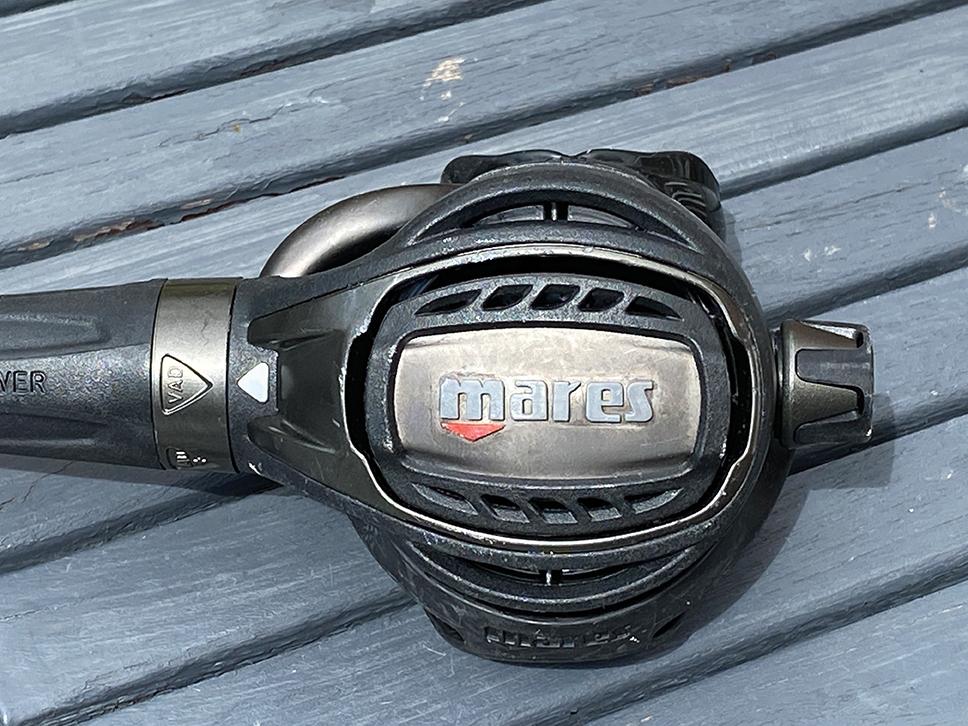 Mares gave their regulator line-up a serious overhaul for 2019, and the Epic Adj 82X still represents a formidable unit.
The first stage is a solid piece of kit, with natural 'dynamic flow control' on all low-pressure ports, which are mounted on a swivel turret, and tilted so you can find that perfect routing.
The all-metal second stage has a unique pivoting purge valve, lightweight braided Superflex hose, and a neat 'twist' control to boost the flow rate from natural breathing to power breathing, all of which was seen on the Fusion reg. However, the Epic also has a cracking resistance control knob for further fine-tuning of the breathe.
Both the first and second stages have an eye-catching PVD coating, which not only looks great but also adds another degree of protection.
The Epic Adj 82X put in a strong showing in this Group Test, and if anything, the Test Team felt we had to dial down the air flow it was so powerful. The pivoting purge and 'motorcycle throttle' venturi control was again well received, and the Team also liked thecracking resistance control, which although quite small compared with others here was still operable with thick gloves on. Good-looking, great-performing regulator.
| | |
| --- | --- |
| Pros | Cons |
| Good-looking regulator with well-designed 'motorcycle throttle' venturi control | Hefty, solid first stage |
| Efficient pivoting purge | |
| Cracking resistance and Venturi control for manual performance adjustment | |
OCEANIC ZEO FDXI | SRP: £549.95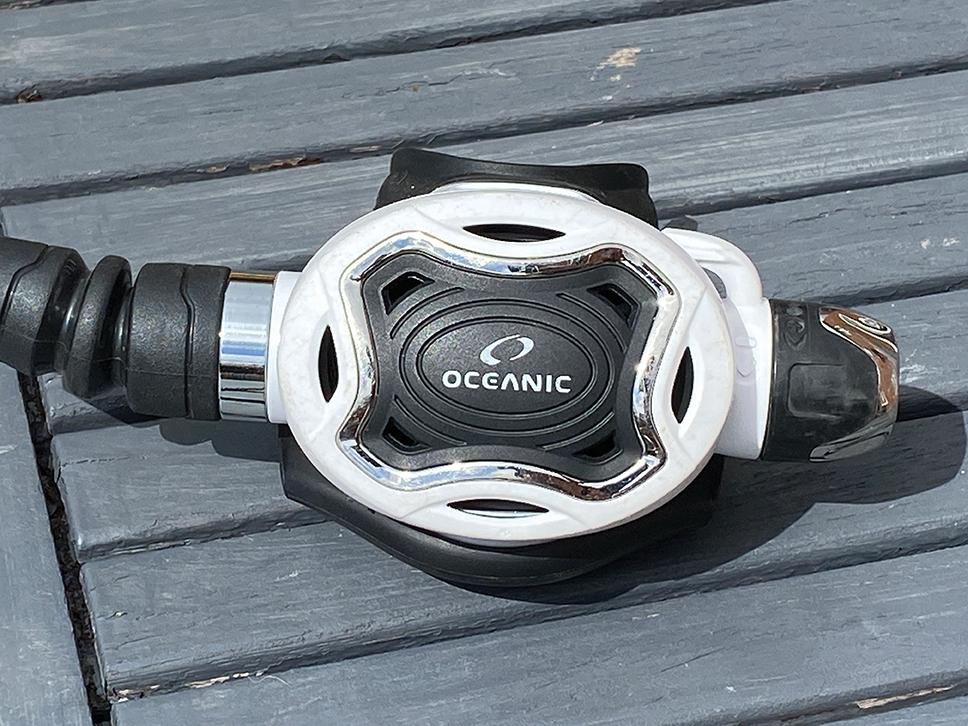 Oceanic are making inroads back into the reg market, and the Zeo is their range-topper.
The FDXi first stage is small and compact, yet is still a pneumatically balanced and environmentally sealed diaphragm design, with four low-pressure ports and two high-pressure ports.
The Zeo second stage is also pneumatically balanced and features a large venturi lever and big cracking resistance control knob to finetune the breathe. The oval face has a decent-sized purge, and a swivel aids comfort in use.
The Zeo also benefits from Oceanic's limited lifetime warranty and 'free servicing parts for life'.
The Zeo certainly stands out from the crowd, thanks both to its unique oval-shaped second stage and its bold white finish (a black version is also available). It is lightweight, so ideal for travelling divers, but equally coped well with this cold-water test, making it a good all-rounder. The large venturi lever and cracking resistance control knob were easy to use with gloved hands, and the purge was effective. A great little reg – and don't forget that superb limited lifetime warranty.
Cracking resistance and Venturi control for manual performance adjustment
| | |
| --- | --- |
| Pros | Cons |
| Great in cold water too | Effective purge, but quite small |
| Free service parts for life | |
| Lifetime warranty | |
SCUBAPRO MK25 EVO D420 | SRP: £695.00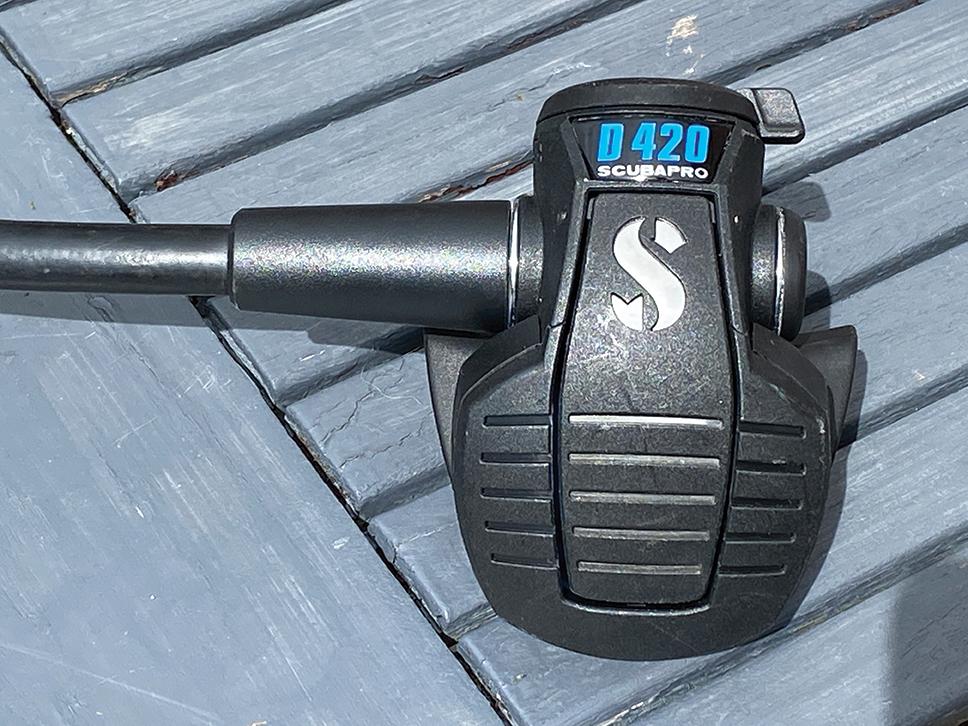 Scubapro has brought back the venerable D-series of regulators. The D420 is reminiscent of previous D-regs, with its unusual shape of second stage. It has a balanced valve which delivers abundant airflow regardless of depth, and the pivoting purge is highly efficient. The dive/pre-dive lever is mounted on the top, and is easy to find and operate even when wearing thick neoprene gloves.
For this test it was paired with the proven MK25 EVO flow-through piston first stage, which is fully insulated from the environment by the XTIS (Extended Thermal Insulating System) and has numerous innovative design features to aid cold-water performance. It has two high-pressure ports and five low-pressure ports.
The MK25 EVO and the D420 make a solid pairing. The tried-and-tested MK25, now in its improved EVO guise, is compact, durable and efficient, and its works well with the relatively compact and robust D420 second stage.
It has to be said, that odd-looking second stage takes some getting used to, but there is no doubt that it provides a very smooth, easy breathe in all orientations.  The mouthpiece is also very comfortable.
| | |
| --- | --- |
| Pros | Cons |
| Superior performance, great purge, easy to use dive/pre-dive control, comfy mouthpiece. | Odd looks may put some people off |
| Venturi control for manual performance adjustment | No cracking resistance control |
XDEEP NX700 LS200 | SRP: €580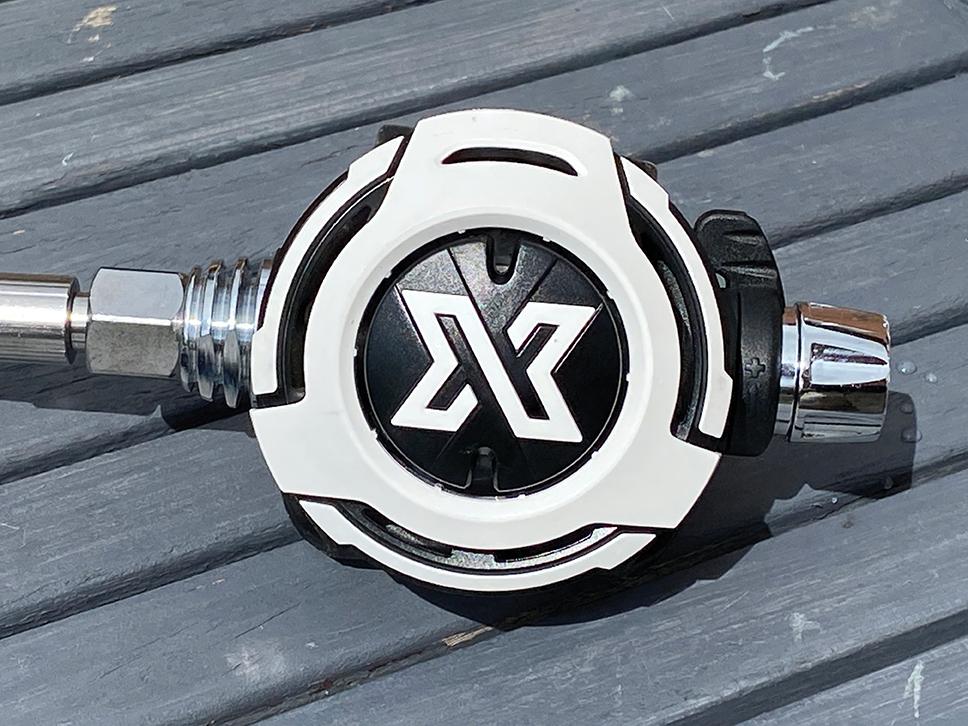 Polish company xDeep has really earned itself a solid reputation for its robust, well-made and stylish backplate-and-wings, and it has now released its NX700/LS200 regulator.
Let's talk about that first stage. The NX700 is the definite show-stopper when it comes to this reg. It has two high-pressure ports and five low-pressure ports. The forged body is protected by a shiny chrome finish. It is an environmentally sealed overbalanced diaphragm design, with a heat exchanger 'wrapped' around the HP valve, so perfect for cold-water diving. So far, so normal. Where it all goes xDeep is the design of the body.
The two high-pressure ports and two of the low-pressure ports come straight out of the main body, as per the norm, but on the front of the first stage is a large circular addition, which has another three low-pressure ports. This is a unique swivel, mounted on the face of the first stage instead of the top. It can be locked in place, or allowed to move freely, depending on whether you are diving a single cyliner, a twinset or sidemount. The second stage is more-traditional, with a cracking resistance control and venturi lever.
The xDeep regs provided a smooth breathe, and the controls were simple to find and use. That first stage is certainly an eye-catcher.
| | |
| --- | --- |
| Pros | Cons |
| Eye-catching regulator (especially the first stage) | Some people might be phased by the unusual first stage |
| Good performance, easy to use controls | |
| Cracking resistance and Venturi control for manual performance adjustment | |
ZEAGLE F8 | SRP: £539.95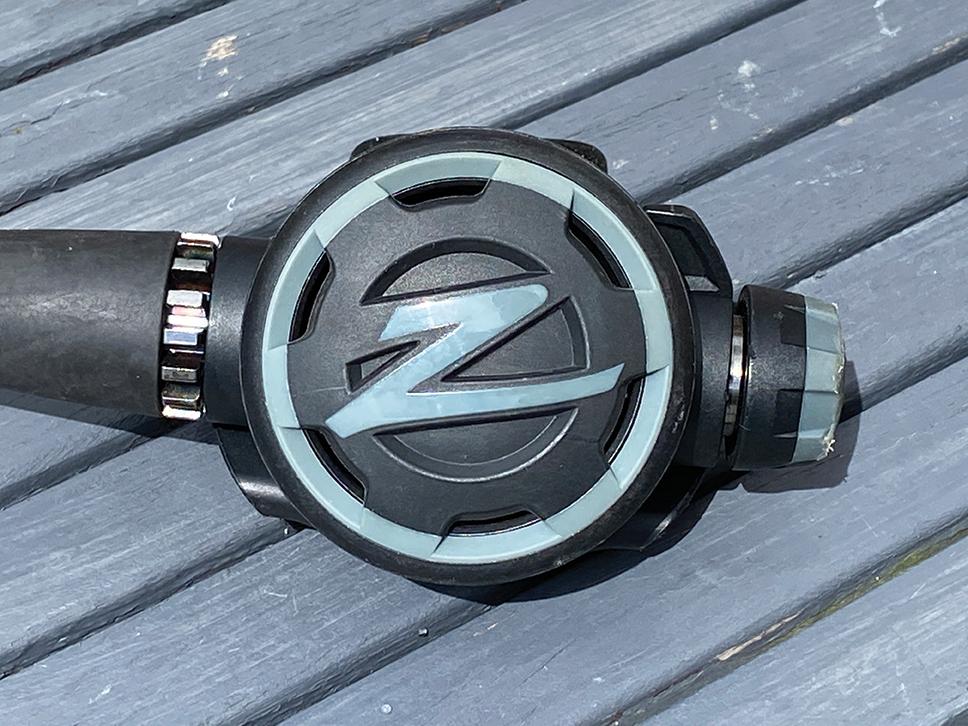 Zeagle have worked with Atomic Aquatics to produce a solidly constructed regulator.
The F8 has an environmentally sealed balanced diaphragm first stage made from durable brass, and featuring a precision-machined neoflon seat.
The second stage has a tough nylon case and has a seat-saving orifice.
Zirconium-plated inlet tube and heat sink for superior corrosion resistance, and a new inhalation diaphragm. The redesigned front cover and cracking resistance control use co-molded components that provide high levels of grip.
Zeagle have long been producing top-quality BCDs and wings, and now they are well-established in the world of regulators after teaming up with the knowledgeable team at Atomic Aquatics.
The first stage of the F8 is a compact but well-made unit, but we have to say that the second stage doesn't actually look as eye-catching as its cheaper sibling, the Onyx II (which scored well last month). No doubting the performance of the F8, though – the breathe was nice and smooth in all positions, the cracking resistance control is large and easy to use, as is the venturi lever, and the mouthpiece is comfortable.
| | |
| --- | --- |
| Pros | Cons |
| Overall a decent regulator | Not as eye-catching as the Onyx II |
| Large, easy to find and operate venturi and cracking resistance controls. | |
SCUBA DIVER VERDICT
Regulators are something we rely on underwater, so you want to know you can count on it, and none of these regs was found wanting, despite some, shall-we-say, robust testing!
When it to the Best Value Award, it was a close-fought battle between the Hollis 200LX, Zeagle F8 and the Atomic Aquatics Z3. All three regulators performed admirably and coped well with all of the stresses we put them through, but the Z3 just nudged ahead thanks to its good looks, great performance and outstanding warranty and service interval.
The Choice Award was another battle royale, with several regulators in the running. The Mares, xDeep, Apeks, Aqua Lung and Scubapro units all put in a sterling performance, but in the end the Leg3nd just nosed ahead. All effortlessly delivered air whatever we put them through, and all impressed the Test Team in different ways. After much debate, we ended up giving the Choice Award to the Aqua Lung, but it was a seriously close-run thing.
Our gear content is sponsored by Mike's Dive Store, the UK's premier dive retailer. For all your diving needs visit them in-store or online for your diving, freediving, snorkelling and servicing.