In conjunction with Liveaboard.com, Editor-in-Chief Mark Evans – who has clocked up innumerable liveaboard trips during his time at the helm of diving magazines – shares some hints and advice which will ensure your time onboard goes as smooth as possible.
PACK LIGHT
The beauty of being on a liveaboard is that the trip is all about the diving, and getting to the best spots. There are no fancy restaurants where you have to get dressed for dinner, you can just kick back and relax. Comfortable and casual is the order of the day, so think underwear, swimwear, sun hat, a couple of pairs of shorts, a handful of T-shirts, and maybe the odd short-sleeved shirt for when you are chilling with a cold beer or iced cocktail on the sun deck at the end of a diving day. It is worth putting a lightweight fleece in your bag as well, as on an evening in some places the temperatures can drop off as the sun sets. You don't need a veritable mountain of clothes when you are living on a boat, and that is one of the many reasons I love liveaboard trips. Your cabin buddy will be happy when you don't take up all the storage space too!
BE ORGANISED
There is nothing which winds people up more on a liveaboard (or dayboat or RIB for that matter) than divers who liberally scatter their dive gear all over the place. You know the type – mask, fins, gloves, hood and other paraphernalia lying on the floor or on seats, you having to carefully pick your way through so you don't stand on anything. Keep all of your kit within your 'dive station', so that means small stuff in your basket under your bench, BCD and regs on your – secured – tank, and wetsuit hung up on a hanger. If you are on a smaller boat, or have to travel in a tender, then invest in a cheap mesh bag – these are great for storing your mask, fins, gloves and hood in while you get to the dive site.
MAINTAIN YOUR EQUIPMENT
While on the subject of dive kit, there is nothing worse than getting on a week-long liveaboard trip and finding something is broken or doesn't work. Ensure you have either had your equipment serviced recently or that it works as it should. Bring spares if possible, so that's mask strap, fin straps, batteries for your torch/computer, etc. Also pop some cable ties in your dive bag – I have saved dives for several people over the years with trusty cable ties! It is also worth diving with two computers if possible, so that if one of them happens to die on you, you can continue diving on the second one. This is a rare occurrence, but it has happened to me on a couple of occasions.
PAY ATTENTION
A liveaboard, even a big one, is still a relatively small space when you have 20-odd passengers and 11-12 crew milling about for a week or two, so it is worth paying attention to all of the boat and dive briefings. Even if you have been on umpteen liveaboards, they all operate slightly differently, so make sure you take note of safety advice. If you are diving from the main boat, listen to the directions on how to exit and return to the vessel, and likewise, if a tender is used as a shuttle to the dive sites, find out the methods of entry/exit. There is nothing worse – or more annoying to your fellow divers – than asking questions which were clearly answered in the boat briefings.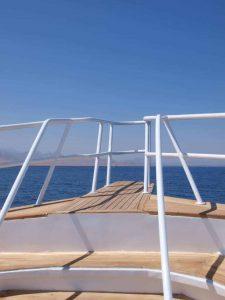 NO RELIGION OR POLITICS
During the day, most talk on liveaboards revolves around diving, but on an evening, when you are having dinner or relaxing with a glass or two, then the conversation will naturally drift to other topics. Take heed of my warning – never get into politics or religion! Many people can be quite vociferous when it comes to one or both of these subjects, and if you veer into this territory, it can be akin to a deer running through a minefield – it might all seem harmless banter, but it can all turn messy very quickly. I have seen two grown men almost come to blows over their differing political affiliations, and it was very awkward for the entire week following this confrontation as they just sat at opposite ends of the dinner table and glared at one another. It was like being back in school! Keep things nice and light, and don't be tempted to get into any 'deep' topics.
TRY SOMETHING NEW
I am constantly in awe of the wide range of meals that the chef(s) on liveaboards manage to produce from sometimes dinky little galleys. Clocking up four to fives dives a day makes you ravenous, so a good spread on the table is always a welcome sight, but don't just stick to your tried-and-tested favourites. Remember, you don't have to eat fries with everything! Give your tastebuds a holiday treat too and sample some dishes you maybe have not seen/tried before.
DON'T BE A 'TWO-SHEDS'
On the subject of diving, everyone has dive stories, and sharing these with your fellow passengers and crew is all part and parcel of being on a liveaboard. I love hearing tales from other divers who might have been somewhere I haven't, or have been lucky enough to enjoy an encounter with a species I have yet to see underwater. However, it is important that you pick your moment wisely. If someone has just exited the water and is bursting with joy over seeing their first hammerhead shark, for instance, then that is not the time to pipe up about the occasion you were surrounded by a school of 40. You know the saying – 'You have one shed, I have two'. Some people just have to go one better than everyone else, and it is a sure-fire way to get everyone's back up in double-quick time.
TIP YOUR CREW
The Brits in particular can be bad for forgetting this, but all nationalities have been known to take their boat crews for granted. These guys work their backsides off to ensure that you have a fantastic dive trip, and yes, this is the job they get paid for, but much of their living wage is made up from tips. The 'going rate' depends on where you are in the world, but have a word with the lead instructor, who will be able to give you some guidance. Of course, you don't want to 'reward' lousy service, but I have yet to be on a boat where the crew have not outdone themselves when it came to looking after the guests.
Photographs by Mark Evans
Has the above tantalised your tastebuds for some liveaboard action? Check out these deals from liveaboard.com:
The MV Ari Queen has ten staterooms catering to a maximum of 24 guests. Six twin cabins on the lower deck feature double and single beds. The main deck has two deluxe cabins and the upper deck has two suites. All cabins feature individually controlled A/C, warm water showers, wardrobe and storage space.
The 15 experienced and professional crew of the MV Ari Queen Maldives are on hand to help you to create a memorable vacation.
The Manta Queen 8 is a 28-metre-long wooden-hulled boat that is manned by five dive staff and six boat crew, and can accommodate 24 guests in comfortable air-conditioned double bed ensuite and twin bed share cabins.
There is plenty of space to enjoy the time inbetween dives in the saloon with HD-TV, the open dining area or on the large sundeck.
Join the M/V Plancius for a trip of a lifetime aboard an Antarctica cruise. Originally an oceanographic research vessel built in 1976 for the Royal Dutch Navy, she was completely refurbished in 2009 to accommodate 116 passengers for Polar adventure cruises. The 'Ice Class' MV Plancius has 53 ensuite cabins on board, all with lower berths, with the exception of the two triple and four quadruple cabins, which have bunk beds. There are five decks, and social areas include the large observation lounge and bar located on deck five, restaurant and lecture room on deck three, as well as large open deck spaces, with the possibility to fully walk around deck four and enjoy the scenery and wildlife.