New South Wales has many incredible dive sites, here are 9 Reasons You Should Dive New South Wales Year-Round
The state of New South Wales (NSW) sits on the east coast of Australia and is the country's most populous state. With 2,000 km/1,234 miles of coast to explore there is a large host of dive sites and experiences to suite all levels of ability. Although many divers consider Australia and New South Wales as the ideal summer destination, here are six reasons why you should explore this beautiful coastline year round.
Increased Visibility
Once winter rolls around in NSW, three things happen to make for incredible diving conditions. The water temperature cools down, less algae blooms and the winds and currents push cold, clear water closer to the coast. As a result, the visibility can sometimes even reach up to an impressive 25 metres/82 feet underwater! After all, isn't it every divers dream to descend below the surface into crystal clear water?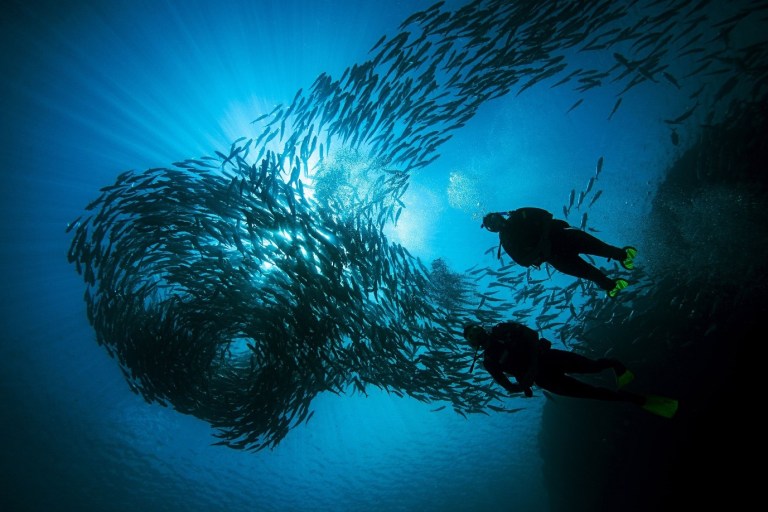 Unique Marine Life
Diving in NSW provides visitors with an incredible array of diverse marine life. On just one dive you can expect to see anything from an octopus to a weedy sea dragon or even a cuttlefish. As water temperatures and seasons begin to change, so does NSW's marine life. Certain species have been known to migrate north or south of the coast, leaving the underwater encounters you have in summer to be varied to those in winter.
Sharks
Grey nurse sharks are a mainstay when diving in NSW. You can see these beautiful animals along the entire coast depending on the season. When diving in northern NSW in summer you might be lucky enough to spot a leopard shark. In fact, Julian Rocks in Byron Bay is one of only two dive sites in the world where leopard sharks actively move around in the water. Port Jackson sharks are the most active during their winter mating season and can be found nestled under rocks, or moving amongst the seaweed.
Seals
Montague Island in Narooma has the largest colony of Australian fur seals in the country. However, when winter rolls around, these incredibly inquisitive mammals have been known to head as far north as Sydney – they've even been spotted sun baking on the Sydney Opera House steps!
Humpback Whale
During the winter months, humpback wales migrate north along the NSW coast on their way to breed in tropical waters. These majestic mammals can be seen frolicking on the surface and slapping their tails as if they are waving to divers. Whether you are taking their yearly migration as an opportunity to freedive alongside them or simply trying your hand at whale-watching while on a surface interval, having the opportunity to witness these awesome creatures in their natural habitat is an experience that will stay with you for a lifetime.
Giant Cuttlefish
While these animals like to hide under rocks during the summertime, they become increasingly feisty and active while breeding during winter. The colder months can see these abstract animals reach their peak size of up to 1.2 metres/4 feet!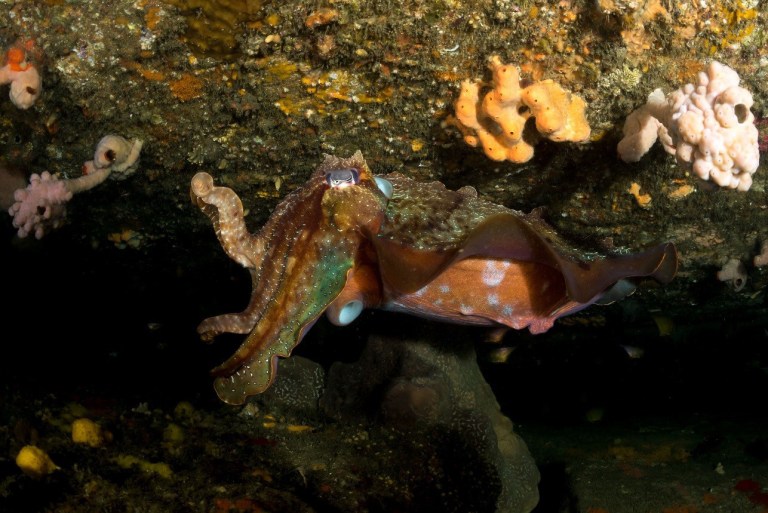 Diverse Diving Opportunities
There are 2000 km/1,234 miles of coastline in New South Wales so there is a hugely diverse range of diving opportunities for you to experience all year round. With such an extensive coastline, stretching from north to south, water temperatures can vary quite significantly.
The northern parts of the state including Julian Rocks in Byron Bay, can reach highs of 27°C/80.6°F in summer. While the southern parts of the state including Montague Island in Narooma reach lows of 10°C/50°F. These varying water temperatures provide an incredible range of diving experiences for both beginners and seasoned pros alike. When diving in the northern parts of the state in summer, it is not uncommon to see divers in short wetsuits. Whereas those diving in southern NSW, can be seen frequently wearing dry suits and hoods in winter.
There are six dedicated marine parks in New South Wales that provide a home for and help to conserve marine biodiversity. These parks span the entire coastline and provide divers the chance to experience world-class dive sites either from the shore or by boat.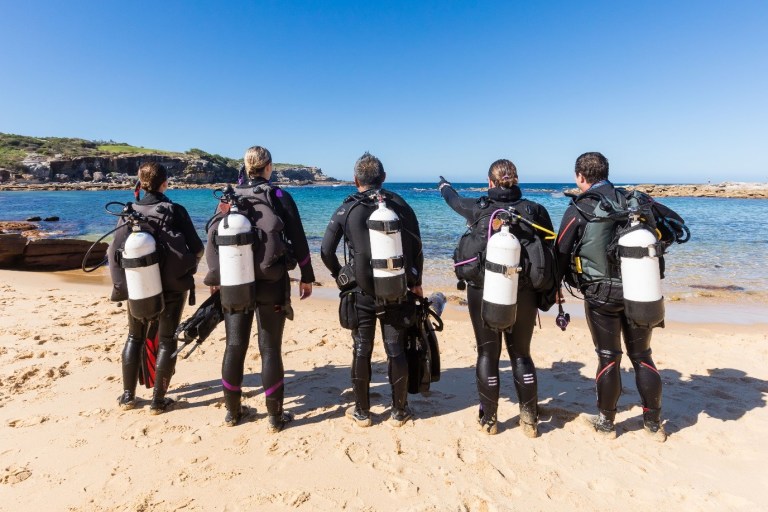 Epic Topside Activities
New South Wales provides visitors with an endless array of exciting topside activities for when you're drying off. You can climb the iconic Sydney Harbour Bridge, head to the Hunter Valley for a day of wine tasting, hike the trails in the breathtaking Blue Mountains or do the Byron Bay lighthouse walk and head to the most easterly point in Australia!
Less Crowds
One of the best things about diving in New South Wales in winter? Having the beach or dive site to yourself! As the air temperature in NSW is much colder in winter, it means there are less people to contend with when diving. Not only will you be able to get the car park closest to your dive starting point, but you'll also save yourself the hassle of dodging sun bakers, holiday makers and picnic go-ers as you make your way to the water.
Learn more about diving in New South Wales, Australia and locate a PADI dive shop to start your adventure beneath the surface, no matter what time of year!
Written by Joelle Turton-Scheffer
Click here for Scuba Diver ANZ issue 34