Meridian Adventure Dive present 5 Must visit places in Raja Ampat
Raja Ampat is well known around the world as a tropical paradise and absolutely loved by adventure seekers and scuba divers alike. The archipelago comprises of thousands of jungle-covered islands, spans over 40 000km2 and may be a bit daunting to the first-time traveller.
This area has everything from insanely clear waters, lagoons, to karst constellations and gigantic jungles. Discover these 5 places you must visit when travelling to Raja Ampat.
WANDER THROUGH ISLAND VILLAGES SUCH AS ARBOREK
This is the most famous village in Raja Ampat for tourists to visit. With a population of only 197 people, the village has pioneered community-based marine conservation and claimed the first prize in the 2015 Provincial Village Competition. The women amongst the 40 families who live here are known for their handcrafts and the village comes alive with children running around and splashing in the surrounding waters. Arobrek jetty is also a great spot for some snorkelling!
Most of the women here now make handicrafts for a living and there are also villagers from young to old that perform traditional dances. The village is not excessively big and only has around 40 families living there but it is an enjoyable way to get to know a little about the people and culture.
VISIT THE BATANTA WATERFALLS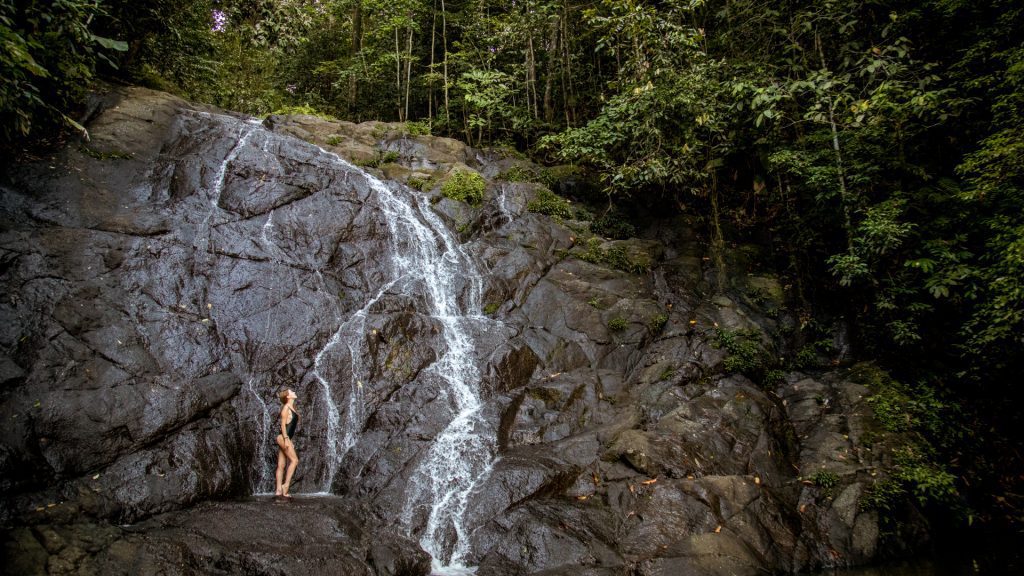 Welcome to the island of adventures! Batanta is the smallest of the four kings (main islands) and is little developed with only a few villages on the island. With that said, this also means that you will be able to swim or snorkel in bays without ever seeing another person.
Trekking to find these waterfalls are entirely worth it since you will not only be enjoying the fresh cool water but also be able to explore the cave behind the falls and take in the butterflies, birds and immense flora that surrounds you.
TAKE A DIP IN THE BLUE RIVER
Due to deep water and narrow channels flushing out the turbid water from the mangroves, areas like 'The Blue River' offer lighting that will truly leave you enchanted. Be greeted by a pool of blue water that is refreshingly cold to the touch, peacefully sleeping under a jungle canopy.
We normally prefer to go in the mornings when it is not too busy. Be sure to bring some cash if you want to buy anything from a local store in the village, as well as hiking shoes, mosquito spray and a swim towel.
PASIR TIMBUL
Only for a few hours a day, when the tide is low, this little island rises out of the ocean. Therefore, they call it Pasir Timbul or "arising sand". In the middle of nowhere, there lies a little island of sand that is hidden to many. Only for a few hours a day, when the tide is at its lowest point, this tiny island emerges out of the ocean for a few hours before it is immersed back into the sea.
This is a bucket list must and the perfect stop in-between dives…
PIAYNEMO
Piaynemo is one of the most epic locations in Raja Ampat and is well-known to be a famous Instagram spot. The climb is only a 5 – 10-minute staircase and easy enough for children or elderly people (there are rest stations after 100 and 200 steps). The panoramic view is truly one of a kind and a definite must tick off your bucket list. You will also see it on the new Indonesia Rupiah IDR 100,000 banknote.
About Organisation:
Situated in Raja Ampat, Indonesia, Meridian Adventure Dive is a PADI 5 Star Resort and winner of the PADI Green Star award. Scuba divers enjoy our professional services that have become synonymous with both the PADI and Meridian Adventure names.