18-year-old Canadian Samara Ironside has dived in some exotic locations, including the Great Barrier Reef and the Galapagos, but she had never been tempted by cold water.
With university in Victoria, British Columbia, looming in September – and some of the world's best temperate water diving on hand – she finally took the plunge for her 1st dry suit dive.
Since my first dive in open water, I knew scuba diving would be a lifelong passion. I felt my life open up to a whole new world, but what I didn't realise was that I was still blind to over half of that world. Many people are under the impression that all beautiful diving is in warm water, but that is not the case, and as I began to delve into what lay in the waters surrounding my soon-to-be-university town of Victoria, on Vancouver Island, I knew I could not let these unseen wonders pass me by. It was time to toughen up and don a drysuit!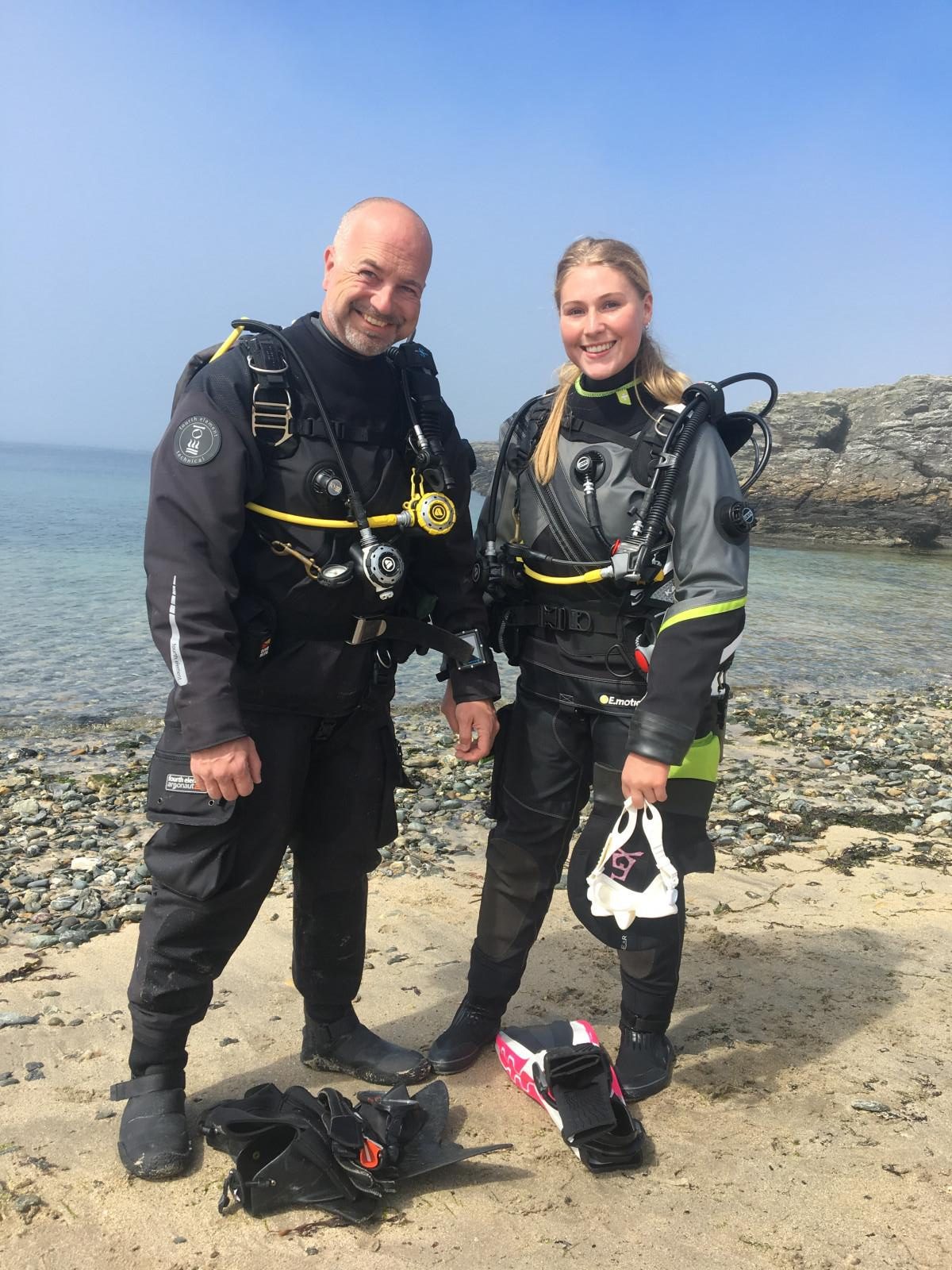 How it all began
On a six-month family voyage Down Under, I began my diving adventures. At the age of 13, I was taken under the wing of scuba instructor Michael Haselbacher at ProDive Coogee, in Sydney, Australia. Michael was pivotal in setting my diving career into motion. Within two months of my first dive – under fantastic guidance – I had progressed into a Junior Advanced Open Water Diver with upwards of 30 dives under my belt, and an ever-growing infatuation for the sport.
I went on to dive areas such as the Great Barrier Reef, the Bahamas, Costa Rica, the Galapagos and Panama. Living in the land-locked prairies of Western Canada, I felt as though my diving opportunities were limited to vacations and other instances of travel – until I was introduced to the expansive world of cold-water diving.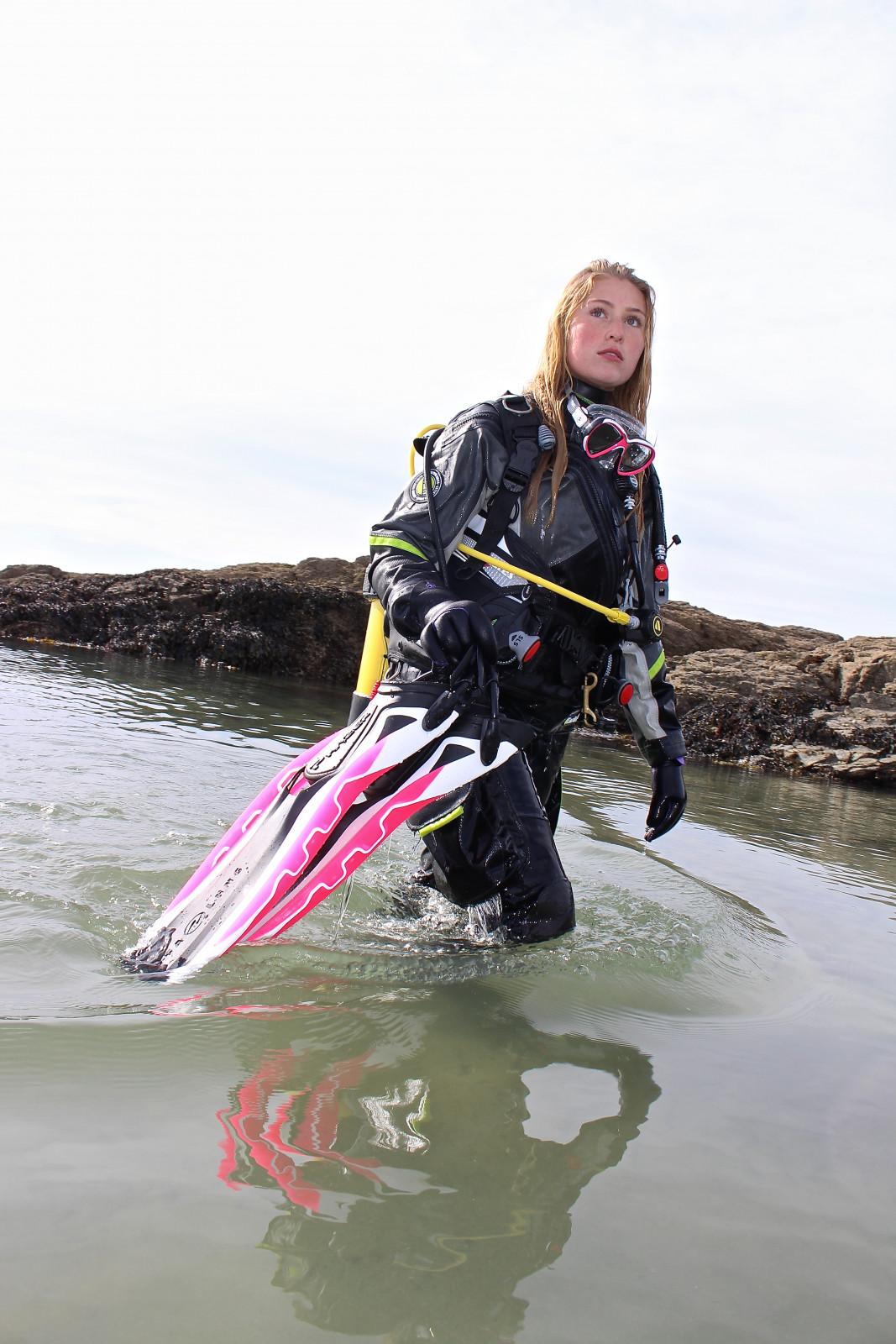 Before stepping into cold water, I was predisposed to a lot of qualms about drysuit diving. When I thought of a drysuit diver, the image appeared in my head of burly, old, seasoned divers, lacking hair, and overflowing with pretensions of superiority. I saw it as this daunting art, for only the 'hardcore'. This is not to say that drysuit, and cold water diving, are not hardcore, I believe they are, however for the passionate and capable, this should be encouraging rather than discouraging.
Being a young, female Rescue Diver with relatively little experience and confidence, I immediately thought cold-water diving wouldn't be a fit for me. However, that all changed when I spent three weeks in the UK doing work experience on Scuba Diver magazine. When I was introduced to Editor-in-Chief Mark Evans (part of our Canadian clan through marriage to my cousin Penney), my perspective began to shift.
His confidence in me shaped my own, and I soon realised that my assumptions were false, and that cold-water diving is enticing for seasoned divers and new divers alike. After getting an inside look at this world, I have developed a strong desire to show young, apprehensive divers, like myself, that they too can become involved – and should not be lily-livered without a valid reason.
1st Dry Suit Dive
One of my main concerns about drysuit diving was that I imagined it would be heavy, difficult to move in, and would be quite 'baggy', prompting fears of air migrating around inside as I dived and catapulting me to the surface feet-first! However, Mark had decided to use me as a test diver for this issue, and so had 'ordered in' a selection of women-specific dive kit, including a Santi e-Motion+ drysuit and Flex360 undersuit.
I couldn't believe it when I tried it on – it fit like a glove, and I now understood why Santi were so emphatic that they needed a vast array of body measurements. My fears were immediately allayed – it was not restrictive or difficult to move around in, and together with the ultra-warm undersuit, it fit snugly. (Ed: You can read more about the Santi drysuit and undersuit on pages 86-88).
Mark gave me a thorough briefing before we went for our first drysuit dive, explaining about inflator valves and dump valves, putting in enough gas to eliminate squeeze, etc, but I was still not prepared for the bizarre feeling of walking into water and not getting wet! All I can describe it like is when you put your hand into water inside a plastic bag – you can feel the pressure of the water, but somewhat 'removed' through the bag. In a drysuit, it was just the same – except for almost your whole body!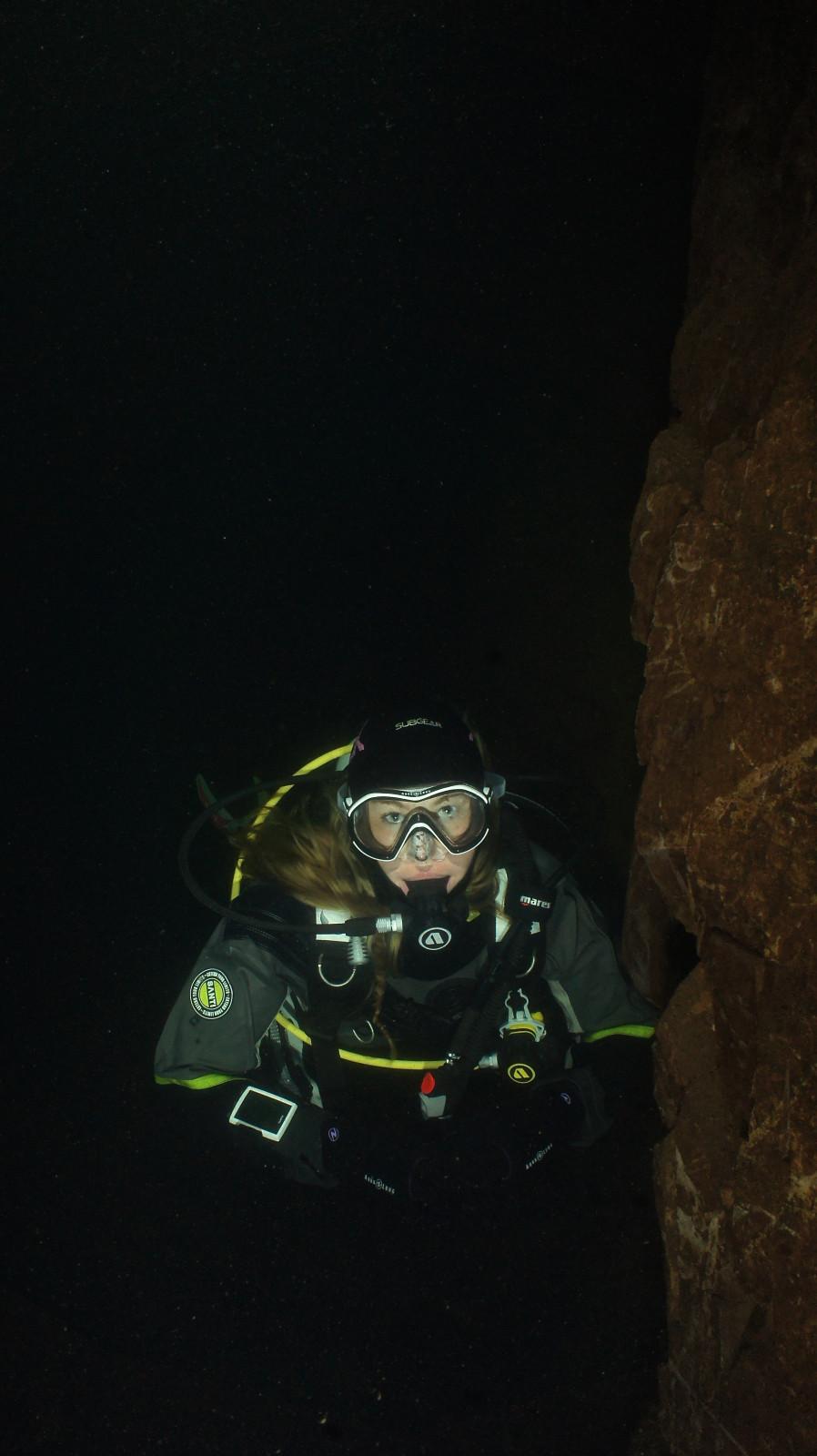 My first experience of drysuit diving was in the shallow water off Ravenspoint, in Trearddur Bay, Anglesey, North Wales. The visibility of some five or six metres and temperatures in the low teens was apparently good for the area, but for me it was some of the lowest I had experienced! However, the dramatic rocky topography above water was matched by an underwater vista unlike anything I had ever seen before.
I was entranced by the strange colours and patterns on the large rocks I was surrounded by, they shifted almost instantaneously from a deep shade of black with specks of gold to a brilliant purple, nearly fluorescence. Though my mask was approaching its maximum fogging potential – due to my unwillingness to clear it because I was wearing a hood, and with this and my long hair, I thought it was bound to complicate the re-sealing process! – I was still able to spot some small crustaceans, including lobster, edible crabs, velvet swimming crabs and prawns, as well as gobies and blennies.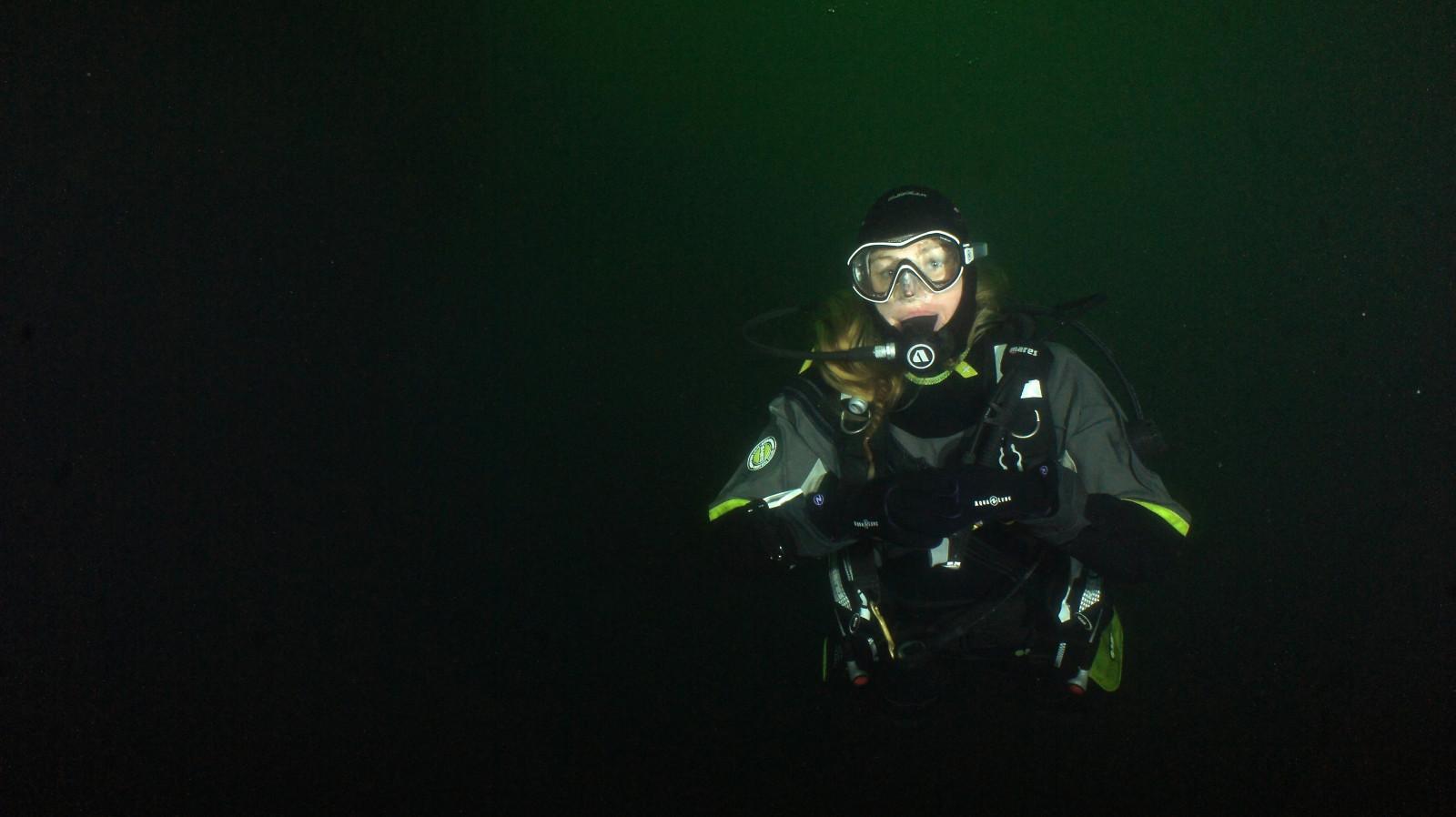 As this was my first experience in a drysuit, Mark kept us in the shallows – we did not get any deeper than 5-6m – and so I struggled somewhat with my buoyancy as I was conscious of not putting too much air into my suit to combat any squeeze for fear of floating upwards. Adding another factor into your mind while diving does take some adjustment, but I soon learned that being cautious and being scared are two different feelings.
My second drysuit dive was off Newry Beach in Holyhead, Anglesey, North Wales, this time alongside Mark and Anglesey Divers' Martin Sampson, who was using the dive as his first foray into the water after a few months lay-off. As I geared up to enter the water, I noticed things were getting easier. This was my fourth time dressed up in my drysuit, and squeezing into all the seals and getting all the large zippers zipped seemed less of a chore.
Entering the water I found the same thing; in a small way, I felt as though I was learning to dive all over again. It all seems overwhelming in theory, but when it comes to application, it becomes second nature before you know it. Ensuring to inflate my drysuit only to avoid suit-squeeze, and using my BCD to control buoyancy as usual, I found myself much more comfortable and had few issues.
Martin gave us a guided tour, and again I was amazed at the rich variation of colours in the seaweed adorning the rocky seabed. At a depth of 8-9m, this gave way to a gloopy mud-like terrain, and tested my finning skills to avoid stirring up the bottom. It was worth heading out into this moon-like expanse, however, as Martin pointed out delicate sea pens – which look like a feather sticking vertically out of the seabed – and then on our way back over the seaweed, we encountered two dogfish, as well as several crabs and prawns.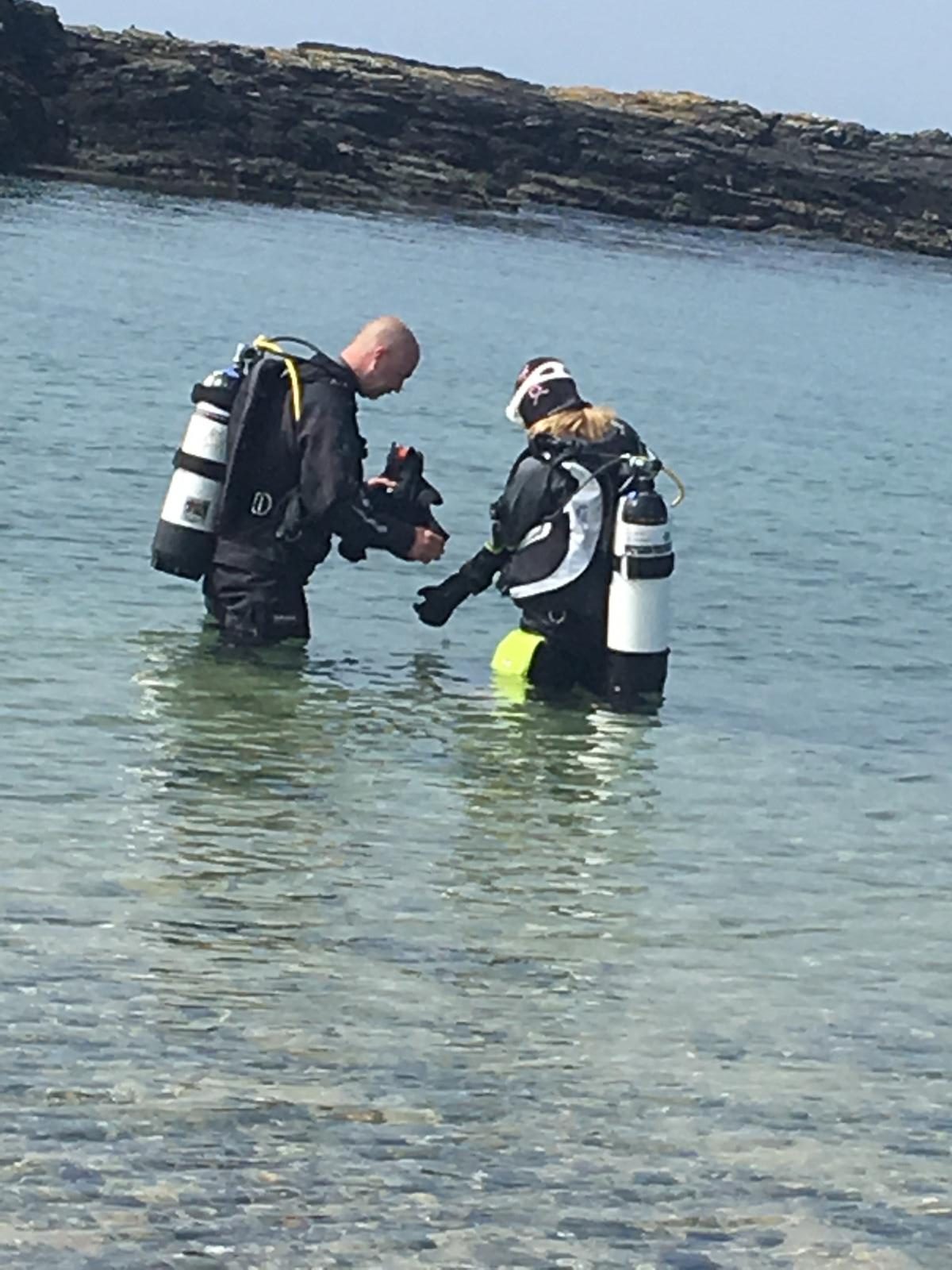 My third and fourth drysuit dives took place in Vivian Quarry, in Llanberis, North Wales. With an expected 8 degrees C bottom temperature, I was desperately thinking warm thoughts before and during the dive, but my toasty Flex360 undersuit helped stave off most of the chill, and it was only towards the end of both dives that the cold took its toll on my fingers through my ultra-comfy 4/6mm Aqua Lung gloves.
While descending down a line on my first Vivian dive, straight to 18m, I could really feel the drysuit in action, far more than when we were pootling around in the shallows. Taking note of how much air I needed to put into the suit simply to remove the squeeze, I recognised how important it was to use your BCD for buoyancy. Before, like many others, I wondered if using just one device would make it easier, but really, remembering there are two things to empty and fill is not very complicated.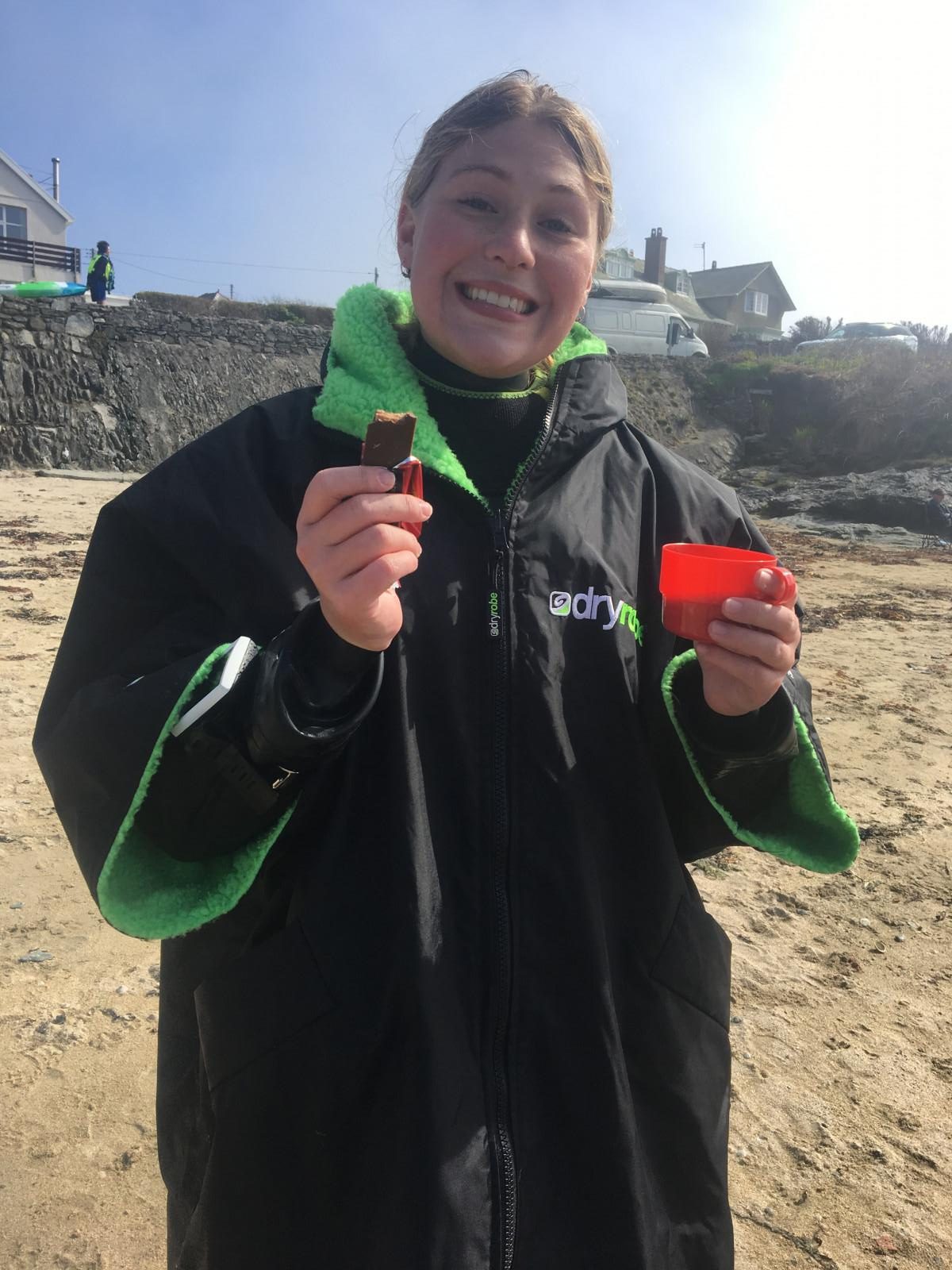 These were my first-ever quarry dives, and to be honest, it wasn't something I was particularly relishing, but I was surprised by how much I enjoyed the dives. The water was filled with things to see – sunken cars, boats, old buildings from its working mine days, and a few interestingly dressed mannequins guarding the waters.
But even without these man-made distractions, the dive would have been amazing. Above the surface, the quarry is surrounded with huge sheer cliffs, which is appealing to many climbers. But what most visitors don't know is that the cliff continues to be an attraction underwater as well. Though most people think that the main attraction to scuba diving is the ocean waters, this just proved to me that you don't know what you may enjoy until you try it.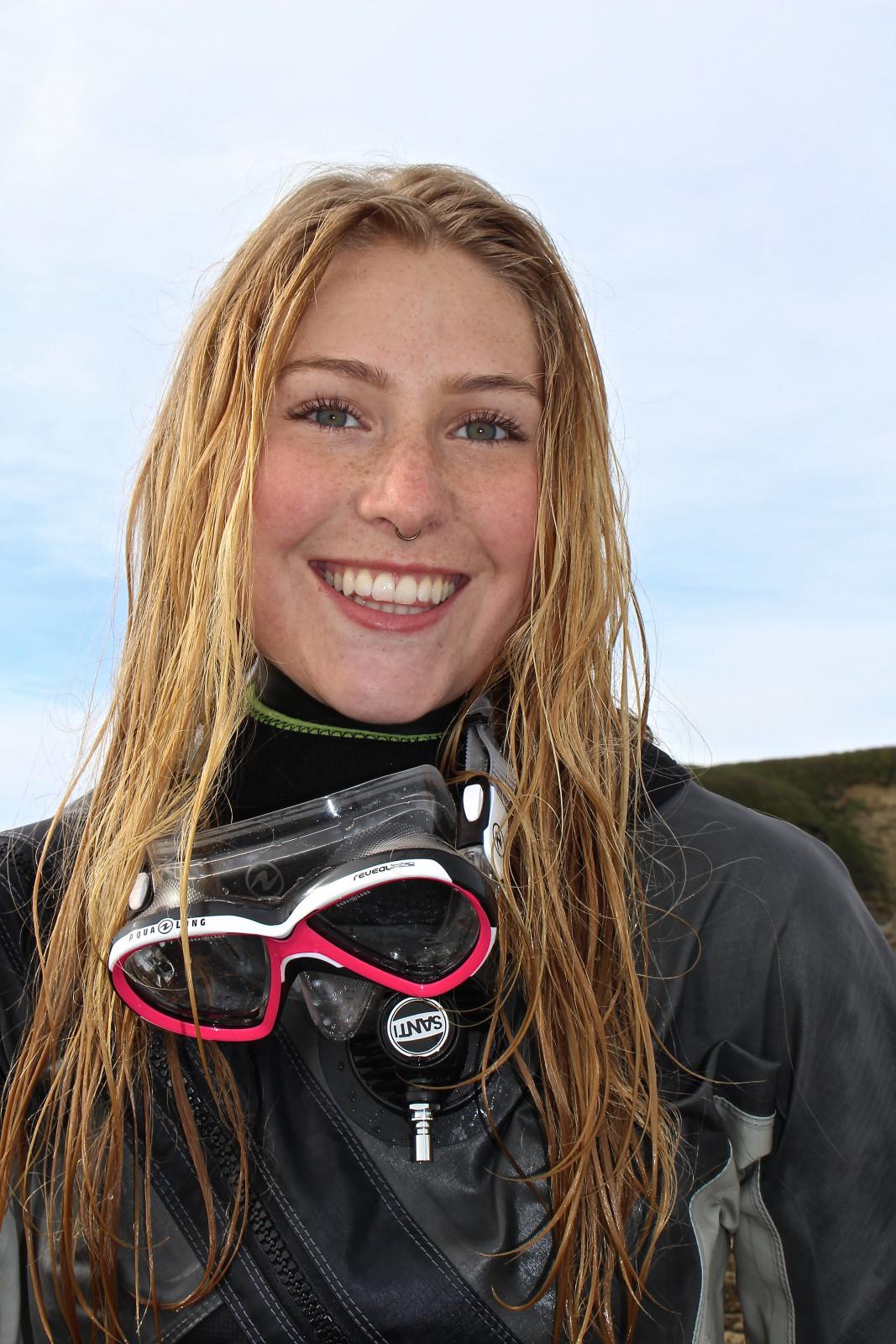 Conclusion
The differences in drysuit diving do not lie solely in the temperatures of the water, and the marine life. I believe a huge part of what makes diving so wondrous, and I think others would agree, is the feeling it creates, and the abilities it provides. The opportunity to feel weightless, and explore a world that feels completely foreign to our own.
To completely let go of our attachments and forget about our day-to-day concerns. Although the style of diving is completely different, all of the things that drew me to diving in the first place were still prominent, and I even found some new things which will motivate me to continue cold-water diving in the future.
I found the overall focus, and feel of the dives, to be very different than dives in warm water. Rather than having ample mobility and freedom, you feel a little more restricted, which harmonises well with the low visibility commonly associated with cold water. Rather than constantly looking off into the distance, searching for more, you learn to move less, focus on what is right in front of you, and find satisfaction in the small wonders.
Once I let go and accepted the different style of diving, I was able to find a whole new appreciation, and passion, for the sport and exploration of our world's waters. I can't wait to check out my home waters around Vancouver Island now!
Photographs by Mark Evans