The underwater photography bug hit me before I even knew how to dive or had seriously ever picked up a camera (around age ten). It's cliché, but it was a childhood dream. After attending university at Parsons School of Design where I majored in photography, I decided to move to Roatán to take my newfound photography skills underwater and aim towards my youthful aspirations.
It was the start of the financial crisis, so it was a good time to goof off and see if I could make this pipedream a reality. In between partying and being 23, I did my divemasters, and eventually started shooting as much as I could. Ultimately, it took a combination of becoming a better diver and understanding light underwater to really make everything come together.
What came first – diving or photography?
Diving and photography happened at the same time (around age 15). I know, the age-old rule is to learn to dive before you put a camera in your hand, however, I have not always been the best rule follower. I had a Nikonos V and a strobe with me from almost day one after my Open Water was completed.
I shot as much as I could pack into each dive (on a 36 frame roll) over the course of three weeks in the Red Sea. Unfortunately, when my dozens of rolls were developed, most were either blown out or underexposed (except for a few lucky dozen), but that just indicated that I needed some formal photography training, which took me another eight years to complete.
What's in your underwater photography kitbag?
Extras. Extra strobe cables, batteries, dome ports, strobes, chargers, lenses, SD cards, etc. I always break things, and I have had too many lessons thrown at me to not carry extras.
Favourite location for diving and underwater photography?
That's tough. I don't know. Anywhere with clear, warm water, animals, wrecks and colourful coral. I am a sucker for Caribbean waters filled with sharks, swim-throughs crowned with soft coral and big animals. I do not shoot as much macro as I used to, mainly for the following reasons: critter impact, lack of patience and boredom for my dive buddy.
Most challenging dive?
Any dive involving freedivers. Whether Angelita Cenote or a wreck with sharks, freedivers in general are a challenge. There are so many added elements, the most important of which is the freediver's safety. For this reason, you really have to plan out your shots, for you cannot communicate as easily.
Every second you spend signalling instructions is a second wasted from their breath hold. With factors like the time it takes for a freediver to 'breath up' and keeping an eye on your bottom time and NDL, there is only so much workable time within a dive with a freediver.
Who are your diving inspirations?
David Doubilet is my ultimate dive inspiration. It was his National Geographic covers that initially lured me in as a child. Today, there are so many inspiring folks, including freedivers who are turning the cameras inward on their community and are creating some insane images.
There is also a tribe of incredibly talented women who are leading the way with non-profits, workshops, films, trips and books. These include Erin Quigley, Allison Vitsky-Sallmon, Michelle Hall, Jill Heinerth, Amanda Cotton, Ellen Cuylaerts, Nadia Aly, Annie Crawley and many others (I know I'm leaving off a slew of names).
Which underwater locations or species are still on your photography wish list and why?
I keep thinking one day I will grow large enough cajones to really get into cold water diving… Yet, every day that I wake up, I am still a cold-water wuss. If for some reason my skin thickens up, I would very much like to dive Alaska (I do live here after all), as well as Antarctica, Russia, and many other dreamy, clear water destinations. Who knows, maybe next summer I'll muster up some courage to go for a little roll in the water with the salmon down the street.
What advice do you wish you'd had as a novice underwater photographer?
I would say take a basic photography course first and really get your diving under control (do as I say, not as I do). It will really make a difference. But also, just shoot your heart out. If you can't get to the world's top dive destinations, get creative and use your backyard – whether a quarry, a pool or if you're lucky, the ocean.
Just get in the water with your camera and experiment! Also, composition is everything. When you are taking that basic photography class, really focus on the lesson where the instructor talks about composition. It is the difference between an interesting and boring image.
Hairiest moment when shooting underwater?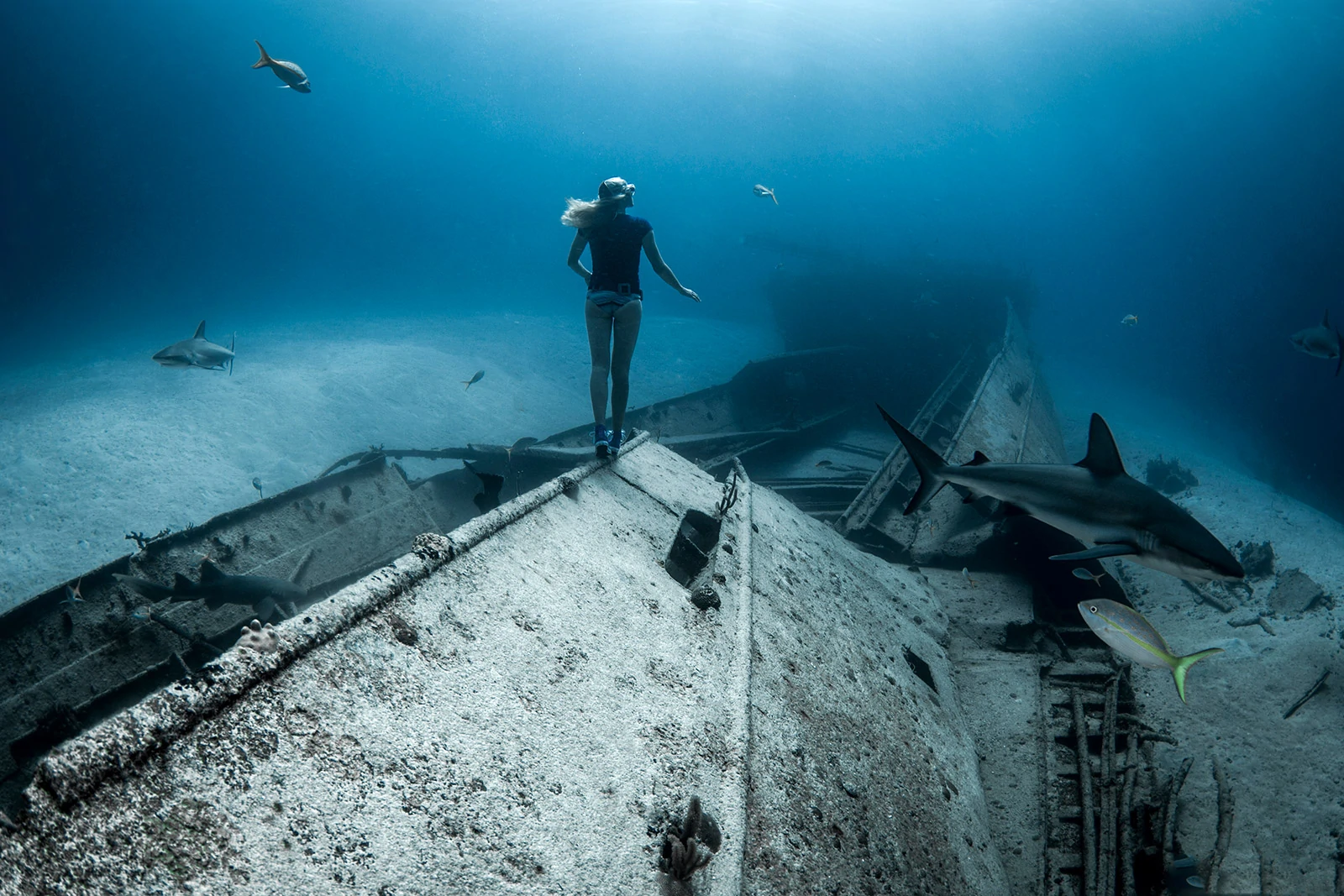 Solo diving at 90 feet and running out of air. Don't do it. I wouldn't recommend it. Luckily, I happened upon a fellow diver a second after I realised that I was out of air (I was lucky, as I hadn't seen anyone for the previous five minutes).
Everything else pales in comparison to that, including coming up from shooting a nudibranch mid-water with my dome port in one hand and my housing in the other… apparently it wasn't locked in place tightly enough and I was practically drowning myself as I held the sad rig above my head.
What is your most memorable dive and why?
Diving with the world's deepest freediver, Alexey Molchanov, in Angelita. I had a vision of what I wanted to capture, and I think he is one of the only people in this entire world capable of creating this image solely on breath hold. I was on scuba, but think I was able to scout and frame this shot because of the time I was able to take at such a depth. I love capturing big animals, but shooting a talented freediver like Alexey is just magical, for it gives you a glimpse of how close to nature we really are.
Lia Barrett
Lia Barrett is a Korean born, North Carolina raised professional underwater photographer. After completing university at Parsons School of Design in New York in 2007, Lia has been on a continual pursuit of travel and adventure. From her deep-sea work in a homemade submarine off of Roatán, Honduras, to shooting world record holding freedivers, Lia has embraced the underwater world as her ultimate sanctuary.
Lia is the Photo Editor of Dive Photo Guide, the definitive source for underwater photography. She is also the co-founder and Creative Director of Prawno Apparel, an ocean-minded apparel company that draws designs directly from Lia's photographs. She has been published in numerous newspapers and magazines, including the front page of the New York Times, BBC, CNN, Time, Outside, Huffington Post, ESPN, Playboy, The Times (UK), Men's Journal and 60 Minutes. She has been on several underwater photography judging panels, and finds great pleasure in encouraging other photographers to grow and develop their craft.
Check out more of Lia's work at LIA BARRETT PHOTOGRAPHY or on Instagram @liabarrettphoto
Also check out Mark Kirkland – Underwater Photographer