10 Terrific experiences in Raja Ampat with Meridian Adventure Dive
A bucket list adventure destination is easily accessible to many and the perfect base to discover the best Raja Ampat offers.
NIGHT DIVING
With over 288 dive sites that are easily accessible with our speed boats, we know exactly where to go to find those nocturnal creatures that only show up at night. Some sightings include the Walking and Wobbegong Shark.
HIDDEN SANDBANK VISIT
Raja Ampat has two tides every 24hours and leaves a period every day where you can explore exposed sandbanks that are usually engulfed in water during high tide. So let us take you to one of these hidden gems at the perfect time.
BLUE RIVER EXCURSION
Due to deep water and narrow channels flushing out the turbid water from the mangroves, areas like 'The Blue River' offer lighting that will genuinely leave you enchanted. Be greeted by a pool of blue water refreshingly cold to the touch, peacefully sleeping under a jungle canopy.
SNORKELLING
We know all the best snorkeling spots in Raja Ampat. We will escort you to some of the most famous jetties that include an abundance of life with frequent sightings of reef sharks, turtles, dugongs, and majestic mantas from October to April. If you are not much of an avid diver, enjoy a snorkel adventure with us, allowing you to experience almost all the same sights as divers.
CAVE EXPLORATION
Raja Ampat is well known for its karst landscapes and limestone cliffs that lead into enchanting caves. One such cave can be explored via the veritable river that flows through it. Be sure to bring your underwater torch to view all the unique critters that call this cave home.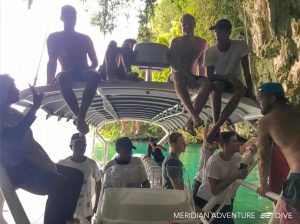 PADDLEBOARDING SAFARIS
A great way to experience the immense beauty of Raja Ampat's ecosystems is via Standup Paddle Boarding. You can either opt to rent the SUPs from us to take off on your excursion or be whisked off to a nearby area via one of our speed boats for a guided tour that promises to showcase Raja Ampat's beauty above and below your paddleboard.
The Cendana Pearl Farm provides the sheltered waters critical to the cultivation of pearls. Be escorted by one of our speed boats and enjoy these unique demonstrations of seeding and the amount of time-consuming care and diligence required to successfully produce these quality jewels of the ocean.
FRUIT BAT MIGRATION
This experience will transport you to an episode on National Geographic. Take some time to experience the majestic sight of a colony of Fruit Bats, traveling from Waigeo island to Mioskon. These bats migrate at sunrise to hang in the trees in Mioskon during the day. When sunset hits, you will see 3 – 5 bats take flight first before the colony of bats follow in numbers back to the mainland to feed on the fruits during the night.
WAISAI MARKET VISIT
This small local market offers a sensory experience filled with fresh seasonal vegetables, fruit, and delicacies stalls. Taste fruit that resembles a dragon's egg (also known as Snake Fruit) or gives your skin a Vitamin C boost with the sweet and sticky Matoa Fruit (which looks like grapes and tastes like Lychee). Buy vendor food such as banana fritters and avocado smoothies, or sink your teeth into a Purple Dragon Fruit (our personal favourite).
VILLAGE EXCURSIONS
You will be escorted to some of the beautiful and colourful villages and communities surrounding us. Visit the smaller island communities via one of our eco-conscious speed boats, where you can look forward to meeting friendly faces, drinking fresh coconut water, ordering traditional Indonesian coffee on the beach, and truly experiencing how local people live. Choose to enjoy a local Homestay buffet for lunch as part of your experience.
Situated in Raja Ampat, Indonesia, Meridian Adventure Dive is a PADI 5 Star Resort and winner of the PADI Green Star award. Scuba divers enjoy our professional services that have become synonymous with both the PADI and Meridian Adventure names